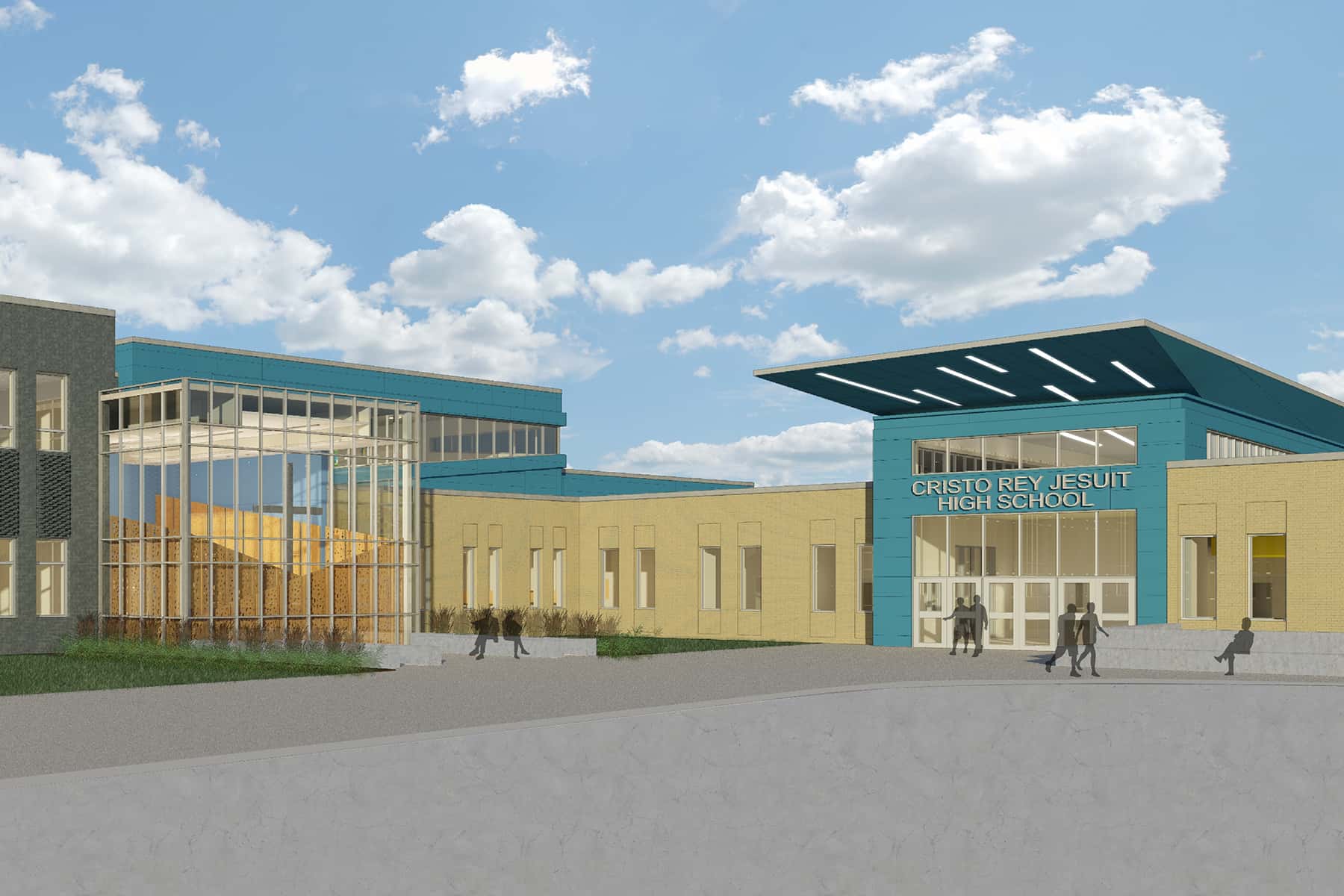 Cristo Rey Jesuit High School recently released a rendering for its upcoming new school location at 1818 West National Avenue in Milwaukee.
Cristo Rey Jesuit High School, in collaboration with community partners, will anchor the community by becoming its first high school. The new campus is located in the Clarke Square neighborhood, hosting one of metro Milwaukee's fastest-growing school-aged populations, and is more strategically and centrally located to better serve students and families.
The new location will allow Cristo Rey Jesuit to educate additional children of families with limited financial means. Students at the school have an average household income is $32,500. It is estimated that the earliest occupancy would be during the 2020 school year.
Now entering its fourth year, Cristo Rey Jesuit High School has outpaced its original growth projections, both in new student enrollment and retention. This led to school leadership getting an earlier start on identifying the right locale and design components for a permanent school to help the organization reach its goal of serving 500 students.
In its first four years of operation, approximately 400 students are enrolled, making Milwaukee one of the most successful launches in the Cristo Rey Network, with 35 schools nationwide. In addition, the school's Corporate Work Study Program has grown from 22 partners to 75, including all seven of Milwaukee's Fortune 500 companies. The new school space will be more than double the current school size at St. Florian Catholic Grade School at 1215 S. 45th Street in West Milwaukee, and will allow for all academic, co-curricular and athletic programs that a college-prep high school requires, including space for athletics and parking.
"Cristo Rey is a great addition to our near south side and it will serve as a great education option for young people in the neighborhood," said Mayor Tom Barrett. "The school provides learning opportunities both in the classroom and in a variety of work place settings to prepare students to be the future leaders of Milwaukee."
School leadership engaged in comprehensive preparations required to build the right facility. Cristo Rey Jesuit has engaged more than 50 students, parents, faculty and staff in small group discussions regarding the planned move to West National Avenue and conducted a series of one-on-one meetings and small group conversations with more than 100 stakeholders.
Cristo Rey Jesuit is working with Bray Architects and CG Schmidt on concepts for a new campus. Cristo Rey Jesuit also conducted financial modeling to ensure school operations would remain healthy with the construction and opening of the new campus.
The projected cost of the new school is between $20 million and $25 million. The revenue sources for the project include campaign funds, new market tax credits, long-term financing and reserves from ongoing operations going forward. Cristo Rey Jesuit has launched a community fundraising campaign, called "Ignite. Invest. Impact."
"This school has, in a short amount of time, demonstrated an ability to have an impact on the lives of the kids that we're educating, on the neighborhood and the community that we're in, but just as important on the city of Milwaukee," said Cristo Rey Jesuit High School governance board chair and CEO of Husch Blackwell, Paul Eberle. "This is really about investing in the city of Milwaukee, investing in the future of our workforce, investing in these kids, who are now given this opportunity to dramatically change the trajectory of their lives. These kids are going to be successful, we're just helping them get started."
Cristo Rey Jesuit High School Milwaukee announced last November it purchased the eight-acre property at 1818 W. National Ave. after a long-range planning committee thoroughly evaluated multiple sites and expansion options over an 18-month period. This new location is a part of Cristo Rey Jesuit High School Milwaukee's long-term strategic plan that began when Cristo Rey Jesuit opened its doors in the fall of 2015 in the renovated St. Florian Catholic Grade School at 1215 S. 45th Street in West Milwaukee.
At the time, school leaders thought the location, while temporary, would serve the community for at least five to seven years. The plan has been to grow the school carefully, one grade level at a time, to be sure it could attract enough business partners to responsibly support the work study model.
"This building is much more than brick and mortar, it's about transforming the lives of our students and their families, and we're excited about the next chapter and our impact in Milwaukee," said Andy Stith, president of Cristo Rey Jesuit High School Milwaukee.
© Image
Cristo Rey Jesuit High School