MCTS offers hassle-free rides to Miller Park on Opening Day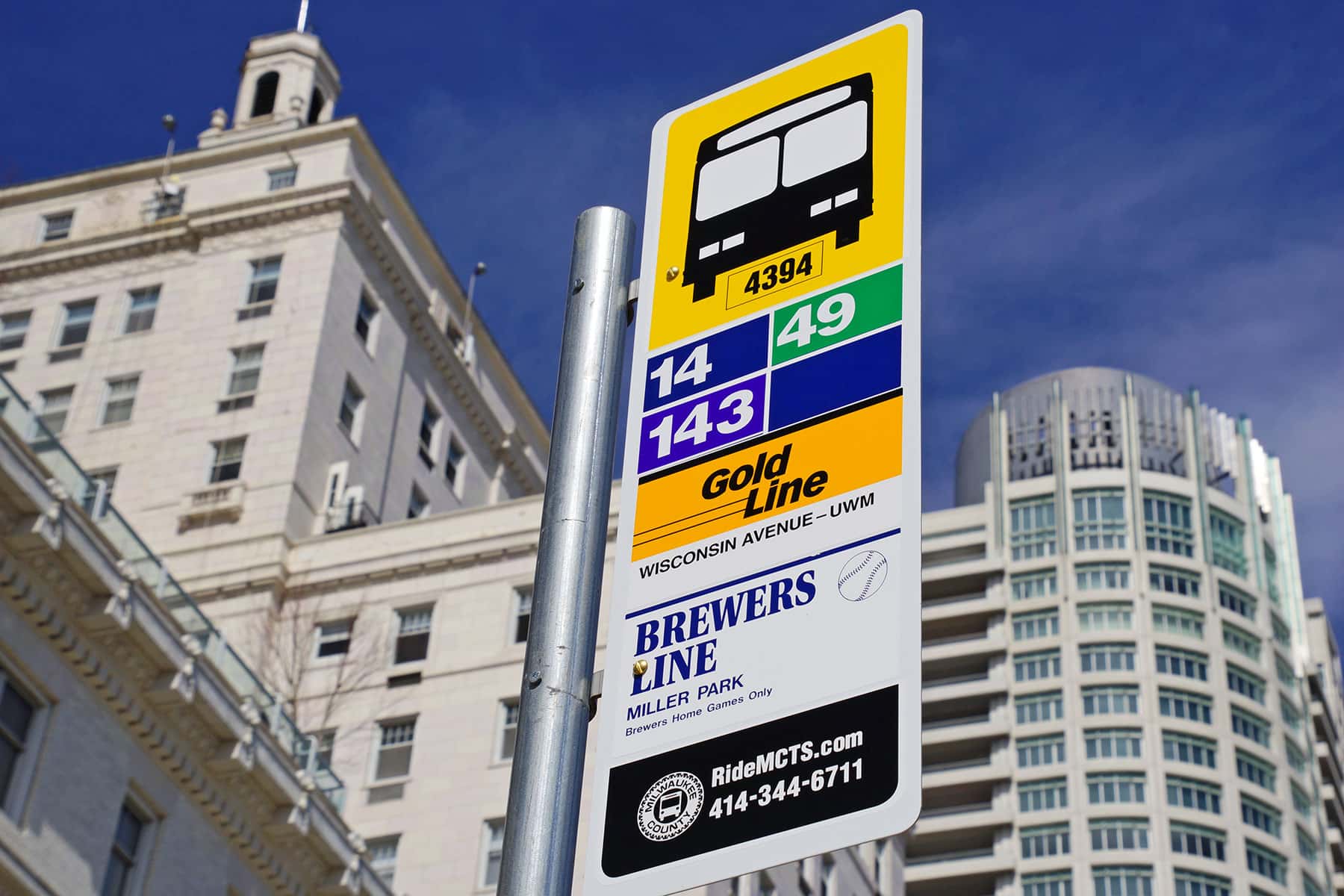 Starting with the season home opener on April 3, the Brewers Line runs a direct route along Wisconsin Avenue to the MCTS transit area at Miller Park.
The Brewers Line serves all home games and helps fans avoid traffic and parking hassles. Team MCTS spent the off-season making sure even more fans could get to Miller Park on the new and improved Brewers Line. The route now serves 20 stops, along three entertainment districts.
"Like the Brewers, the team at MCTS is always looking to get better, and this year they are already in midseason form. The new and improved Brewers Line means more opportunities for more people to get to Miller Park and cheer on the Brewers," said County Executive Chris Abele.
The Brewers Line (Route 90 – Miller Park) is provided for all Brewers home games, buses operate every 30 minutes for two hours before game time. For the home opener, buses will operate more frequently. Return trip bus service leaving Miller Park operates for a half-hour after the end of the game.
Brewers Line bus stops are located along Water Street, Cathedral Square, and Wisconsin Avenue. Electronic destination signs on the bus display say "Let's Go Brewers!" Buses drop passengers off at the MCTS transit area on Yount Drive on the north side of Miller Park. On the return trip, buses leave the ballpark from the MCTS transit area and serve all eastbound bus stops.
"As the Brewers begin another exciting season, Milwaukee County and MCTS are happy to pitch in to help fans see every hit, homerun and win," said Abele. "The Brewers Line is a safe, affordable and quick alternative to driving and another way we are helping people enjoy everything Milwaukee has to offer."
Fares each way for the Brewers Line are $2.25 for adults paying cash and $1.75 with use of the M•CARD.
Brewers Line Bus Stops:
Broadway & Ogden
Water & Juneau
Water & State
Kilbourn & Milwaukee
Kilbourn & Van Buren
Prospect & Wells
Prospect & Mason
Wisconsin & Jackson
Wisconsin & Milwaukee
Wisconsin and Water
Wisconsin and Plankinton
Wisconsin & Old World 3rd
Wisconsin & 6th
Wisconsin & 10th
Wisconsin & 12th
Wisconsin &16th
Wisconsin & 22nd
Wisconsin & 27th
Wisconsin & 35th
Wisconsin & 38th
Miller Park