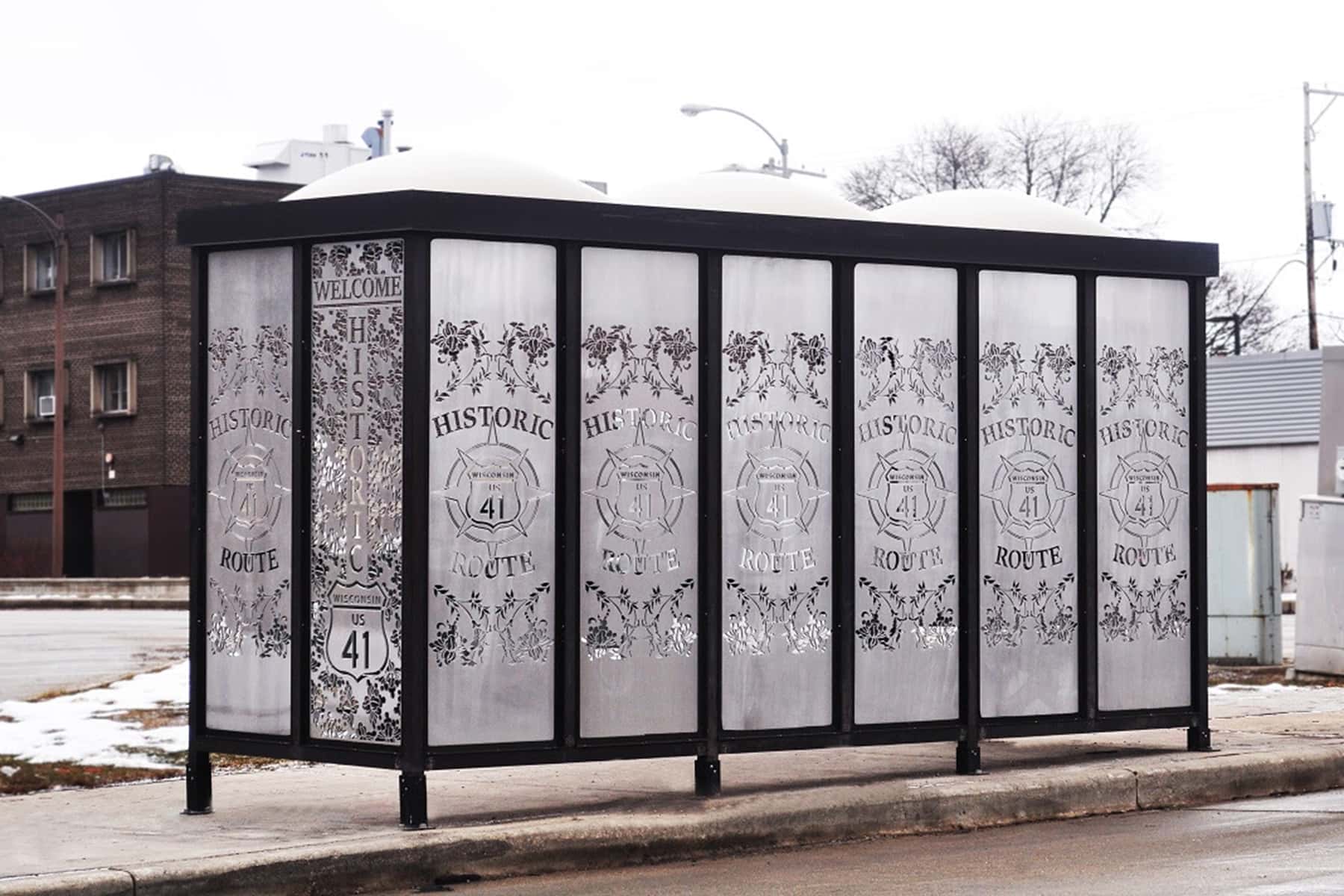 Three Milwaukee County Transit System (MCTS) bus shelters along S. 27th Street in Milwaukee have received a creative makeover that helps beautify the neighborhood while also celebrating the business corridor's rich history.
The shelters at 27th and Oklahoma Avenue and 27th and Ohio Avenue now feature custom-made metal panels with die-cut U.S. Route 41 (Historic Highway 41) logos and messaging. The sturdy paneling, which is covered in a graffiti-resistant coating, replaces standard glass and plexiglass, which can easily become weathered, scratched, or broken.
The project was spearheaded by the South 27th Street Business District Association, Milwaukee County Supervisor Jason Haas, Milwaukee Alderman Mark Borkowski, and Milwaukee Alderman Scott Spiker.
"This is an exciting illustration of what happens when everyone works together for the betterment of their community," said Alderman Scott Spiker, City of Milwaukee-District 13. "The South 27th Street Business District Association – working with MCTS, the County, and the City – has taken another huge stride forward in order to beautify one of the area's most thriving commercial corridors. The Garden District continues to improve thanks to these sorts of unique partnerships between business and government."
The panels were designed by conceptual design artist Ryan Laessig. The artwork panels were fabricated and adjusted to accommodate cut outs that allow passengers to see through the paneling while they are waiting for the bus. The polished panels were coated them with anti-graffiti material, and then delivered them to MCTS maintenance crews for installation.
"We are delighted to deliver a fresh new beautification concept for bus shelters in the Historic Highway 41 business corridor," said Tara Cavazos, Executive Director of the South 27th Street Business District Association. "Our organization is committed to moving our vision progressively forward to continue growth and improvement throughout and around our district. We extend our sincere thanks to our city, county, residential and business partners for their strategizing, dedication, participation and contributions."
Historic Highway 41 was built in 1926 as the major north-south highway between Chicago and Milwaukee. It served as the main connection between the two regions until Interstate 94 was completed in the 1960s. The stretch of Highway 41 through Milwaukee County remains one of Wisconsin's largest and most vibrant business corridors.
"The creation and installation of these beautiful shelter panels is an excellent example of the public-private partnerships that make Milwaukee County a great place for residents and businesses alike," said Milwaukee County Supervisor Jason Haas. "Thanks to each and every person and group who has been involved with this successful collaboration. I also want to extend a very special thanks to Ryan Laessig, who designed the amazing artwork, which is a treasure for our community to see."
Laessig is a Milwaukee resident who continues to build community by coordinating the Milwaukee Makers Market – which recently won a Best of Milwaukee 2020 Award from the Shepherd Express. Laessig is also a local high school arts educator and practicing photographer/mixed media artist.
"It is so great to help bring more art and creativity to Milwaukee and Historic Highway 41," Laessig said. "I am honored to have been selected to be part of this exciting beautification project."
Two of the newly-refreshed bus shelters are served by the MCTS PurpleLine, one of Milwaukee County's most highly-utilized bus routes, which operates between Bender Road on the north to Drexel Avenue on the south. The other shelter is served by Route 51, which runs from 122nd Street on the west to the lakefront on the east.
"The upgrades in curb appeal and beautification due to this project have already led to positive reactions throughout the community," said Alderman Mark Borkowski, City of Milwaukee-District 11. "The South 27th Street Business District Association consistently works at keeping their business corridor vibrant, welcoming, and unique."