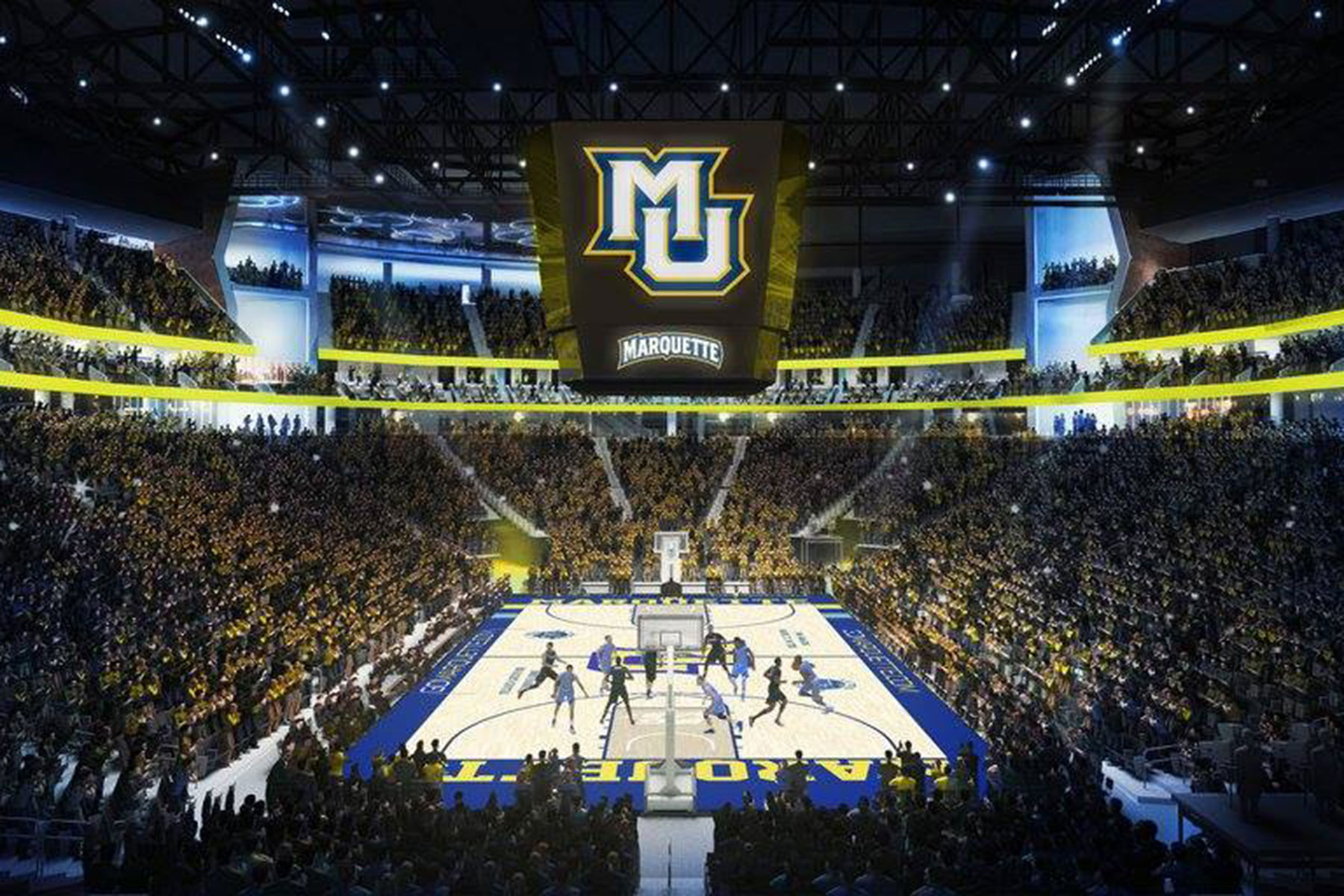 The Milwaukee Bucks and Marquette University have signed a seven-year agreement in which Marquette's men's basketball team will play its home games at the Bucks' new sports and entertainment arena, beginning with the 2018-19 season.
Milwaukee's new state-of-the-art sports and entertainment arena is scheduled to open in the fall of 2018 and will serve as the Bucks' new home, as well as being a major venue for concerts, family shows, boxing, MMA, NCAA men's basketball tournament games and other special events.
"Marquette Basketball is a staple of Milwaukee and we are proud to welcome the Golden Eagles to their spectacular new home," said Bucks President Peter Feigin. "As Marquette continues to grow as a national basketball power, we expect a lot of exciting college hoops to be played at the new arena for years to come."
The Bucks and Golden Eagles have each played their last 29 seasons at the BMO Harris Bradley Center, and will play one more season at the facility before moving into the new arena for the start of their respective 2018-19 seasons.
"As Marquette University enters its second century of basketball, today marks another historic milestone for our community and passionate alumni. They'll now experience elite-level basketball in one of the most innovative arenas in the world," Marquette University President Michael R. Lovell said. "This is a time of unprecedented growth for Milwaukee. So much of that excitement is centered on this remarkable arena, and we are proud to call it our home."
"The Bucks have been such great partners throughout this process, and we're so proud to continue that relationship with today's agreement. It's such an exciting time for basketball fans in Milwaukee right now," Marquette Vice President and Director of Athletics Bill Scholl said. "When the doors open and the lights go on in this building, we believe it will be the best basketball arena in the world. Playing here will be a privilege for our student-athletes, and the experience will be such a thrill for our fans."
"The construction of the new arena has generated a tremendous amount of excitement within our program and we are thrilled by today's announcement," said Marquette Head Men's Basketball Coach Steve Wojciechowski. "Both our current and future players, along with our fans, are going to be able to enjoy games in one of the finest arenas around. Our partnership with the Bucks is a huge win for Marquette Basketball and we can't wait until the first game."