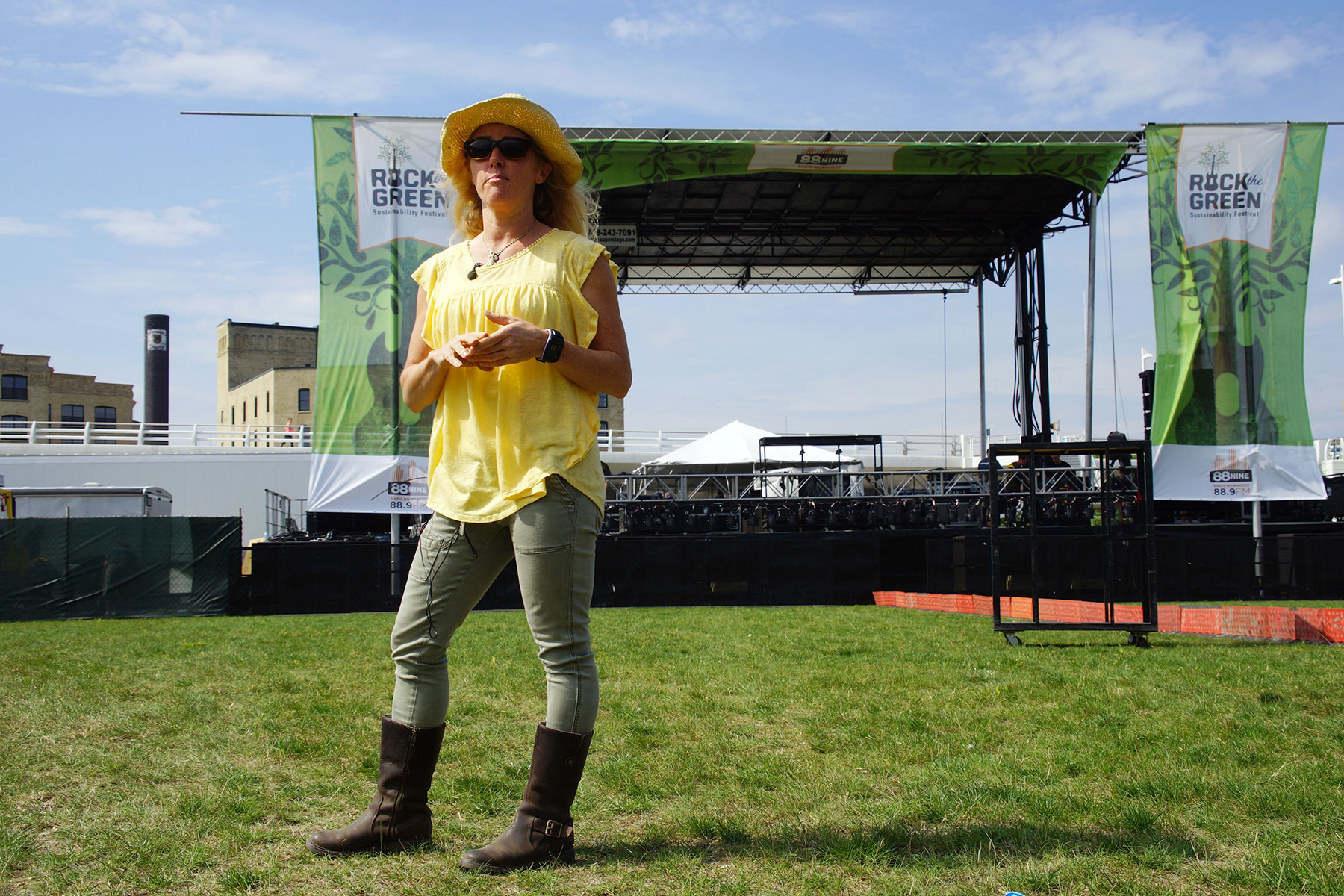 Education and empowerment at the forefront of globally recognized music festival.
The award-winning music event, Rock the Green returned for the third year on September 17 to Reed Street Yards in Milwaukee, with a lineup of world-class bands.
With thousands in attendance, the concert included expanded sustainability offerings and a goal of just one ounce of waste per attendee. The average festival visitor creates 16 ounces of waste, according to an estimate from the United States Environmental Protection Agency.
"From day one, it has been our mission to entertain and engage the members of our community through music and sustainability at an event that leaves a lasting impact on attendees without making a lasting impact on the environment," said Lindsay Stevens Gardner, founder and executive director, Rock the Green. "We're honored to have the overwhelming support of internationally recognized bands, local and national sponsors, and our zero-waste partners, as we work to strengthen our mission of building a greener Milwaukee," Stevens Gardner said.
Compost and recycling bins and food-grinding stations helped divert roughly 93 percent of waste from landfills at the festival. Trash bins were be provided only for items guests brought to the event from home, nothing provided to guests at Rock the Green produced waste. In addition, festival power was provided by a combination of B20 biodiesel generators, solar power provided by Arch Electric, and bicycle power provided by Power by the People.
The festival will ran from 1:00 pm to 11:00pm and feature the headline acts Lord Huron, Robert DeLong, Best Coast, The Heavy, Thao & The Get Down Stay Down, and Trapper Schoepp. Milwaukee artists included New Age Narcissism, Foreign Goods, NO/NO, Evan Christian, Eagle Trace, and Great Lake Drifters.
The cornerstone of the sustainability festival was the innovative waste reclamation, recycling, and composting operation overseen by Groot, an independent waste management provider. Event volunteers assisted attendees to properly sort waste into four bins: Compostables, Food and Organics, Recyclables and Trash.
In 2012, Rock the Green composted nearly 3,980 pounds of waste. This year, compostable materials was processed by Compost Crusader and Blue Ribbon Organics. Food and organics will be processed at the Milorganite station of the Milwaukee Metropolitan Sewerage District (MMSD), with Groot overseeing the handling of recycling and trash.
"At Groot, green is more than just a color, it's the backbone of our attitude toward the environment," said Jonathon Groot, senior vice president of Groot. "We proudly support Rock the Green's mission and are excited to join forces with the festival."
Festival partner MMSD again sponsored the food grinding stations where 100 percent of the festival food scraps were be ground up on-site in stainless steel sink units. After the festival, MMSD processed the food scraps and convert them to energy and Milorganite, an organic fertilizer.
Local cycling teams included The Velo Femmes, Black Girls Do Bike, UWM, The Tosa Spokesmen, Marquette University, and The Bella Donnas who provided energy for the Educator Credit Union and UPS pedal-powered side stage. Portable generators returned to the festival to provide bio-diesel fuel as additional power for the festival's stage and interactive areas.
To enhance the festival's mission, food vendors, such as Screaming Tuna, Buddha Lounge, Bel Air Cantina, Dr. Dawg, and Classy Girl Cupcakes and provided guests with sustainable and healthy farm-to-fork food options, all served on compostable plates and napkins.
Each visitor also received a complimentary, refillable aluminum water bottle from CannedWater4Kids, which could be refilled for free on site at the Badger Meter freshwater stations.
Rock the Green organizers also encourage carpooling and public transportation to attend the event, and bicycling to it was rewarded. All attendees arriving by bike were given access to a free bike valet hosted by Milwaukee Bicycle Collective. Additionally, Rock the Green partnered with Uber to provide safe and reliable rides.
Read the article and view the photo essay that were produced as companion features for this news report.