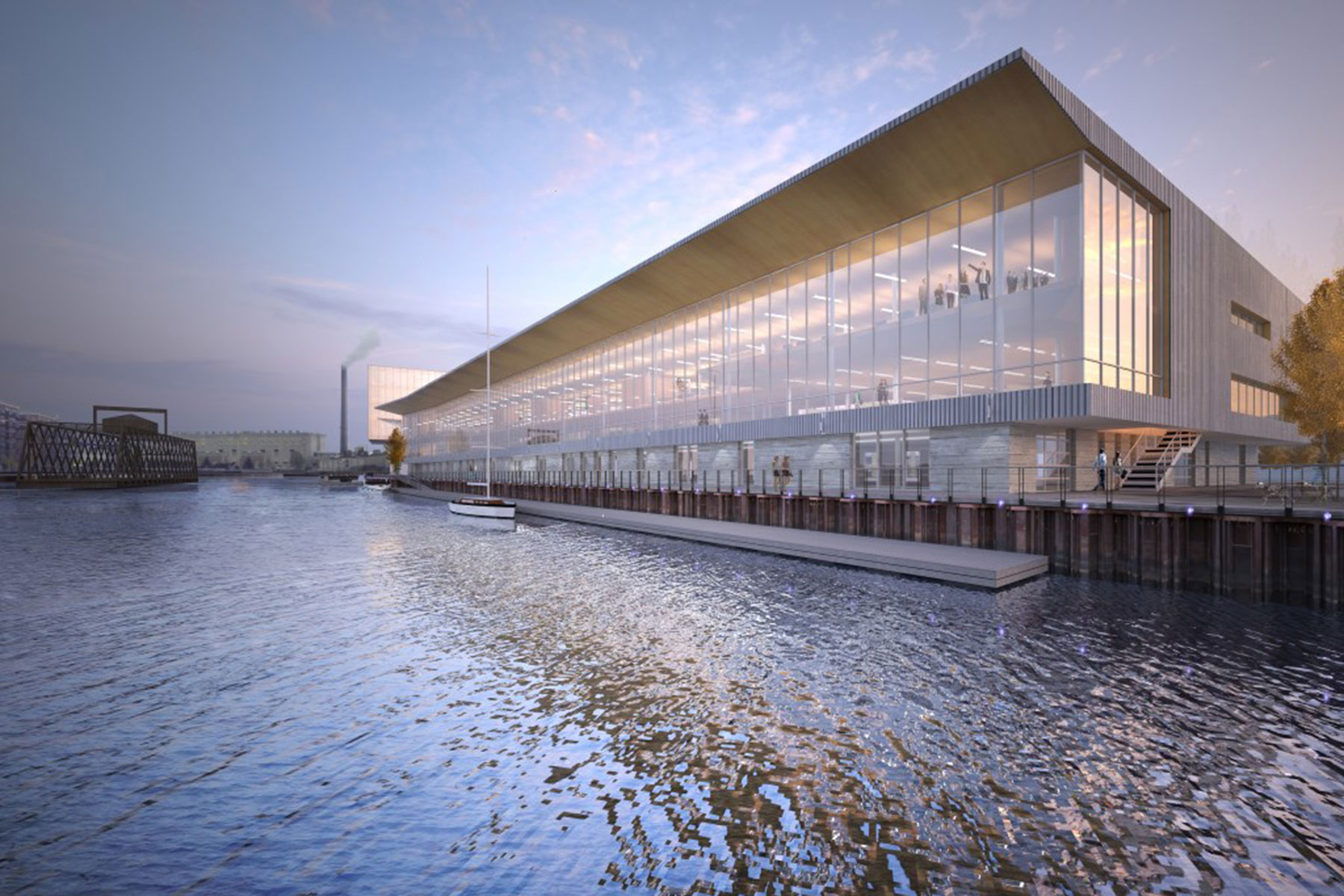 Milwaukee‐based Mandel Group, Inc. purchased two riverfront properties in the Fifth Ward/Walker's Point area, comprising 2.25 acres with nearly 700 feet of river frontage facing toward Milwaukee's skyline.
The properties, located at 318‐338 South Water Street, were historically used by Kurth Malthouse operations and its related grain elevators. The malt house complex was demolished years ago, while the grain elevators will be demolished to clear the area for new construction. The properties are currently occupied by a marine services business and Milwaukee Kayak Company.
Mandel plans to combine this acquisition with its immediately adjacent Wisconsin Cold Storage property located at 322 East Florida Street, to assemble an approximate 4.25 acre mixed‐use development site. Total development investment based on current plans has been estimated by Mandel to exceed $130 million.
MIXED USE NEIGHBORHOOD
"Whenever possible our clear preference is to conceive and develop a complete neighborhood rather than build individual buildings," said Robert B. Monnat, Partner and Chief Operating Officer of Mandel Group.
Mandel is well‐known for its $175 million North End neighborhood development on North Water Street. Additional neighborhood developments completed by the development firm include East Pointe, a 9‐block neighborhood constructed in Milwaukee's lower east side area; and the neighborhood cluster in the Historic Third Ward situated directly opposite the Kurth properties, which includes the newly completed Trestle Park and 1,000 feet of Riverwalk.
Initial development plans for the combined Kurth/Cold Storage properties indicate multiple buildings housing office, residential, hotel and neighborhood retail uses. A mix of uses better activates the neighborhood and encourages more street life.
URBAN DESIGN FEATURES
Mandel's urban design for the immediate area includes a 700 feet Riverwalk, and a public plaza incorporating the southerly trestle extension of the historic railroad swing bridge ‐ similar to the recently completed Trestle Park on East Erie Street. The firm is also intrigued by the idea of adding a movable bike and pedestrian bridge that threads through the superstructure of the railroad swing bridge centered in the Milwaukee River.
As conceived, one‐half of the river span would be fixed and the other retractable, providing the same navigational clearance as bridges immediately up‐river from the historic swing bridge structure. The fixed half of the bridge would provide clearances in excess of downtown bridges, allowing a high percentage of boats to pass without having to interrupt bike/pedestrian traffic.
"As we analyzed the recreational and pedestrian systems that want to flow through this area we realized the tremendous adverse impact existing due to the lack of a direct linkage," said Monnat. "A first‐hand experience I enjoyed in Copenhagen earlier this year convinced me of the feasibility of using a movable bridge span to protect navigation through this area. It would provide a way to join these neighborhoods together. More importantly, it would leverage the existing metro‐wide bikeways that criss‐cross at this point, having a regional impact on bike trail systems both north/south and east/west."
Copenhagen is renowned for its bike‐friendly infrastructure, including upwards of 20 bike/pedestrian bridges that provide connectivity between the City's various waterfront neighborhoods.
INFRASTRUCTURE
A centralized parking ramp is conceived as a shared parking facility to alleviate the need of locating all parking facilities within individual buildings. The cost of parking has always been a problem for urban development. By congregating parking facilities a cost‐effective alternative can be provided with shared parking opportunities.
The layout of buildings pays homage to the former historic routing of South Davidson Street. The four‐block long street was obliterated over the years during successive redevelopment activities in the area. A visual corridor is conceived to slice through two of the residential buildings, and an outdoor plaza area connected to street level bar/restaurant spaces preserves the balance of the corridor.
Areawide infrastructure enhancements could create an urban demonstration opportunity for cutting edge stormwater management strategies. Mandel has opened conversations with the Milwaukee Metropolitan Sewerage District to explore applications of a newly conceived MMSD initiative that would be engineered on an area‐wide basis rather than being restrained to individual buildings.
BUILDING DECONSTRUCTION
Existing buildings and a grain elevator on both the Kurth and Cold Storage properties have been long‐vacant, and would be deconstructed and building materials incorporated into new residential and commercial structures. Heavy timber members used inside the Cold Storage warehouse would be salvaged and reused in portions of the new construction.
"The buildings on the Cold Storage property exhausted their useful life long ago. The construction type was perfect for cold storage – no windows, small interior volumes to cool – but makes for a lousy rehab candidate," said Monnat. "With an unlimited budget you could conceive of many different ways to approach the grain elevator. In a situation where it has to generate an investment return and contribute to the city's tax base, you quickly regain a sense of what's feasible and realistic."
NEXT STEPS
Mandel will continue to work with the existing on‐site businesses as it advances detailed plans and proposals for the various project components. The development will also accommodate Milwaukee Kayak Company, so that it remains a permanent fixture in the final plan.
Mandel Group intends to become its own tenant again, once the 60,000+ square foot office building is constructed on the site of the existing grain elevator. Currently they are located at 330 East Kilbourn Avenue as a tenant, having recently surrendered the office space it owned and occupied in the Historic Third Ward to allow HGA's Great Lakes Office to expand.
The developer emphasized that it has notified the City of Milwaukee and elected officials of elements of its plans, however a complete presentation of detailed building and infrastructure plans has not yet occurred. Consensus on how to implement various aspects of the plan will require the input of multiple parties. Having redeveloped multiple brownfield sites, two tannery complexes, a manufactured gas plant operation, an abandoned freeway corridor and other industrial relics in downtown Milwaukee, Mandel Group is no stranger to taking on complex developments.
"We've made it somewhat of a habit to carve out great development opportunities on some of the worst real estate in the urban setting" Monnat added. "We're passionate about this City and its trajectory. We feel that every project should elevate the City's stature both at home and to visitors and tourists. We are focused on making this particular development a memorable gateway to the Milwaukee River and the surrounding neighborhood."