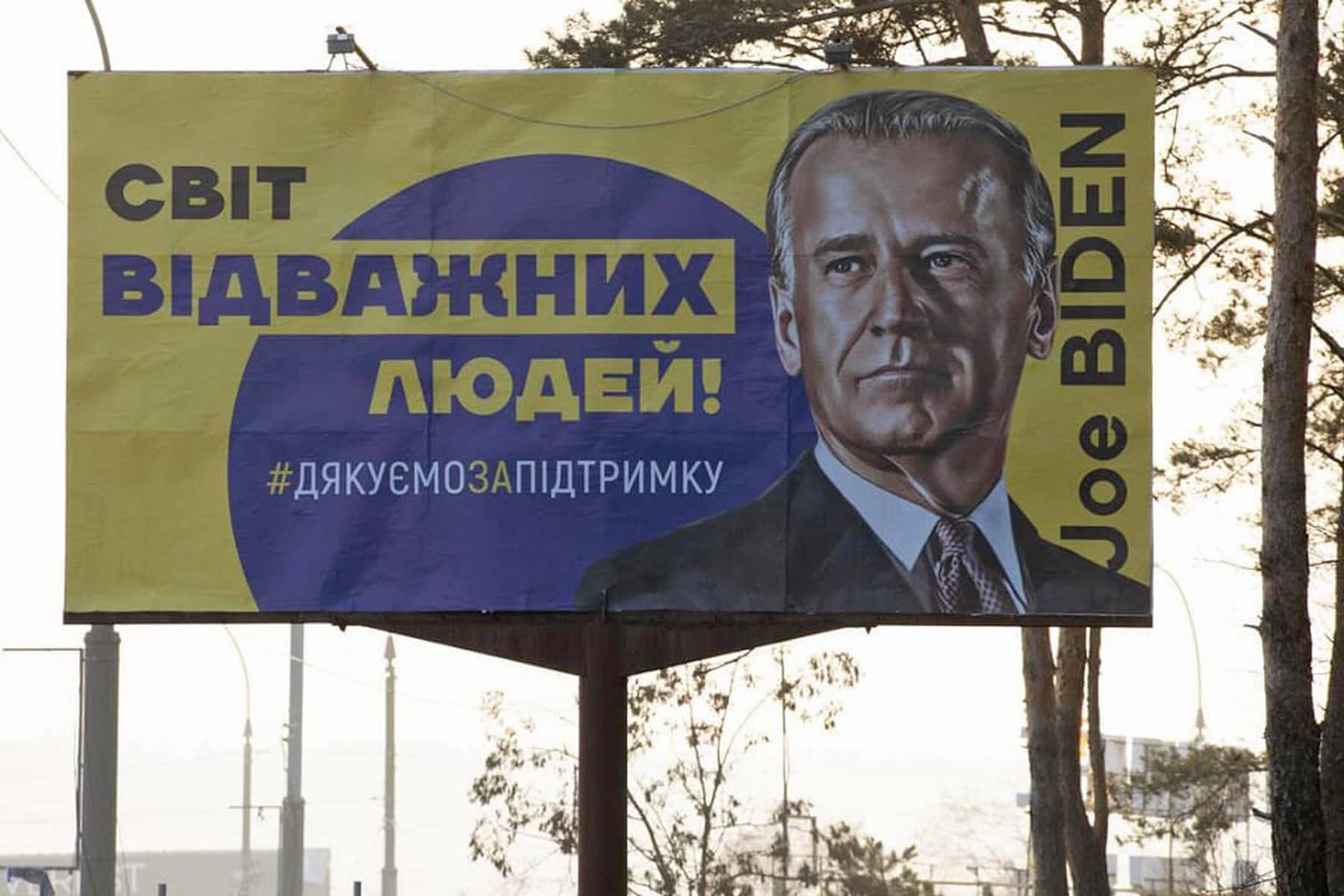 In the first 10 months of the war, about about 100 world-famous dignitaries visited Milwaukee's Sister City of Irpin. For those foreign guests, Irpin became a symbol of hope, and the cost of freedom was represented by the city's destruction.
The Ukrainian construction company Vidvazhnykh Hrupa, known in English as the "Brave Society," took the initiative and placed boards with words of gratitude to world leaders.
Thanks for supporting Ukraine and the nation's Armed Forces – "A World of Courageous People! #ДЯКУЄМОЗАПИДТРИМКУ," was expressed to U.S. President Joe Biden, Polish President Andrzej Duda, Canadian Prime Minister Justin Trudeau, European Parliament President Roberta Metsola, European Commission President Ursula von der Leyen, and former British Prime Minister Boris Johnson.
Since the beginning of full-scale Russian invasion on February 24, the Brave Society has joined the defense of Irpin against the enemy, supporting territorial defense fighters, and also helping to evacuate civilians. Currently, the company is directing its efforts to help rebuild the city by providing the necessary construction materials.
Previously, within the framework of corporate social responsibility projects, the Brave Society assisted with the construction of the monument celebrating motherhood, and the arrangement of a modern public square named "Mama" in Irpen on Novooskolska Street.
The park was designed with landscaping, walking paths, and even a separate area for dog exercise. The monument "Mother with a child in her arms" expressed a powerful image of maternal love, which brought a cheerful attitude to the recreational space.
"A year has passed – a year of heroism and struggle, a year of brave people and tens of thousands of hopes. During this difficult year, the monument to Mama became the personification of female courage, loyalty to her family, children and Ukraine," said Irpin Mayor Oleksandr Markushin, on the first anniversary of its installation in December.
Early founders of the Brave Society also previously financed the manufacture and installation of the iconic monument to Ukrainian poet Taras Shevchenko in 2017, located in front of the City Council building.
More recently, the Brave Society has supported the development of cycling in Irpin, acting as the general sponsor of bicycle marathons and races. It has also organized children's theater festivals in Irpin, and arranged for the care and shelter of homeless animals found on the streets after the city's liberation.
The Brave Society is a group of construction companies that united talented individuals with a passion for making the world better. The "World of Courageous People" billboard campaign was an expression of public thanks from the Irpin community to the global community.
International support has been key to the "hero" city's ability to rebuild infrastructure and residential housing, lost in the ravages of Russia's brutal war. The campaign also stands as a reminder that the world has not forgotten about Irpin's sacrifices for democracy.