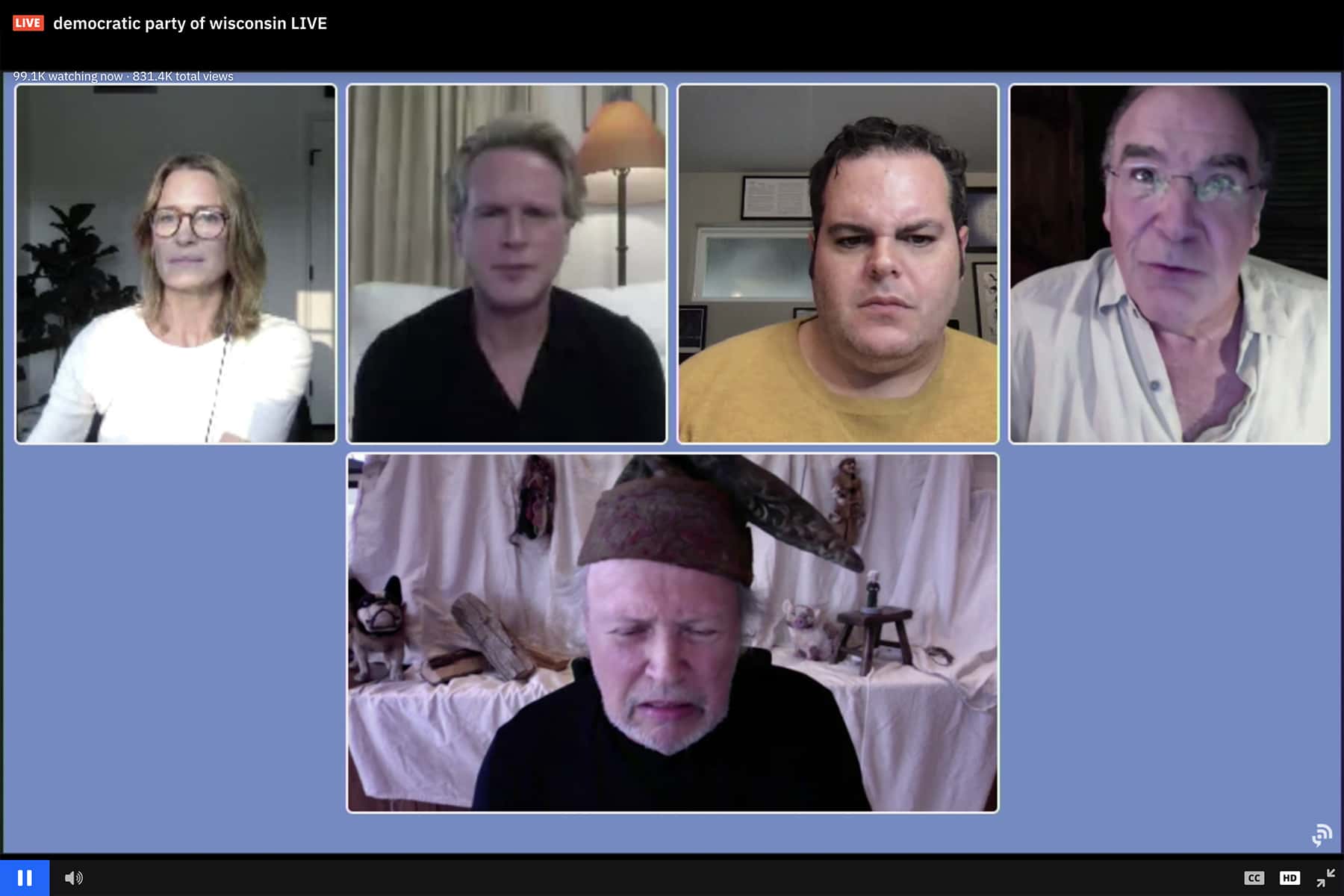 The cast of "The Princess Bride" reunited on September 13 for a virtual reading of the 1987 classic script for the Democratic Party of Wisconsin, as a fundraising effort for the November election to help defeat Donald Trump in the pivotal battleground State.
Cary Elwes, Robin Wright, Mandy Patinkin, Billy Crystal, Chris Sarandon, Christopher Guest, Wallace Shawn, and Carole Kane reprised their original characters for the three-hour streaming video event.
"None of the dead people will be here but all the live ones will be here, so that's exciting," director Rob Reiner said.
The cast of the beloved film was joined by Whoopi Goldberg, Josh Gad ,and Eric Idle, among others. Finn Wolfhard and director Rob Reiner filled in for Fred Savage and the late Peter Falk as the grandson and the grandfather. Gad replaced Andre the Giant, whose ability to put away wine was the subject of much discussion in a post-reading Q&A hosted by Patton Oswalt. The film's producer, 98-year-old Norman Lear, also made an appearance.
"The 2020 election is just like 'The Princess Bride,' giants, monsters, chases, escapes, miracles," said Ben Wikler, the chairman of the Democratic Party of Wisconsin. "We're thrilled that some of the world's greatest stars are joining us to relive the magic of my favorite movie in the world and help us safely navigate the fire swamp of Wisconsin politics."
Since the COVID-19 pandemic has pushed so many live meetings online, technical glitches were expected. But in the age of social distancing and Zoom from home, the interruptions did little to hinder William Goldman's masterful dialogue. Nor did they diminish the acting power of Elwes when he delivered the "to the pain" monologue, or Patinkin's mantra, "Hello, my name is Inigo Montoya. You killed my father. Prepare to die."
"If we have glitches and things, you know, go haywire, just bear with us. We're here to have some fun," said Wikler. "We're here basically to get Donald Trump out of the White House, so that's the main goal."
Wisconsin is one of three traditionally blue battleground states that Donald Trump flipped in 2016, paving his path to the White House. The online event was an inconceivable fundraising victory for Democratic organizers, as more that 110,000 viewers watched the online program. A donation of at least $1 was required for access.
The Q&A after the reading included each cast member sharing their feelings on how bad a president Trump has been, and condemning his lack of leadership during the pandemic. At one point, Elwes asked Kane, "What kind of person is President Trump?"
She responded in character as the raspy and ferocious Valerie: "LIAR!"
"I think most people are aware by now that Donald Trump has completely abdicated his duties as President to represent and stand up for all Americans. He has failed to keep the country safe from COVID-19 and as a result he is responsible for the devastating chaos, violence and economic collapse that we are now experiencing," said Elwes. "If America is going to have a real chance at healing we must get rid of Trump. And that is only possible if we win Wisconsin. I am thrilled to be part of this very rare reunion of my colleagues from 'The Princess Bride' as a way to increase awareness and garner resources for the state that will determine the fate of America."
When asked how his character Miracle Max had lost his job in the castle, despite his ability to raise people from the dead, Crystal joked that it was because he wrote a book revealing that Prince Humperdinck "didn't care about the plague."
Based on William Goldman's 1973 novel, "The Princess Bride" is a wonderfully told fairy tale about power, family, vengeance, and true love, all with memorable lines that have embedded into American culture.
"In a world filled with hatred and bigotry, and where black lives do indeed matter, and women's lives, our planet, our care and decency for each other matter," said Patinkin. "We have to stop being hateful and revengeful, and we have to embrace the meaning of what William Goldman's final words in the script were: 'As you wish.'"