Wauwatosa police retaliate against Cole family with violent attack that sends mother to hospital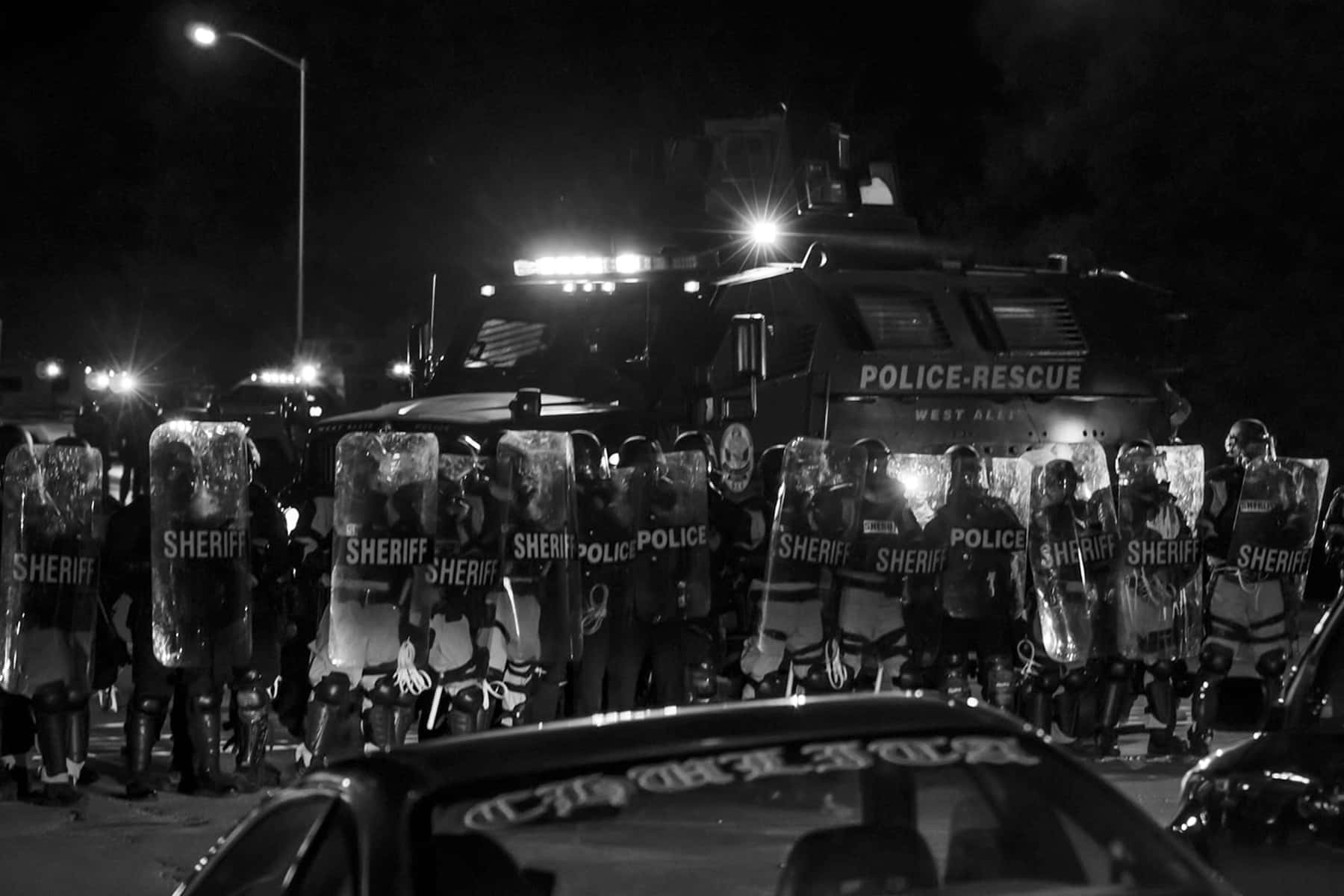 Under the questionable legality of an ambiguous curfew order, Wauwatosa police violently arrested the mother and sisters of Alvin Cole on October 8 while they sat in their vehicle at the end of a peaceful demonstration.
Wauwatosa police arrested Tracy Cole, and her daughters Taleavia and Tristiana, about two hours after a curfew for the suburb of Milwaukee took effect. The arresting officers were part of a supplemental force reportedly from Waukesha County, but took their direction from Wauwatosa officials.
The incident happened on the second night of demonstrations, that also saw two dozen other peaceful protesters arrested, instigated by a militarized police force deployed near North Avenue and 67th Street.
The latest round of social unrest came after it was announced on October 7 that there would be no charges filed against Wauwatosa police officer Joseph Mensah, related to the shooting death of 17-year-old Alvin Cole.
His sister Tahudah Cole started broadcasting a Facebook Livestream just before law enforcement officers confronted her family in their car, moments before all the occupants were snatched out. The mobile phone, still filming, fell to the seat. What followed occurred just outside the range of the camera, but the audio recording could be clearly heard.
Tracy Cole, who is 48 and requires a cane to walk due to her health condition, expressed disbelief and terror. The livestream documented the chaotic exchange, which critics describe as chilling for its callousness and cruelty.
"I'm Alvin Cole's mother … I can't believe y'all did this to me. Y'all killed my son…" Tracy Cole screamed repeatedly as police handcuffed her. In the process, she suffered a head wound and what felt like a broken arm, and was threatened with being tased.
"I can't breathe…" Cole could be heard pleading, which was met with a reply from an unidentified police officer, "Well, that's too bad."
Kimberley Motley, attorney for the Cole family, later tweeted from Froedtert Hospital: "Tracy and Tristiana Cole just released from the hospital. Absolutely outrageous that they were attacked for peacefully protesting! Police refusing to give answers on where Taleavia Cole has been taken."
Witnesses said members of law enforcement also pulled many other people from their vehicles and slammed them to the ground before the arrests.
"It is absolutely disgusting and abhorrent that they attacked and snatched Tracy Cole, Tahuda Cole, Talevia and Tristiana, from their vehicles last night," Motley said during a press conference on October 9. "They were in their vehicles at eight o'clock and were snatched from their vehicles."
Jacob Blake Sr. from Kenosha and father of shooting victim Jacob Blake was also among the protesters, and he joined Motley for the press conference to express his solidarity with the Cole family and to describe what he witnessed on October 8.
"What we experienced as peaceful protesters was storm trooper-type tactics," Blake said. "Tracy was speaking and we could see them moving in … When they left and went down the street, they turned left. When they got to the next light, that's when they ambushed the car."
State Representative David Bowen, who has been active in the Black Lives Matter movement and participated almost all the daily marches across Milwaukee since the May 25 death of George Floyd, criticized the arrests by Wauwatosa police on Twitter.
"The Mother of a son killed by a officer, who previously killed 2 other young men, is left tased, a possibly broken arm, and a large knot on the forehead. This was a "F you" message to the greater community without actually saying it," said Representative Bowen. "The over aggressive actions by Wauwatosa Police to arrest dozens of people, including the three sisters and Mother of the slain Alvin Cole, assaulting Mom in the process, a day after his killer was announced not to be charged, were deplorable and clearly an attempt to provoke negativity."