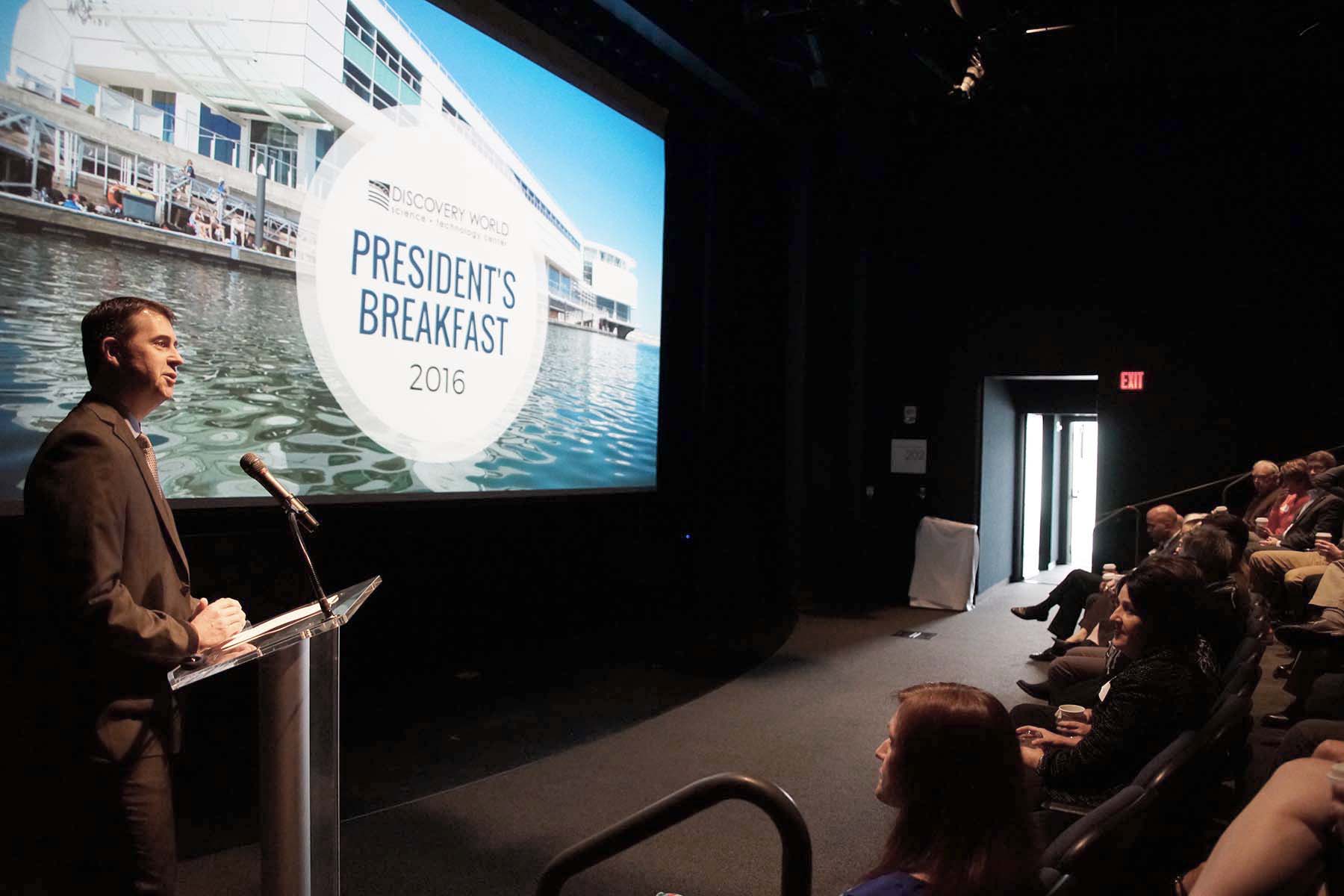 In commemoration of the science and technology center's ten year anniversary as an important innovation destination along the Milwaukee Lakefront, community leaders, academic partners, and public supporters attended the annual President's Breakfast at Discovery World on April 25.
President and CEO Joel Brennan previewed the 2015 Community Report, and detailed the incredible impact the nonprofit museum is having on STEM (Science, Technology, Engineering and Mathematics) Education in the region.
In the next few years, economic projections show a shortfall in the Milwaukee workforce population as older workers retire and are not replace from a skilled talent pool. Even the expected influx of foreign workers emigrating to the city will only ease the loss.
"With our STEM mission and being here at the front end of that workforce development pipeline, hopefully Discovery World can play an even bigger role in helping to filling this gap," said Brennan.
Today and Tomorrow
Discovery World was built in 2006, and by 2009 had become saddled with a capital debt of $8 million dollars. In 2015, that debt total had been reduced to $370,000 due in large part to Brennan's efforts. With the expectation to clear this remaining balance in 2016, Brennan offered his vision for the next few years.
The 2016 – 2020 plan includes the construction of a permanent health exhibit, ongoing refreshes and enhancements of current exhibits, a push for growth of endowment an capital reserves, and the repurpose of theater space for special exhibits and attractions.
Little House on the Prairie
The crowd of more than one hundred guests were presented with a humorous fact about visitor demographics, and who was missing. Discovery World hosted visitors from all fifty of the United States in 2015. And it welcomed visitors from 71 of Wisconsin's 72 counties. The single unrepresented county was the birth place of Laura Ingalls Wilder, best known as author of the "Little House on the Prairie" novels based on her childhood in a settler family. The museum hopes to attract visitors from Pepin County this year.
The Moonshot of Science
April 25 was also National DNA Day, which provides students, teachers, and members of the public with opportunities to learn more about genetics and genomics.
"This was something that was started to celebrate the Double Helix in 1953, and the completion of the national human genome project in 2003." explained Brennan. "For the past three months, we have had an exhibit here about the genome project. In the science world this was really tantamount to reaching the moon."
Created by the Smithsonian Institution and the National Institutes for Health (NIH), "Genome: Unlocking Life's Code" will soon leave to make way for future health and medical related displays.
Exhibit and Experience Growth
Also outlined were the steps taken by Discovery World to ensure its long-term financial sustainability. Brennan listed how in recent years there has been expanded investments in major exhibits and experiences for members and visitors. 2015 saw several showcase partnerships that included the Rockwell Automation Music Factory, a new aquatic Touch Tank, the HUSCO Excavator, Grossology Traveling Exhibit, a new Exhibit Hall, the outdoor lab "It's Science! What Could Possibly Go Wrong," and an improved Electricity Show.
By the Numbers (2015)
– $6.5 million operating budget
– 50% of operating expenses are personnel
– 75% of budget is earned revenue, 25% contributed revenue
– No public funding, and no financial support from Milwaukee County
– Earned Revenue: $500,000 above plan
– Expenses: $500,000 below plan
– More than $700,000 invested in capital improvements
increase in Member visits
increase in School Group Admission
increase in Educational Lab Program participation
increase in Summer Camp attendance
These last two percentage totals illustrate how Discover World is fulfilling its educational mission.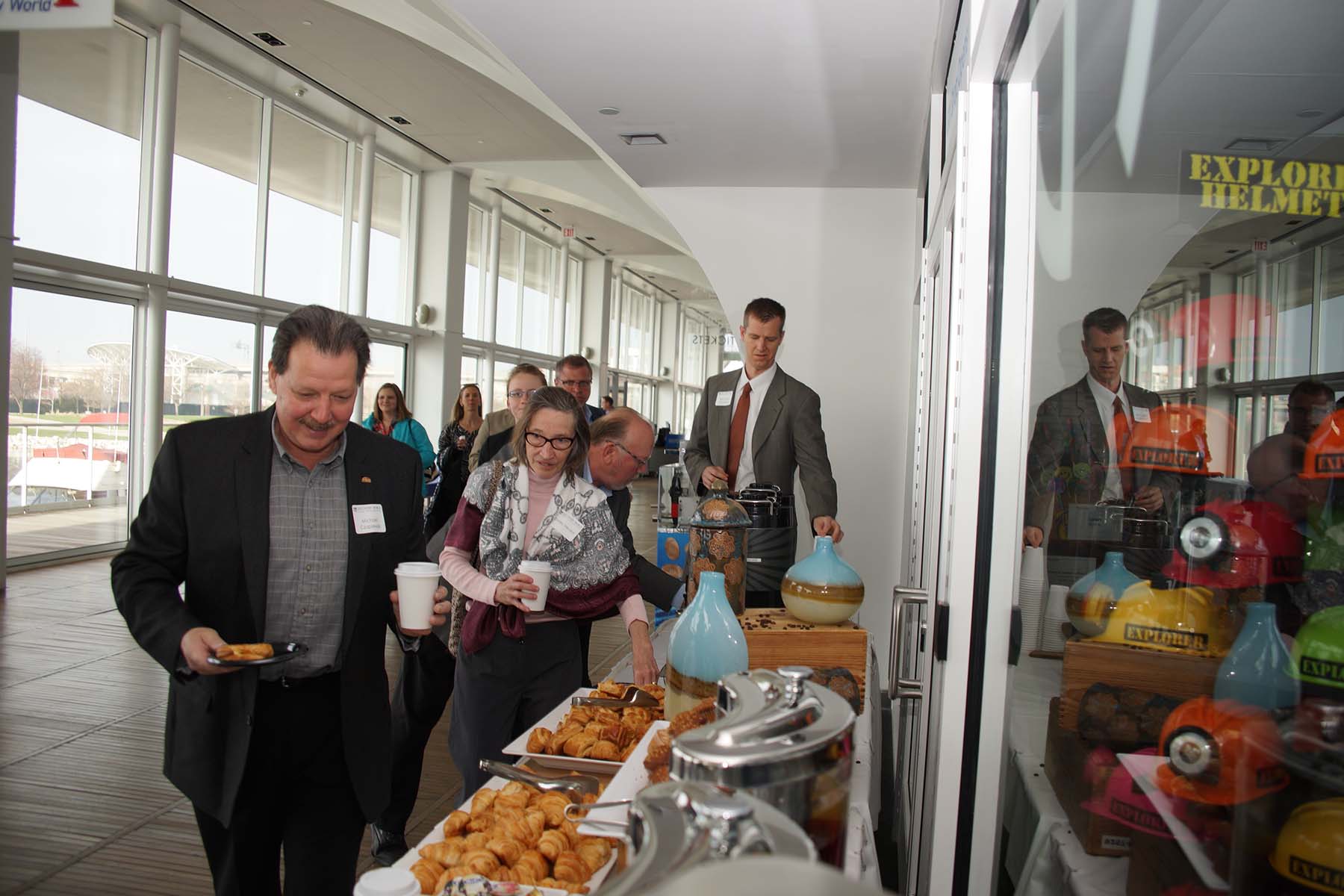 Read the article and view the photo essay that was produced as a companion feature for this news report.