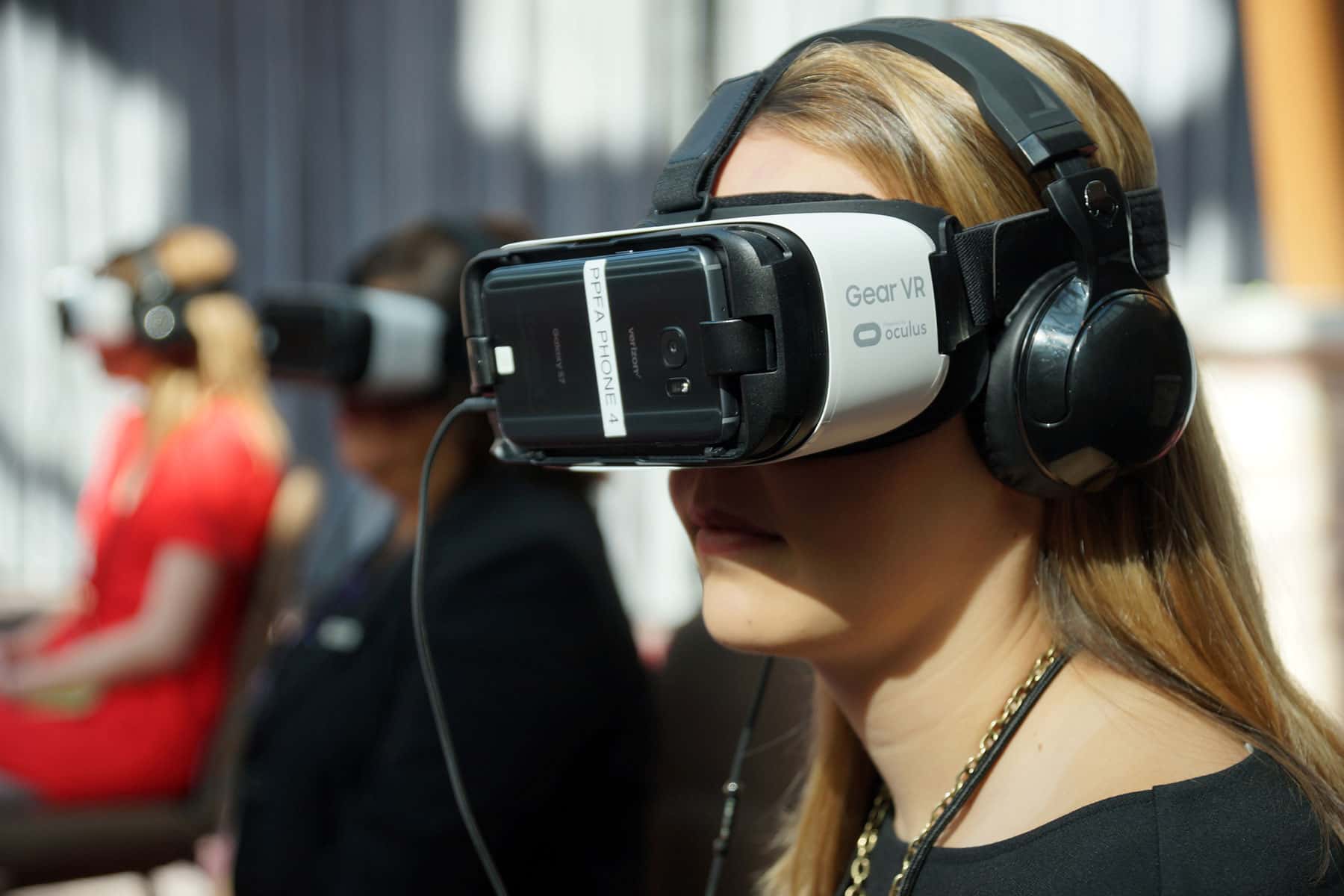 At the October 14 celebration for the 80th anniversary of Planned Parenthood of Wisconsin, attendees were offered a live preview of a new immersive film that provided an educational experience.
Viewers were literally put in the shoes of women going through the steps to have an abortion, and chief among the process was having to face anti-abortion protestors.
Across the Line is a 2015 virtual reality film that combines 360° video and computer generated imaging to help individuals gain an intimate understanding of the harassment outside and compassion inside health centers across the country.
Created by Nonny De La Peña, Jeff Fitzsimmons, and Brad Lichtenstein, it was produced in partnership with Planned Parenthood. The walk-around version of the production premiered at the Sundance Film festival in the New Frontier program last year.
"My entire career has been devoted to putting the truth of people's lives in front of audiences to spur them into action," said Lichtenstein. "This is my first foray into VR, a perfect medium to deliver a true sense of what it feels like to contend with judgment, harassment and attempts at manipulation just to access a health center."
Using real audio gathered at protests, scripted scenes, and documentary footage, the film is a powerful hybrid documentary-fiction depiction of the gauntlet that many abortion providers, health center staff, and patients must walk on a typical day in America.
"Once we began to research and compile nonfiction footage and audio for this piece, we saw a consistent pattern of intimidation and provocation by protesters," said De la Peña. "By putting the audience on scene, it offers an intimate and visceral understanding of what thousands of women face when they seek care at a Planned Parenthood.This virtual reality piece allows viewers the harrowing experience of trying to make it 'across the line.'"
In the past five years, states have enacted 282 abortion restrictions, and Congress has voted 18 times in 2015 to restrict women's access to reproductive health care. More than half of American women of reproductive age now live in states where access to abortion is being restricted by their state legislatures.
The VR experience is part of ongoing efforts by Planned Parenthood and other sexual and reproductive health organizations to reduce stigma and change the conversation around safe and legal abortion. Nearly a third of women in America decide to end a pregnancy, and a woman's decision about her pregnancy should be respected and valued.
"This film is the first project of its kind, using the newest technology to bring people inside the experience of navigating vicious protests in order to access a legal medical procedure," said Dawn Laguens, executive vice president and chief experience officer at Planned Parenthood Federation of America.
Across the Line comes during a critical moment of attacks on women's reproductive health and rights. By confronting the stigma around that decision and documenting tactics of anti-abortion activists, this experience amplifies the conversation around safe and legal abortion.
"There's never been a more important time to raise awareness about the very real experiences that some women face to access abortion services in this country," said Laguens.