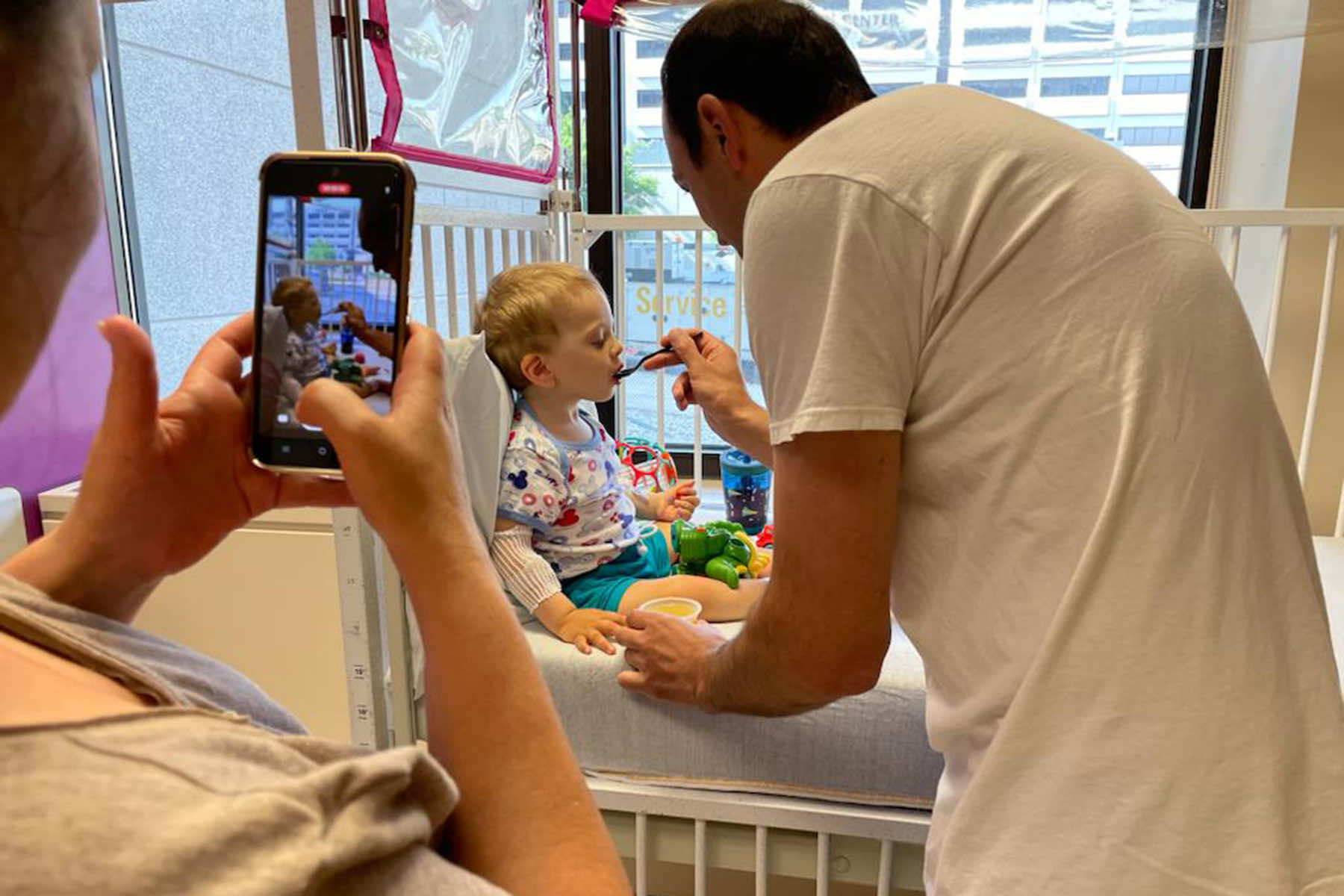 Along with the hardships of the first year of war in Ukraine, Lesia Kutarenko began noticing that her baby was no longer trying to walk. He had also reverted to crawling.
"Our son could walk while leaning on chairs, sofas, and walls. Like all children, he would sometimes fall. Then I started noticing that he stopped walking. He began to crawl more or move on his knees while leaning on objects," said Kutarenko. "I contacted our pediatrician about this problem, who said we needed to encourage him more to walk. Two more months passed, and he seemed to be getting weaker."
Because of the strain and disruption of Ukraine's health care system, doctors misunderstood the baby's symptoms. After a few months, and Kutarenko's insistence on testing, her six-month-old son was diagnosed with Spinal Muscular Atrophy (SMA).
Oleksandr Kutarenko – known as Sasha – was born on September 21, 2021, just five months before Russia began its brutal full-scale invasion of Ukraine on February 24, 2022. The Russian attack would also rob Sasha of a chance to receive treatment for his genetic disorder.
"The company Novartis, which developed the gene therapy medicine, periodically conducts a lottery for Zolgensma among sick children in some countries who do not need to pay for the treatment. Ukraine was among those participating countries," said Kutarenko. "But since the medicine was delivered by special air flights, and after the Russian invasion all flights to Ukraine were closed for security reasons, our country can no longer take part in the lottery."
SMA starts in the central nervous system and affects all the muscles in the body. Due to the degenerative nature of the disease, people with SMA will experience a decline in muscle strength over time. The condition was almost always fatal by 2 years of age, with a 50% mortality rate by 7 months, and a 90% mortality rate after 12 months.
"In Ukraine, there is a general misconception about this awful disease. People believe that SMA only leads to the paralysis of the legs. However, it is much worse than that," said Kutarenko. "Without the right treatment, children will not even be able to breathe on their own. SMA causes the nerve cells in the spinal cord to die, and that atrophy affects all the muscle tissues of the body."
Medical advances over the past decade, for SMA treatment in infants, have dramatically increased the survival rate. In many cases, the damaging effects of the genetic disorder have been reversed.
With no other option to save the life of their son, Kutarenko and her husband Ruslan applied to the Uniting for Ukraine (U4U) program in order to bring Sasha to the United States for treatment.
One complication was the fact that under Martial Law in Ukraine, men who are of military age and likely to be called for military service cannot leave the country without compelling circumstances. Sasha's father was 32 years old. In order for Ruslan to be allowed through at the border, it was necessary to formally issue a certificate of his son's disability.
Without medication, children with Sasha's condition are not expected to survive. Injections of Spinraza (Nusinersen), the first FDA-approved therapy to treat SMA can cost between $625,000 to $750,000 in the first year, and then around $375,000 every year after.
The Milwaukee-based nonprofit Friends of Be an Angel has evacuated 18 babies with SMA to the United States, and various countries in the European Union, where they are receiving life-saving treatment.
The humanitarian organization coordinated the Kutarenko family's resettlement and treatment program in Milwaukee. They arrived on May 25, and expected to wait a month before the Milwaukee Campus of Children's Wisconsin would be able to review Sasha's condition.
Instead, their first appointment was just a few days later on May 30. Shortly after that Sasha was approved for the life-saving medical treatment. On June 22, Children's Wisconsin administered an injection of Spinraza during a 45-minute procedure.
On August 18, Sasha was reviewed by a neurologist in Milwaukee who said his condition had improved greatly. Not all patients progress so quickly after the injection.
"Sasha has become much more active and does not get tired as quickly as before. He can now stand up using outstretched arms and legs, even on a soft surface like a bed," said Kutarenko. "The result of improved muscle function has contributed to the development of my son's speech."
His increased upper body strength also allows Sasha to pull himself up more easily, and play with toys without the need to support himself.
Sasha will turn 2 years old on September 21, an age he was never expected to reach. September 22 will be exactly 3 months from the date of his treatment. Even though the little boy lags behind his peers in many ways, what he has achieved over 12 weeks gives his parents great hope.
Kutarenko said that there was nothing worse than waking up every morning in fear for the life of her child. And although the drug Zolgensma was not a magic wand that would make the disease disappear forever, she now wakes up in the morning in the family's apartment in Milwaukee to see her son getting stronger.
"I could never have imagined all the help we received to get us here. My son now has every opportunity for a fulfilling future," added Kutarenko. "As his parents, we are determined to do everything possible so that Sasha does not lose this chance for a normal life."