Emmanuel Blair: Milwaukee native provides vital weather services to Pacific Naval commands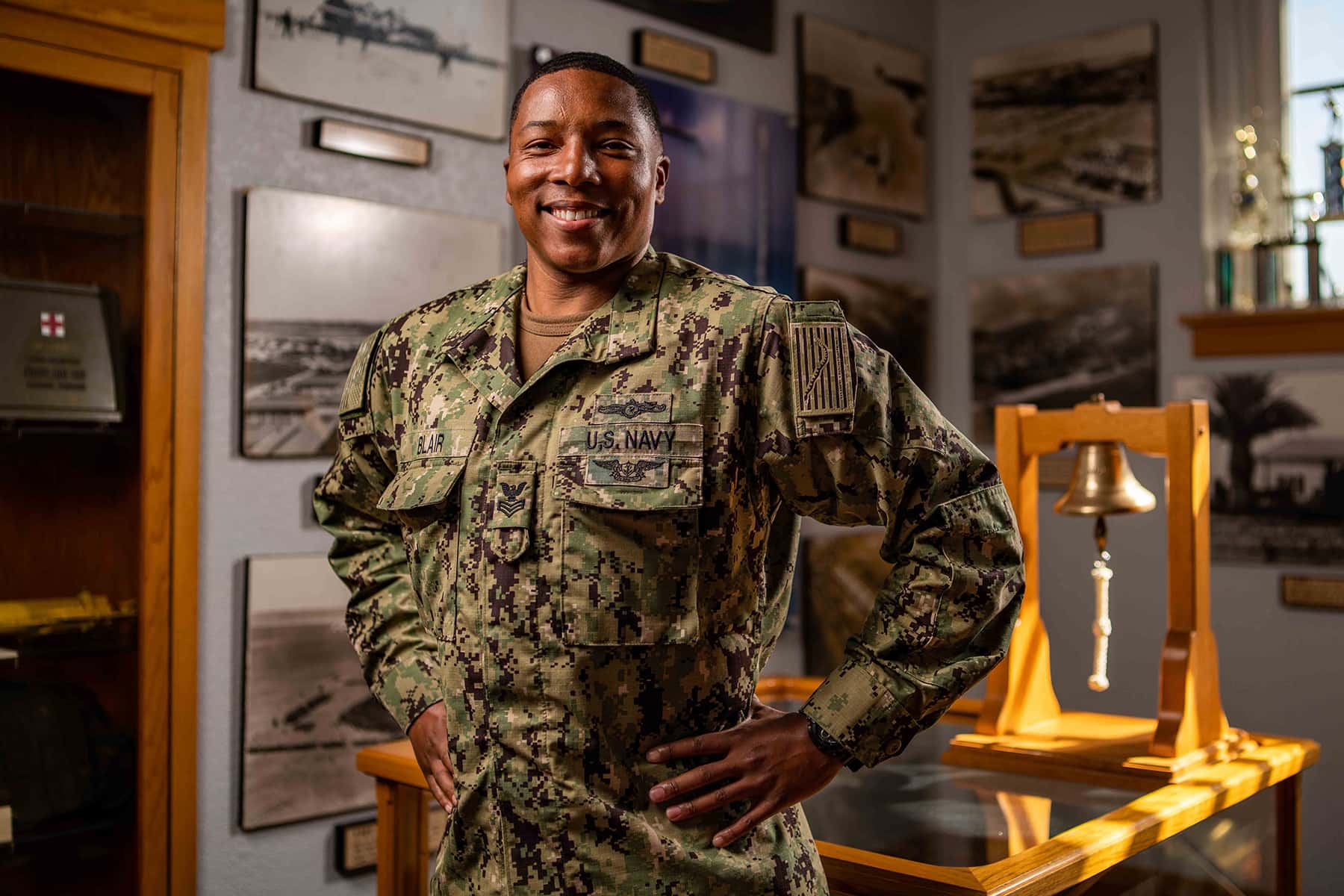 Most Americans rely on weather forecasts to plan their daily routine. The U.S. Navy is no different. With numerous ships, submarines and airplanes deployed in the U.S. Pacific Fleet's area of operations, sailors stationed at Fleet Weather Center San Diego, make it their primary mission to monitor weather conditions in support of the fleet's daily operations.
Petty Officer 1st Class Emmanuel Blair, a 2002 William C. Horlick High School graduate and native of Milwaukee is one of these sailors serving at the Fleet Weather Center, providing full-spectrum weather services to shore-based commands and afloat naval units.
As a Navy aerographer's mate, Blair is responsible for counseling junior and senior sailors on career advice and decision making. Blair credits success in the Navy to many of the lessons learned in Milwaukee.
"In high school I was organized and was very determined to make life easier," said Blair. "In the military, that organization has helped me transition, assisting sailors to make good choices for their careers."
Additionally, sailors serving with the Fleet Weather Center ensure naval installations, contingency exercises and operations are able to facilitate risk management, resource protection and mission success of fleet, regional and individual unit commanders.
Fleet Weather Center San Diego provides U.S. and coalition ship, submarine, and aircraft weather forecasts including en route and operating area forecasts. In addition, they deploy certified Strike Group Oceanography Teams and Mobile Environmental Teams from the commands to provide tactical war fighting advantage for strike and amphibious forces afloat through the application of meteorological and oceanographic sciences.
"Naval Oceanography defines and applies the physical environment for the entire Navy fleet from the bottom of the ocean to the stars," said Rear Adm. John Okon, Commander, Naval Meteorology and Oceanography Command. "There isn't a plane that flies, a ship or a submarine that gets underway without the sailors and civilians of Naval Oceanography."
The U.S. Pacific Fleet is the world's largest fleet command, encompassing 100 million square miles, nearly half the Earth's surface, from Antarctica to the Arctic Circle and from the West Coast of the United States into the Indian Ocean.
A key element of the Navy the nation needs is tied to the fact that America is a maritime nation, according to Navy officials, and that the nation's prosperity is tied to the ability to operate freely on the world's oceans. More than 70 percent of the Earth's surface is covered by water; 80 percent of the world's population lives close to a coast; and 90 percent of all global trade by volume travels by sea.
Being stationed in San Diego, the principal homeport of the Pacific Fleet, means Blair is playing an important part in America's focus on rebuilding military readiness, strengthening alliances and reforming business practices in support of the National Defense Strategy.
"Our priorities center on people, capabilities and processes, and will be achieved by our focus on speed, value, results and partnerships," said Secretary of the Navy Richard V. Spencer. "Readiness, lethality and modernization are the requirements driving these priorities."
The Pacific is home to more than 50 percent of the world's population, many of the world's largest and smallest economies, several of the world's largest militaries, and many U.S. allies. The Navy has been pivotal in helping maintain peace and stability in the Pacific region for decades, according to Navy officials.
Though there are many ways for sailors to earn distinction in their command, community and career, Blair is most proud of earning a Navy Achievement Medal for being Sailor of the Year.
"At the time, I was a junior sailor and I did the work of a senior sailor," said Blair. "It helped open my eyes that when you get a reward in the military it's not just you, but everyone's hard work that accomplishes the mission."
Serving in the Navy is a continuing tradition of military service for Blair, who has military ties with family members who have previously served. Blair is honored to carry on that family tradition.
"My brother was in the Army," said Blair. "He is the reason I am in the military."
As a member of one of the U.S. Navy's most relied-upon assets, Blair and other sailors know they are part of a legacy that will last beyond their lifetimes providing the Navy the nation needs.
"Serving in the Navy means a sense of global security," added Blair. "The Navy serves on land, in air and at sea. We do a lot of everything. There are so many possibilities within the Navy."