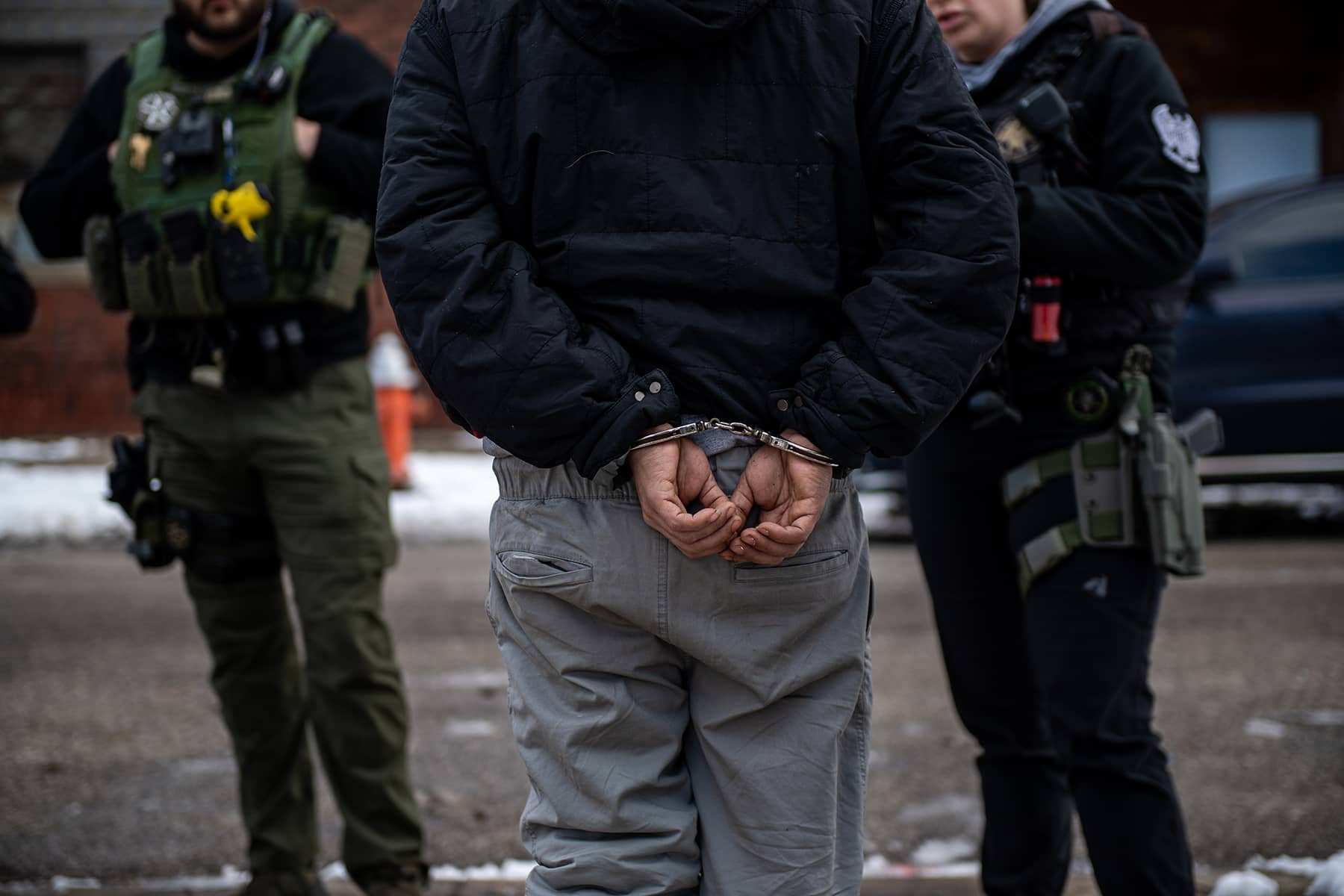 The U.S. Marshals Service recently concluded Operation North Star II, a high-impact fugitive apprehension initiative aimed at combating violent crime in Milwaukee and 9 other cities with a significant number of homicides and shootings.
During an ONS II press conference at Milwaukee City Hall on February 15, Mayor Cavalier Johnson was joined by U.S. Marshals and other local law enforcement partners to talk about the 30-day initiative, which resulted in 833 arrests. More than 100 of those arrests took place in Milwaukee.
"These fugitives are among some of the worst committing crimes that include homicide, armed robberies, and assault with firearms," said U.S. Marshal Anna Ruzinski of the Eastern District of Wisconsin. "The Fugitive Task Force devotes every day to locating and apprehending violent fugitives trying to evade the justice system. We are not naive enough to think that this is the answer to ending violent crime. But when we can remove some of the worst repeat offenders from the community, we can start to have an impact."
ONS II focused on fugitives wanted for the most serious, violent, and harmful offenses including homicide, forcible sexual assault, robbery, or aggravated assault. Throughout the month of January, the U.S. Marshals Service used its broad arrest authority and network of task forces to arrest individuals wanted on charges including 95 for homicide and 68 for sexual assault.
"Good things happen when we work together towards a common cause. In this case, agencies throughout the region are on board to improve public safety," said Mayor Johnson. "The results are pretty notable, as dozens of people who should not be on the streets were located. It is safe to assume that because of the arrests that were made, there were potential crimes that did not take place."
Mayor Johnson said that while efforts continued to engage with troubled individuals, they still needed to be held accountable for their actions.
"Every accused individual deserves a fair judicial process, and the State's has to prove that in court," added Mayor Johnson. "But the first step in that process requires accused criminals to be brought to the courtroom. That was what happened with Operation Northstar."
ONS II investigators prioritized their efforts to include individuals using firearms in their crimes, or who exhibited risk factors associated with violence, in Albuquerque, New Mexico; Buffalo, New York; Cleveland and Columbus, Ohio; Detroit, Michigan; Jackson, Mississippi; Kansas City, Missouri; Milwaukee, Wisconsin; Oakland, California; and Puerto Rico.
"The results of this operation should make clear that the Justice Department and our partners across the country will stop at nothing to find and bring to justice those responsible for violent crime," said Attorney General Merrick B. Garland in a statement. "The U.S. Marshals Service, and the entire Justice Department, will continue to work in partnership with community leaders and law enforcement professionals nationwide to protect our communities."
In addition, investigators seized 181 firearms, more than $229,000 in currency, and more than 160 kilograms of illegal narcotics. A notable arrest in Milwaukee included Antonio Jenkins, who was taken into custody on January 13 in West Allis by members of the Great Lakes Regional Fugitive Task Force. Jenkins, one of the 114 arrested during ONS II, was wanted in Milwaukee for numerous charges including first-degree reckless endangering safety, felon in possession of a firearm, battery, and the sale, possess, use, and transport of a machine gun.
"The U.S. Marshals Service remains steadfast in its commitment to assisting law enforcement and community leaders at all levels to combat violent crime," said Director Ronald Davis of the U.S. Marshals Service. "The success of ONS II is based on its laser focus on the most significant drivers of violence. We are confident that apprehending these offenders will bring a level of justice to their victims and contribute to the overall violence reduction efforts in each city and hopefully bring a level of justice to their victims."
The concept behind interagency law enforcement operations such as ONS II evolved largely from regional and district task forces. Since the 1980s, the U.S. Marshals Service has combined their resources and expertise with local, state, and federal agencies to find and apprehend dangerous fugitives.
© Photo
Lee Matz and Office of Public Affairs U.S. Marshals Service