Tiffany Krihwan: Longtime S/V Denis Sullivan captain departs Milwaukee to command 127-year-old Schooner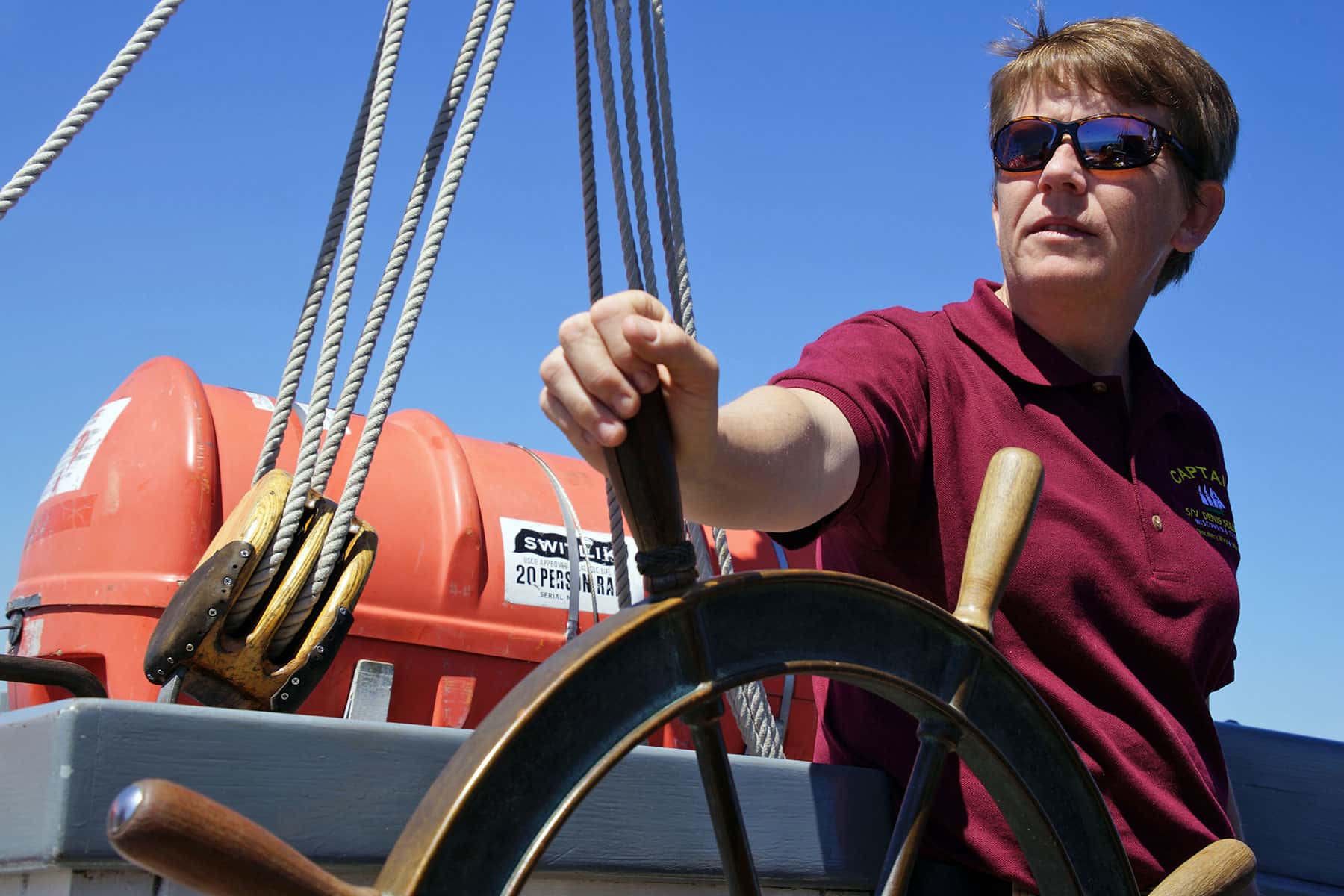 The Massachusetts Maritime Academy (MMA) announced on February 22 that Tiffany Krihwan would be the new Captain of the historic Schooner Ernestina-Morrissey, a renovated tall ship which is expected to arrive at the Cape Cod campus in the Fall of 2021.
Captain Krihwan joins the MMA staff from Discovery World in Milwaukee where she was Director of Marine Operations since 2014 and Senior Captain of the Denis Sullivan, a 19th-century Great Lakes schooner, since 2008.
"I knew that someday I would leave the S/V Denis Sullivan, but I was hoping it would be on my terms," said Captain Krihwan. "It has been my true pleasure and a point of pride to have been the Captain of the S/V Denis Sullivan."
Captain Krihwan said that the Sullivan had been an important part of her life for many years, and that she watched her daughter, Carson, grow up on the vessel. As Discovery World, the scientific museum that operates the vessel, made cutbacks over 2020, many employees were furloughed. But the financial pressure continued to mount as the pandemic stretched on. Eventually, Captain Krihwan was one of the last two remaining crew members to be let go.
"I started sailing on the Sullivan in 2001 as a deckhand and continued to return to her over all of her years sailing," said Captain Krihwan. "I have been her Senior Captain for 12 years, and she has been a member of my family almost since her launch 20 years ago. Carson calls the ship her big sister. I will truly miss the Sullivan and all of the great people that have sailed aboard her with me."
A native of Erie, Pensilvania, Captain Krihwan took up sailing FJs at the age of 10 at the Erie Yacht Club. She began sailing tall ships in 1997 when she was appointed Chief Mate of the Appledore IV. Other leadership positions included Captain of the Boston-based schooner Roseway, Chief Mate of the Pride of Baltimore II, Relief Captain of the Los Angeles-based brigantine Exy Johnson, and Captain of the tall ship Unicorn. Drawn to the position at MMA by the Ernestina-Morrissey's history and pedigree, Krihwan said that she was looking forward to guiding the ship and her crew on the waters off Cape Cod.
"I've sailed on a few Grand Banks Fishing Schooners, the Lettie G. Howard and Roseway, over the years and love the way they sail so effortlessly. They are amazing sailing vessels," added Captain Krihwan. "It's an honor to be joining MMA and captaining the Ernestina-Morrissey. It's hard to beat the beauty and grandeur of tall ships."
The Ernestina-Morrissey is a Gloucester fishing schooner originally built with white oak and yellow pine and launched in 1894. The Ernestina-Morrissey's history includes traveling within 600 miles of the Arctic Circle as an explorer ship, fishing for cod in the Atlantic, and eventually becoming a Cape Verde packet ship. In 1976, the Ernestina-Morrissey became a bicentennial gift to the United States from the people of the Cape Verde Islands.
"We're adding a proven leader to our ranks, and I'm looking forward to seeing Captain Krihwan at the helm of the Ernestina-Morrissey," said Rear Admiral Francis X. McDonald, USMS, President of the Massachusetts Maritime Academy. "We're excited to have a Captain of Tiffany's sailing experience, leadership skills and passion for our program aboard."
With the Ernestina-Morrissey, Captain Krihwan is also eager to start a sail training program from the ground up, and help integrate a tall ship into MMA's curriculum. She felt it was a special opportunity to help individuals become better sailors by working with historic vessels, which offers the fundamental principles of sailing.
She also will have an important role in teaching the cadets at the Academy and mentoring them to become leaders. According to Captain Krihwan, her leadership style is to lead by example and she believes a captain is only as good as her crew. Her hope is to not only share her love of tall ships with the cadets but also pass along skills that are important on sea and land.
"One of my favorite aspects of sailing a tall ship is seeing the crew and students personally grow from the experience and witness their confidence in themselves develop during their time aboard the ship," Krihwan explained. "My hope is that they take the experience with them and apply the skills and attributes learned at sea to their shore life."
The Massachusetts Maritime Academy is a fully accredited, four-year, co-educational state university offering Bachelor and Master of Science degrees that are highly regarded in the worldwide maritime industry and beyond. For more than 100 years, MMA has been preparing women and men for exciting and rewarding careers on land and sea.
Captain Krihwan will be relocating to the Cape Cod area with her 11-year-old daughter. In her spare time, she plans to continue the restoration of the "Mahanna," her wooden 30′ Tahiti Ketch.