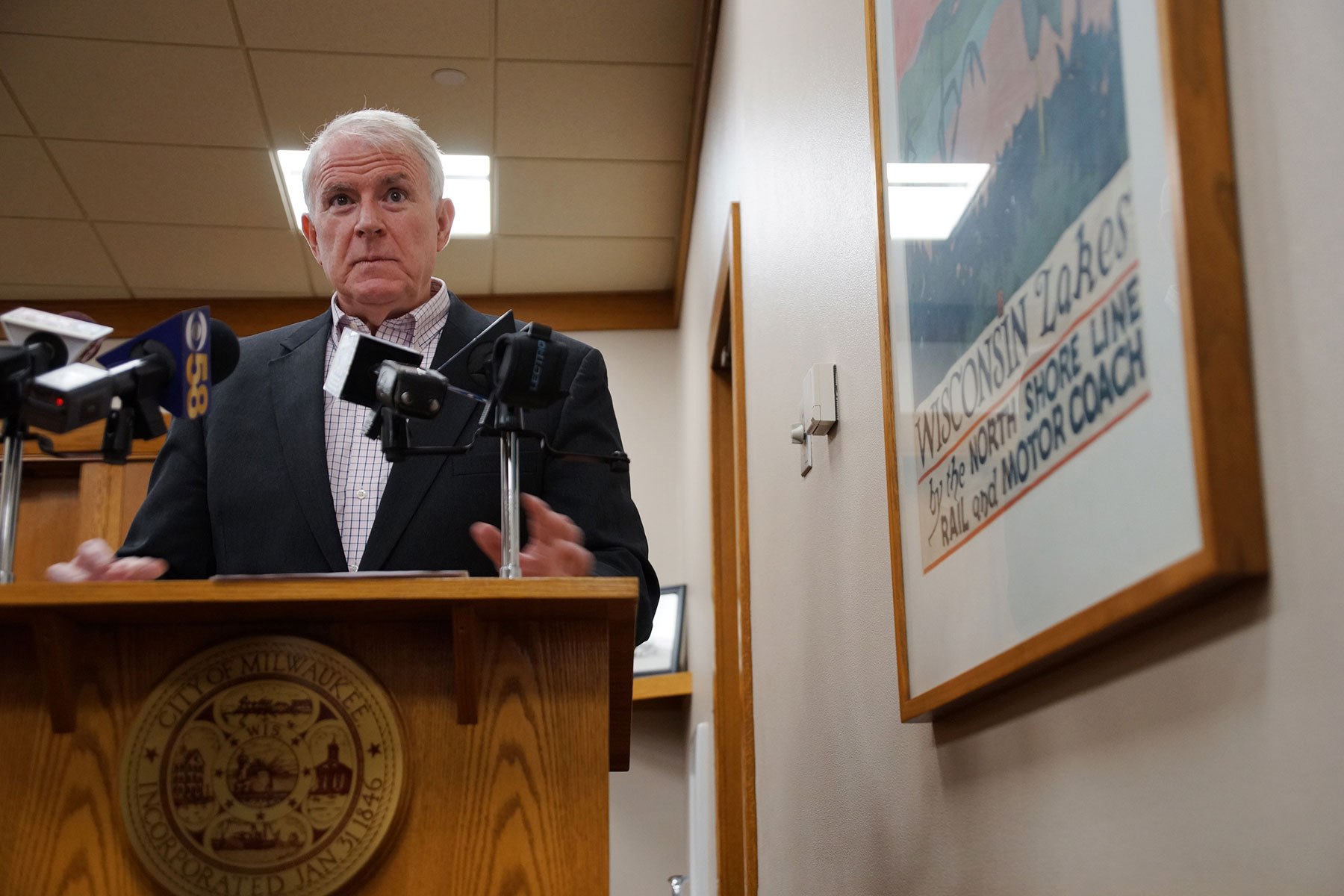 Mayor Tom Barrett called attention to the erroneous deactivation of potentially thousands of voter registration records in Milwaukee as a result of the state's recent enrollment in Electronic Registration Information Center (ERIC) and incorrect data provided by the Wisconsin Department of Motor Vehicles and the U.S. Post Office.
At a press conference at City Hall on March 21, Mayor Barrett was joined by by Neil Albrecht, Executive Director of the City of Milwaukee Election Commission, and representatives from voter rights organizations to announce steps the City of Milwaukee is taking to ensure voters are re-registered and to lessen the impact of citizen's ability to vote in upcoming elections.
"This is not a problem that has been caused at the local level," said Mayor Tom Barrett. "This morning I am sending a letter to Governor Walker asking that he help to ensure we do not run into these issues in the April elections and the fall elections."
In 2016, Wisconsin joined the Electronic Registration Information Center (ERIC) to help maintain accurate voter registration data. ERIC compares data from the Wisconsin Election Commission, the Department of Motor Vehicles, Social Security Administration, the U.S. Post Office and data from other participating states to identify inconsistencies in voter registration addresses.
When inconsistencies are found the registration record is "flagged" and the person is mailed a notification postcard with a 30-day opportunity to reply. If there is no reply, the person's voter registration is automatically disabled.
"The value of Eric is that it can create some of the cleanest voter registration data," said Neil Albrecht, Executive Director of the City of Milwaukee Election Commission. "However, the implementation of ERIC in the State of Wisconsin is flawed."
In 2018, the City of Milwaukee was informed that 46,763 records were "flagged" for notification mailing and potential inactivation. Of that number, 518 voters responded to the mailing to maintain their registration as active. An additional 1,750 re-registered at their new address using the state's on-line system. 12,500 postcards were returned as undeliverable, confirming the person had moved. Approximately 32,000 records were inactivated without returned postcards or contact from the affected individuals.
Given the volume of inactivated voter records, the City of Milwaukee Election Commission began a thorough review of data and noted irregularities in the types of records that were inactivated. These irregularities included 100 voters having to re-register at their same address during the February 20 Spring Primary. All issues, as identified, were promptly reported to the Wisconsin Elections Commission for investigation.
Noted data errors provided to ERIC by partnering agencies, such as the DMV and the U.S. Post Office included:
Records where address fields in the voter registration database did not match completely with address fields with the DMV (same address, different fields)
Records where vehicle registration or loan co-sign addresses were used instead of drivers' license address.
Records where address information was coded incorrectly with the U.S. Post Office.
The City of Milwaukee Election Commission is in daily contact with the Wisconsin Election Commission and is working diligently to identify clusters of data errors. However, the city is very concerned with the extent to which the accuracy of data was compromised by error and has asked the Wisconsin Elections Commission to reactivate all records inactivated through the ERIC process.
If errors are not fully addressed by the November mid-term, as many as 3,000 people in the City of Milwaukee may need to re-register, which is a burden that some residents may not be able to meet and could impact their ability to vote.
The City of Milwaukee has, independently of the ERIC process, mailed postcards (attached) this week to all persons inactivated through the ERIC process in order to further identify records that may have been affected. Given the close proximity of this issue to the April 3 Spring Election, the City is also extending early voting hours, to include Saturday, March 24 from 10 a.m. until 2 p.m., to assist residents that may need to re-register.
The Wisconsin Elections Commission is providing a list of all voters that were inactivated through the ERIC process to each City of Milwaukee voting site. Any person appearing on this list that still resides at their current address will be able to vote for the April 3 election.
It is important for any person intending to vote in the April 3 Spring Election, just two weeks away, to confirm their voter registration record if they have multiple addresses on file with the DMV or have filed recent address information with the U.S. Post Office. A voter registration record can be confirmed by logging onto myvote.wi.gov