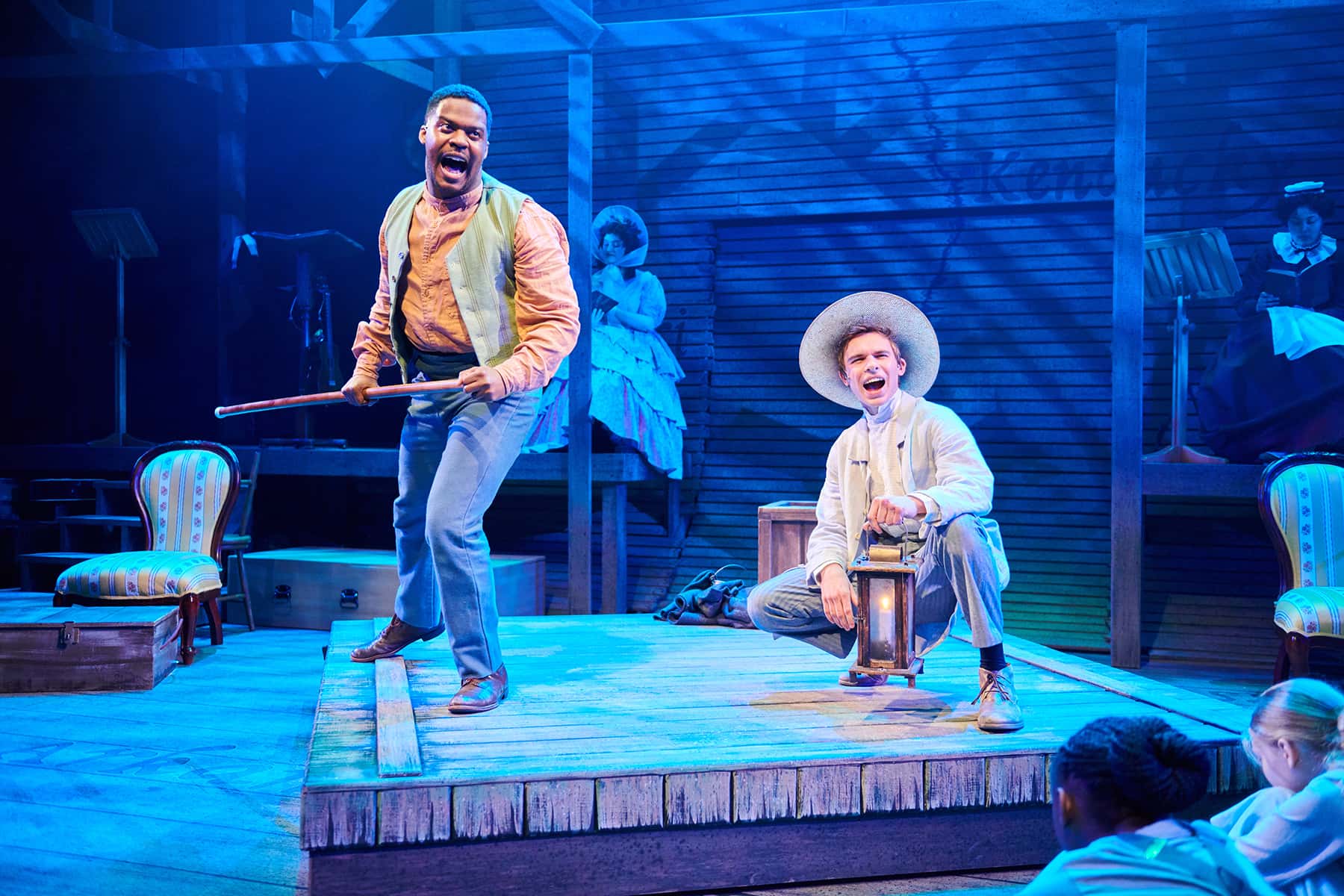 One of Shakespeare's greatest and most beloved comedies "As You Like It" and a family adaptation of the Tony Award-winning Broadway musical, "Big River: The Adventures of Huckleberry Finn" brings a powerful journey of music, love, and laughter to the Milwaukee Youth Arts Center.
Shakespeare intended his plays to be heard and seen, not read in a classroom. Featuring First Stage's award-winning Young Company, his romantic comedy "As You Like It" arrived at the Milwaukee Youth Arts Center as a needed respite from the harsh Wisconsin winter.
Directed by Milwaukee theater professional James Fletcher, the plays tells the story of Rosalind as she is banished from her uncle Duke Frederick's court. She must then flee into the Forest of Arden with her cousin Celia and the fool Touchstone. They encounter clowns, noblemen, and even Rosalind's new love Orlando – who needs to learn a few things before he will deserve her.
"The Forest of Arden possesses a simple magic – it contains the magic of double meaning. This play is filled with words that have double, triple, even quadruple meanings," said Fletcher. "When language can have unlimited meaning, anything is possible. It has a transformative effect, and with only one notable exception, it transforms everyone who enters its confines. It transforms woman to man, vengeance to forgiveness and hate to love."
Having age appropriate actors was important for the production to bring Rosalind, Orlando, and other characters to life. It also put a spotlight on Shakespeare's greatest heroine, and one of his most famous lines, as a way to remind the public that we all have roles to play in every aspect of our lives.
"Big River: The Adventures of Huckleberry Finn" tells the story of Huck and a slave named Jim as they travel along the mighty Mississippi River. Huck tries to help Jim escape to freedom and reunite with his family. Their shared journey is one of discovery, suspense, and friendship.
Mark Twain's timeless classic coming-of-age story takes on an added depth and inspiration with its musical presentation, featuring live bluegrass songs accompanied by fiddles, guitars, a harmonica, and the piano. The performance is the world premiere co-production with the Lyric Theatre of Oklahoma, in association with Rogers and Hammerstein Theatricals and First Stage.
"Mark Twain has offered us a story of one of the most powerful friendships found in the American canon," said director Marti Gobel. "Through the friendship of Huck and Jim we can also come to a greater understanding of the beauty found in unlearning some of this country's negative traditions. Along with this most powerful friendship, we have the majesty of the Mississippi River to help us on our storytelling journey."
"As You Like It" runs March 8 to 24 at the Milwaukee Youth Arts Center, located at 325 W. Walnut Street in downtown Milwaukee. "Big River: The Adventures of Huckleberry Finn" runs March 15 to April 14 at the Marcus Center's Todd Wehr Theater, located at 929 N. Water Street.