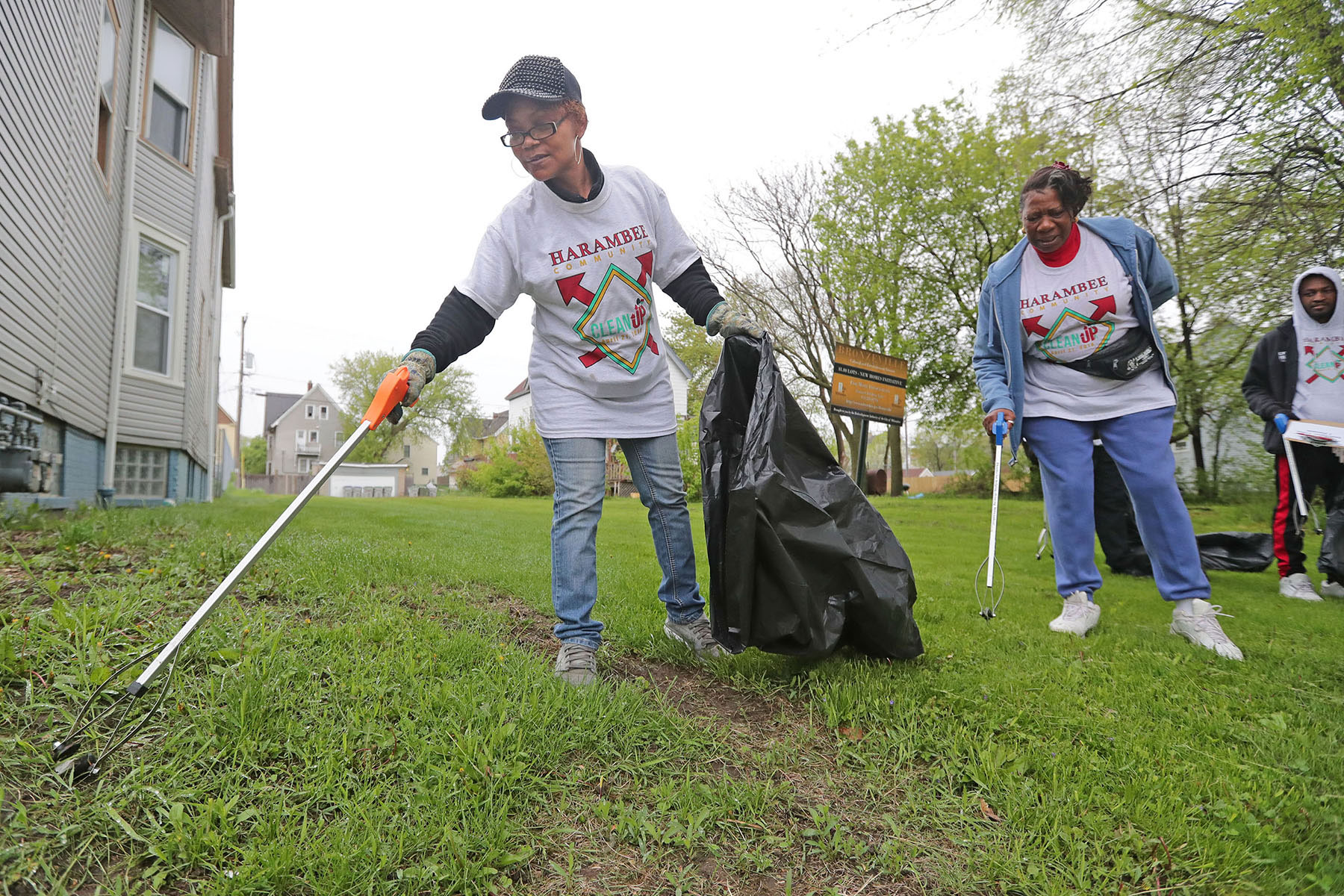 Volunteers and community leaders are came together on May 19 for an inaugural cleanup of 160 city blocks within the Harambee neighborhood in Milwaukee.
It was the first community cleanup of this magnitude in Harambee, and organizers coordinated their resources to put hundreds of area volunteers in place for the event.
The Inaugural Harambee Community Cleanup focused on the neighborhood from North Holton Street west to Interstate 43 and West North Avenue north to West Capitol Drive. Free food and family-friendly games were available to volunteers.
Safe & Sound, WestCare Wisconsin, neighborhood block clubs, a coalition of Harambee churches and pastors, area schools, and community organizations and businesses collaborated in the planning and preparation of the inaugural cleanup.
"The cleanup of the Harambee neighborhood is one of many positive steps being taken to revitalize this vibrant and critical Milwaukee community," said Adrian Spencer, Drug-Free Communities Manager of Safe & Sound. "This event also touches the heart of our mission by creating an opportunity for neighbors to come out of their homes and connect with one another while they beautify the physical surroundings of this neighborhood they call home."
Safe & Sound, which works to unite residents, youth, law enforcement and community resources to build safe and empowered neighborhoods, helped recruit volunteers to help clean the blocks from West Burleigh Street south to East Center Street, and North Holton Street west to Interstate 43.
"We are in the community and committed to its vitality," said Elizabeth M. Coggs, Regional Vice President of WestCare Wisconsin. "The neighborhood cleanup will be a powerful demonstration of the word Harambee, which means 'pull together.'"
WestCare Wisconsin, located in the Harambee Community Center at 335 W. Wright St., helped notify Harambee residents of the event, recruited volunteers, and organized key event-day logistics. WestCare Wisconsin provides services and programming for men and women facing drug and alcohol addictions.
Alderwoman Milele Coggs and leaders from 5Points Neighborhood Association, Aurora Health Care, Bell Ambulance, the City of Milwaukee, Historic King Drive Business Improvement District, Johnson Bank, Keep Greater Milwaukee Beautiful, Pete's Fruit Market, Riverworks Development Corporation, Running Rebels, Waste Management, and Wisconsin Community Services were also instrumental in the cleanup preparations.
"This is an initiative led by the individuals of all ages who live in this neighborhood," said Frank Cumberbatch, vice president of engagement for Bader Philanthropies, which provided funding for the nonprofit organizations that organized the cleanup. "Our community partners are the connective tissue of the Harambee neighborhood, which is evident in the little and big things they are doing to mobilize people and resources."