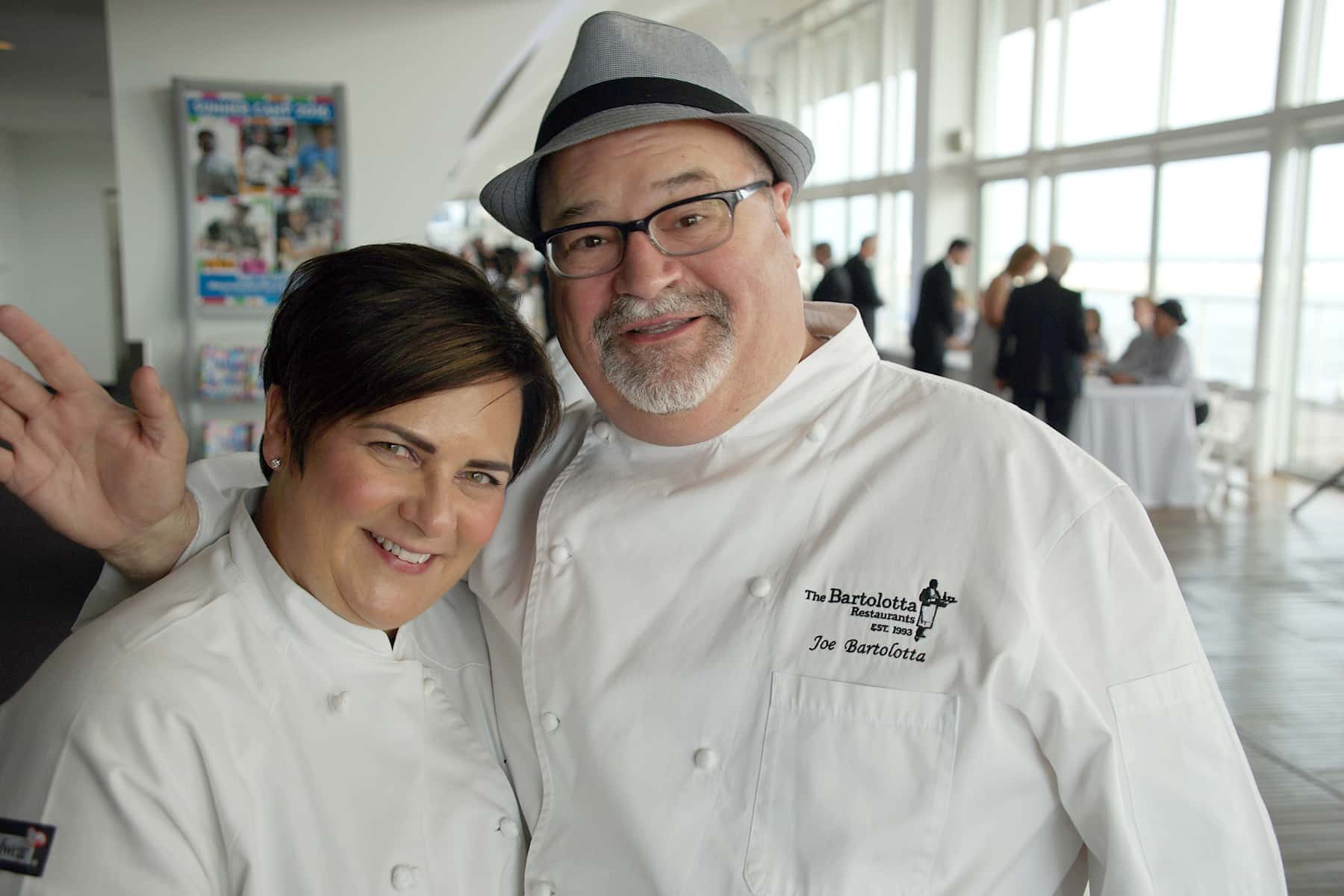 Joe Bartolotta, co-owner of The Bartolotta Restaurants, passed away "peacefully in his sleep with a smile on his face" on April 22 at the age of 60.
Bartolotta was beloved by the Milwaukee community for his hospitality heart, generosity, and desire to help people. In 1993, he and brother Paul started their first restaurant, Ristorante Bartolotta, in Wauwatosa. The restaurant group now operates 15 restaurants, including Harbor House, Lake Park Bistro, and Pizzeria Piccola.
After dealing with the affects of diabetes for three decades, in February 2013 Bartolotta had a successful kidney transplant. He spoke often about the transformative experience that changed his life, and became a transplant advocate to bring awareness of the need for organ donors.
"When I was preparing for my kidney transplant surgery, I basically cold called Jennifer & Joe Bartolotta for advice on what to expect, for Joe had a kidney transplant 3 years prior. They invited me and my wife for dinner and conversation at Lake Park Bistro. Joe & Jennifer were so forthcoming and shared literally everything we would encounter during the process. It was extremely helpful to be so prepared for life after transplant. He told me one of the hardest things after transplant, was getting up from a seated position. He told me to go purchase a recliner that goes from a seated position to a standing position, thus making recovery easier. I told him, although it would be helpful, there was no way I would be able to purchase one before the surgery. We finished dinner and I said I would be in contact post surgery. Two days later, a motorized recliner was delivered to my house, compliments of Joe Bartolotta. It truly made all the difference. He was the kindest man I have ever met. He will truly be missed. My heart goes out to Jennifer and the entire Bartolotta family. Eternal rest be granted to you my friend, and may Perpetual Light shine upon you. A lesson in life: People will never remember all that you have accomplished, but they will remember how you made them feel." – Judge Derek Mosley
"Our fathers were gin rummy partners, and we often joked that they lost more often than they won. Fortune smiled on me, and I got to be your partner, Joe Bartolotta, and like all of your friends, I hit the jackpot. Audra and I grieve for you, Jen, your family and the legion of friends you leave behind. Playful, passionate, generous and kind – these are inadequate but start to describe your many gifts. We are so much better for the impact you made on our lives. Thanks for being my friend," – Secretary Joel Brennan, Wisconsin Department of Administration
There was so much more to Joe as a person, and trying to make this a better community. He was totally engaged in trying to make Milwaukee a better place for everybody. So, this is a shocker and heartbreaking to lose someone who is irreplaceable, because he was so important in this community. There was never a time when Joe was asked to step forward that he declined. Everybody who met him liked Joe Bartolotta, because he was such a warm person." – Mayor Tom Barrett
Friends, family, and associates took to social media after learning about Bartolotta's passing to share their sorrow and memories of a man who was a true giant in the local community, not because of his business but his compassion for others.
"Joe was the kindest, most generous man I've ever personally known. He bestowed countless gifts on our community and our family. He was a dear friend and brother. I love and miss you already, Joe." – Angela Damiani, CEO of NEWaukee
"Joe Bartolotta changed Milwaukee's restaurant scene forever, and played a leading role in elevating us to the culinary destination we are today. He will be remembered for his heart and hospitality, abiding commitment to the Milwaukee area and generous philanthropy. Our thoughts and prayers are with the Bartolotta family, friends, fans and all who are mourning his loss." – Milwaukee County Executive Chris Abele
"On behalf of the entire Marcus Corporation and my family, our heartfelt condolences on the passing of Joe Bartolotta. Joe was an extremely talented restauranteur and luminary who bettered our community both in and beyond the kitchen. In particular, we are grateful for the many ways in which Joe dedicated his time, talents and passion to inspire countless young people as they embarked on their own culinary careers. Joe's heart and passion for Milwaukee was unmatched. He will be greatly missed." – Greg Marcus, CEO of The Marcus Corporation
"Devastated by the news of Joe Bartolotta's passing. Joe was a friend and fixture in our community. I always enjoyed catching up with him whenever we saw each other at community events (which was often). Last time I saw him was the day DNC MKE was announced and he was amped. From the first time I met him to the last day I spoke to him, he always brought enthusiasm to everything he did. Our community won't be the same without him." – Senator Chris Larson
Bartolotta established programs to train young people in hospitality services, because he understood how the industry helped provide a livelihood for his family. Along with his wife Jennifer, the couple were very passionate about working with students and community youth.
"Milwaukee Public Schools is heartbroken to hear of the loss of Joe Bartolotta. Joe and his wife, Jennifer, have been energetic, enthusiastic partners in helping to develop the MPS culinary arts program into a high-quality educational experience. Joe's warmth, compassion, and drive to teach the next generation touched many of our students and will continue to impact young culinary artists far into the future. Joe will be missed by our students, staff, and the entire Milwaukee community. Thank you, Joe, for your leadership and optimism, and for embracing the students of Milwaukee. We extend our condolences to Jennifer and the entire Bartolotta family." – Milwaukee Public Schools
"WHS was privileged to be among the many nonprofits that Joe and Jennifer supported. For more than a decade, they championed our work, leading us to great success through chairing our gala, launching fundraising events, coaching our staff, and helping WHS grow its programmatic impact. Joe's absence will be felt far and wide, and we're tremendously grateful for his compassion, generosity, and warmth, which has left an indelible impact across Milwaukee and beyond. We extend our deepest sympathies to Jennifer and her family." – Wisconsin Humane Society
Bartolotta was also one of the driving forces to get the 2020 Democratic National Convention to come to Milwaukee. He made the pitch on behalf of the local restaurant industry to those on the committee deciding which city to pick. Mayor Barrett stated that Bartolotta did a phenomenal job in selling the city, because he was so genuine and caring, with so much enthusiasm and creativity.
In their statement, the family asked for privacy at this time and that more information would be shared when available.