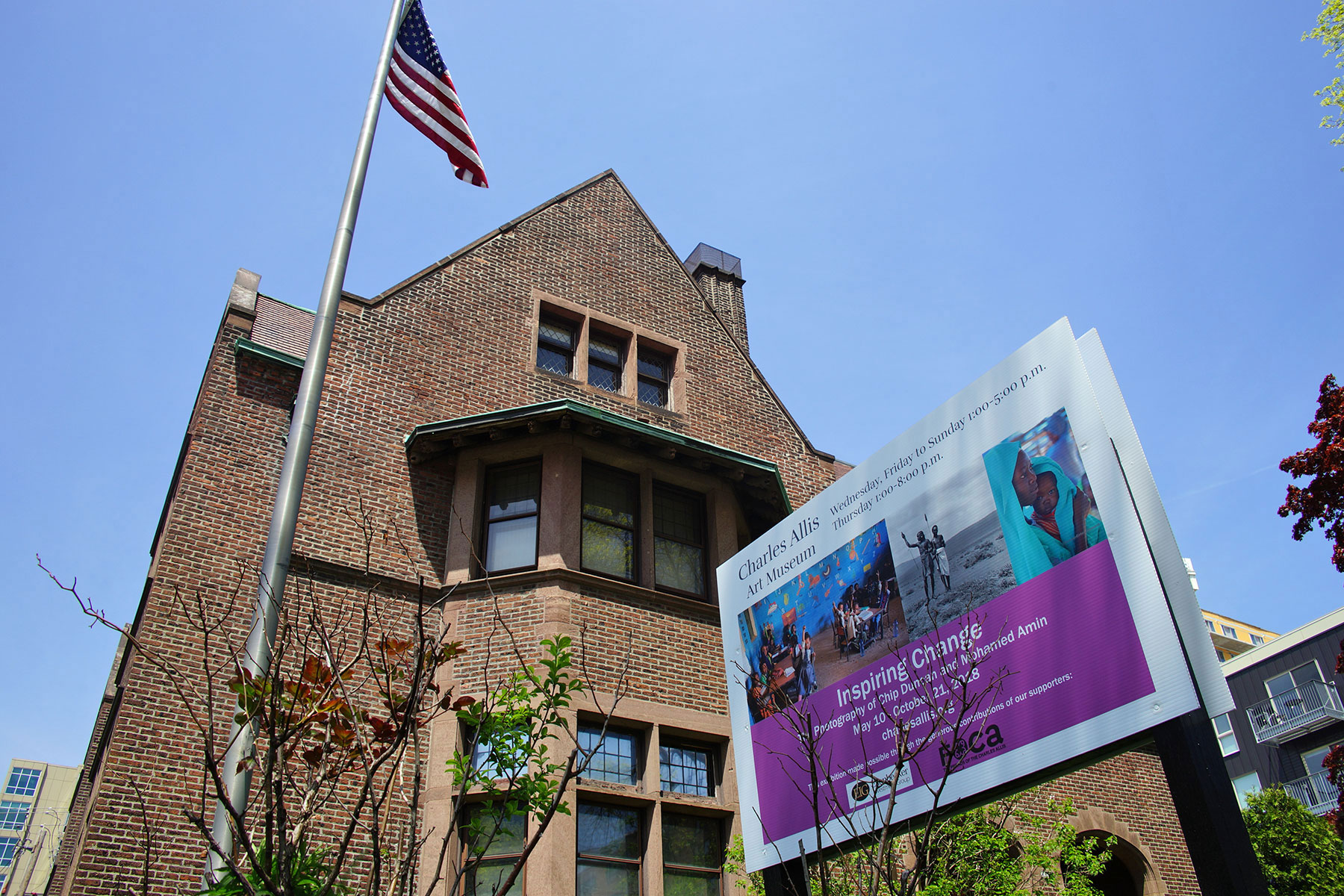 Salim Amin, the Nairobi-based filmmaker and son of legendary African documentarian Mohamed Amin joined acclaimed Milwaukee filmmaker and photographer Chip Duncan for a special film screening and talkback session, around the new Charles Allis Art Museum's exhibit "Inspiring Change: The Photography of Chip Duncan and Mohamed Amin."
The display runs through October 21, and features the work of Duncan alongside Amin (1943-96), the Kenyan photojournalist responsible for exposing Ethiopia's famine crisis globally in the 1980s. When his images were broadcast globally in 1984, they helped inspire both Live Aid and We Are The World.
Salim, who is chairman of Nairobi-based Camerpix, served as executive producer of the award winning "Mo & Me," a 2006 documentary that chronicles his famous father's life. Born in Kenya at the height of Africa's colonial decline, the senior Amin witnessed and recorded the alienating currents of his beloved continent, and projected those images across the world. His life was cut short in 1996 when hijackers took over an Ethiopian airliner and forced it to crash in the Indian Ocean.
The Friends of the Charles Allis invited the public to attend a special panel discussion with Duncan and Salim, about their mission to help soften barriers to thoughtful exchange across the greater Milwaukee community, by sharing the heartening journey of emergent African peoples through film and photography.
Duncan and Salim have been friends and colleagues for many years, collaborating on a variety of projects. Duncan is an admirer of both Amins' work, having travelled in the footsteps of the senior Amin four times, studying and photographing the community-building in once-ravaged African countries.
The Charles Allis Art Museum is hosting three separate galleries of photographs and documentary videos, guiding viewers through Duncan's approach to photographing in the field as well as his view of Africa from the perspective of a writer and filmmaker. Alongside Mohamed Amin's work, pulled from the vast Camerapix archive, the images show Africa through the decades, following war, political upheaval, famine, and disaster, as seen through the lens of a man dedicated to inciting change through images.
Chip Duncan continues to document effects of war and humanitarian crises on everyday people in over 40 developing countries around the world. His numerous projects include chronicling health care conditions in Burma for Relief International, Save the Children in the Afghanistan countryside, and working on education initiatives in rural Kenya with the Loisaba Community Conservation Foundation.
Duncan and Amin's work is on exhibit at a time when reaching across cultural, economic, and philosophical divides is becoming increasingly difficult in American society, and a historically segregated city like Milwaukee.
Duncan's newest book Inspiring Change – The Photographic Journey of Chip Duncan was released on May 15, and includes images from his work chronicling humanitarian projects and crisis zones around the world.