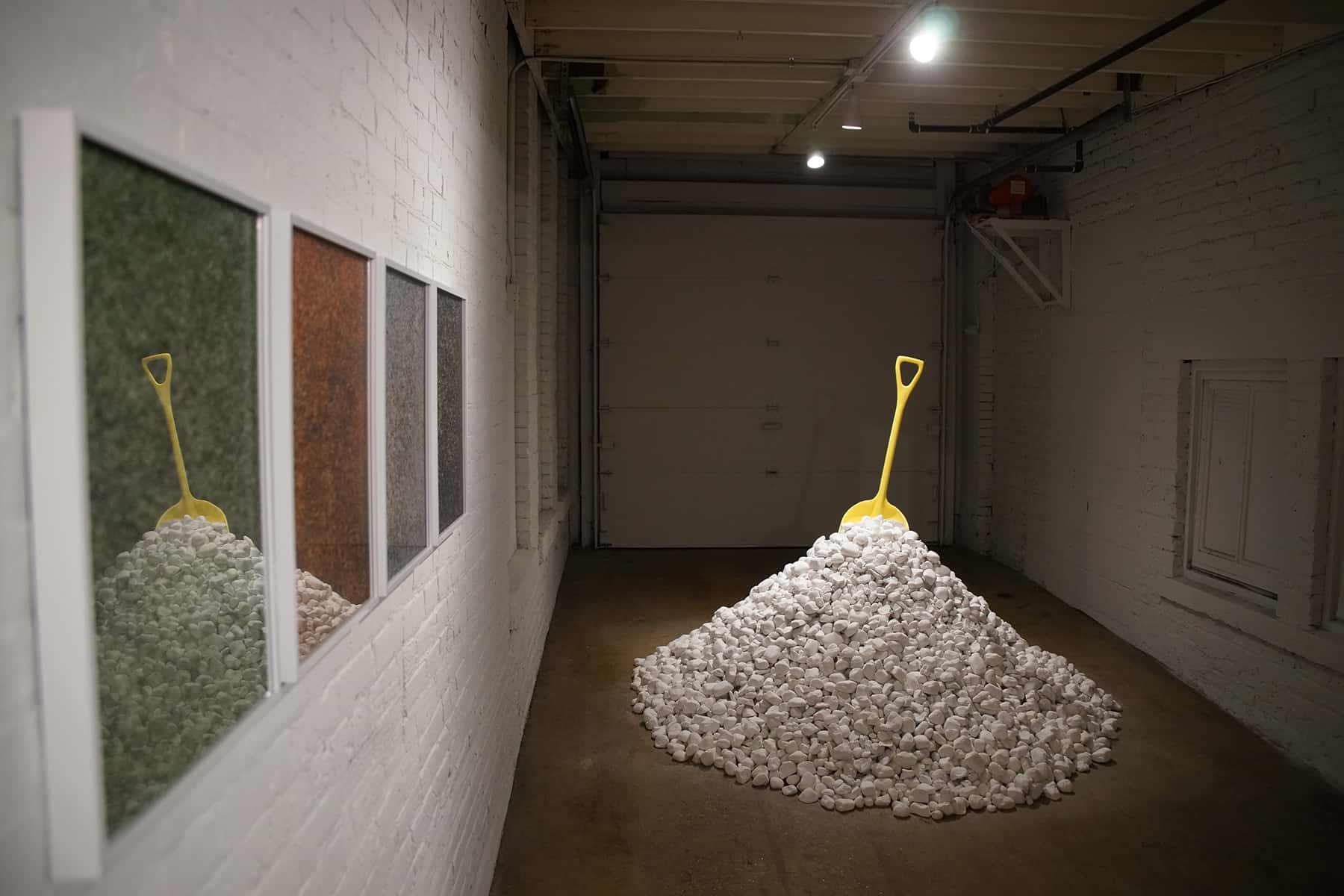 A special group exhibition featuring 38 Milwaukee artists who have made considerable personal achievements and public contributions within their respective fields opened on April 6 at Var West Gallery.
"MKE Influencers" will run through June 1 at the 423 W Pierce Street location and showcases one item by each artist, representing nearly every field within the visual arts. Var Gallery owner Josh Hintz, who also curated the show, wanted to share a diversified look at Milwaukee's creative talent.
"This has been on my mind for a couple years, considering there has been some negativity in the city about where the art scene is going," said Hintz. "It's been a while since there was a celebration of our local artists, and what they are doing to uplift the creative industry. So I wanted to gather this talent and put them in the same room, because most of them haven't shown together."
With so many different genres grouped together, Hintz said he looked forward to the conversations that will come about in the gallery setting. He also said that many of the participating artists have been influential to his own work.
The exhibit delivers a multitude of disciplines, objects and aesthetics, as well as artistic backgrounds, histories, and identities. With so many prominent artistic voices in one room, MKE Influencers validates the robust and diverse art scene that stretches beyond the southeastern Wisconsin region.
Exhibiting artists are Reggie Baylor, Brent Budsberg, Ray Chi, Kyoung Ae Cho, Santiago Cucullu, Michael Davidson, Melissa Dorn, Paul Druecke, Richard Galling, Nina Ghanbarzadeh, Michelle Grabner, Jon Horvath, Niki Johnson, Mutope Johnson, Frank Juarez, David Najib Kasir, Greg Klassen, kathryn e. martin, Colin Matthes, Shane McAdams, Shana McCaw, Kevin Miyazaki, Joseph Mougel, Keith Nelson, Stacey Williams Ng, Rosemary Ollison, Will Pergl, Nirmal Raja, Tia Richardson, John Riepenhoff, Jill Sebastian, Ariana Vaeth, Leslie Vansen, Shane Walsh, Della Wells, Chris Willey, Jason S. Yi, and Rina Yoon.
The creative professionals have made a name for themselves through a devoted studio practice, innovation, dynamic risk taking, and complexity in craft and concept. Aside from the acclaim and status that each artist has achieved, the individuals have been devoted to enriching and giving back to Milwaukee.
A good deal of their time and resources have been spent on community outreach, like immersive projects, teaching, and activism. Their work has helped to create spaces for dialogue, challenging the way the public views and interacts with art and each another.
"The collective studio has roughly 54 artists in residence, with communal workshops and features that have all grown organically over time," added Hintz. "But it remains based on the original concept of a collaborative environment for Milwaukee artists who are actually doing things to improve the local culture."
Var West Gallery focuses on exhibiting solo shows for emerging and established artists. Its long hallways, and variety of brick and gallery walls creates a unique experience for both exhibiting artists and guests.
Hintz said that he would like to see more Milwaukee businesses extend partnerships with galleries and artists to support their work. Even non-financial support by other industries in the city, like food and beverage companies, shows that stakeholders value art and the platforms that help the public connect with it.