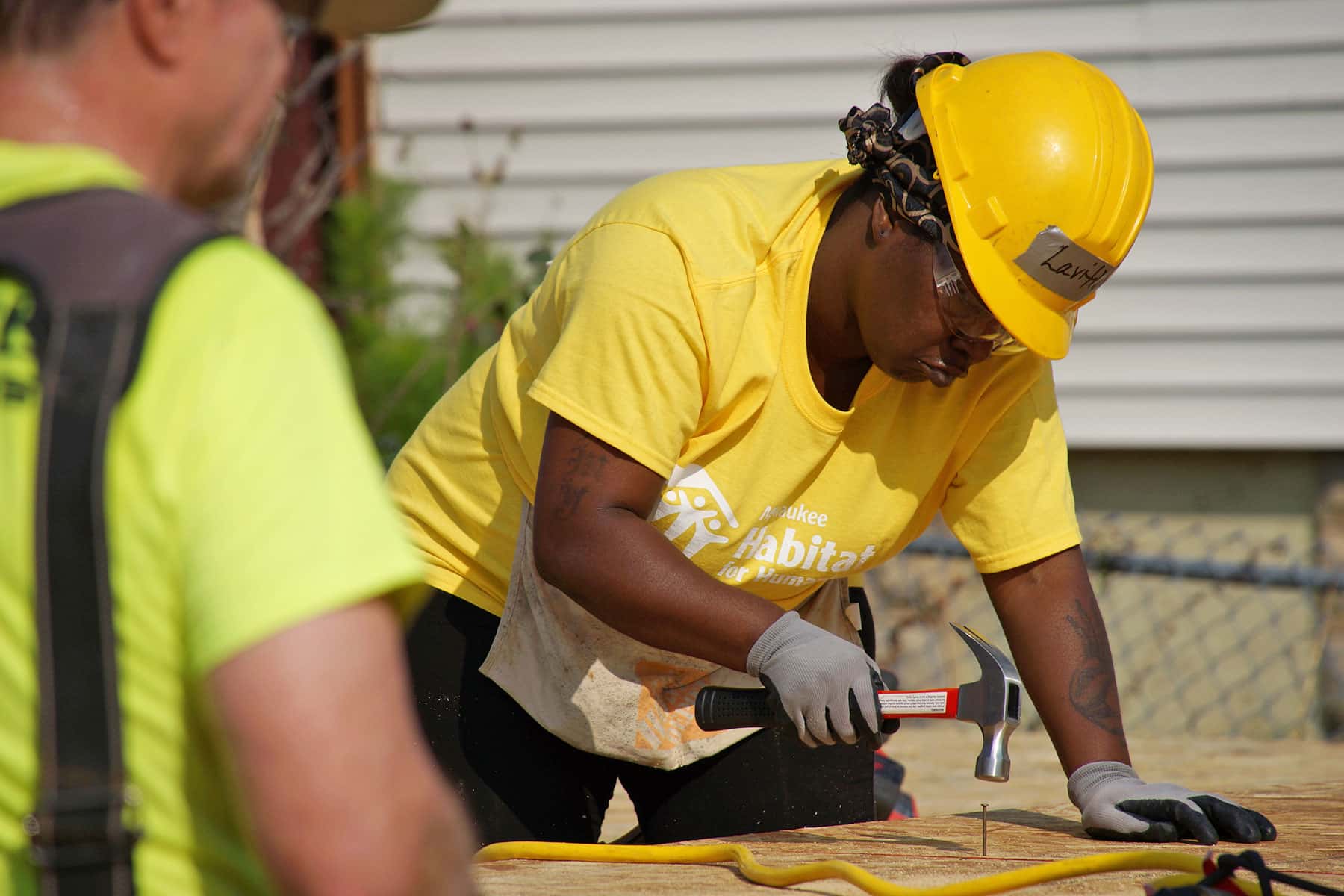 On September 11, as the nation mourned the 16th anniversary of the 9/11 loss and destruction, a Milwaukee woman and her family were full of hope as they built their future.
A large group of volunteers from Komatsu joined Lavitta Moore and Milwaukee Habitat for Humanity to raise the walls of her very first home. As a mother of three, Moore has had to move her children through multiple rentals because of increasing rent and safety concerns.
Moore's future home in District 15 is on the 2100 block of North 31st, and with every nail she pounded into planks of wood, she began the journey to owning her first safe, affordable home.
As a traveling Certified Nursing Assistant (CNA) and single mother, Moore was a little nervous about the investment of time in helping to build her own home. Habitat homeowners complete upwards of 300 hours building their dwelling and the homes of their neighbors.
However, Moore said, "The hard work pays off, and I'm strong."
With the extra money she will save through Habitat's affordable mortgage, Moore is looking forward to spending more funds on her children's nutrition. Because her bills were so high, they would often resort to fast, inexpensive take-out meals. Moore said she could not wait to prepare home-cooked family meals for her three daughters in their brand new kitchen.
In Milwaukee, more than half of renters are living in unaffordable housing, spending 40%, 50%, and in some cases more than 70% of their income just to put a roof over their heads. That means seventy cents of every dollar earned is being used solely for housing. Often times, little is left over for education, basic amenities, and other necessities for a decent life.
Joining Moore on the build site throughout the week of construction was more than 100 employees from Komatsu (formerly Joy Global), who are sponsoring two homes right next door to each other on the block. Those will be the 18th and 19th homes the company has built in partnership with Milwaukee Habitat.
Honored as Milwaukee Habitat's 2016 Corporate Partner of the Year, Joy Global employees have volunteered more than 7,500 hours since 2011. The Milwaukee-based company has contributed $1.3 million, and built 15 homes through a workplace giving campaign and year-round employee volunteer efforts.
In 2016, 23 families with 58 children moved into safe, affordable Milwaukee Habitat homes. Through this year's build season, 35 families will be served through new construction, home rehab, and critical home repair. Since 2010, crime has decreased 48% on the blocks where Habitat homes were build in the Washington Park neighborhood.
Many of the families Milwaukee Habitat has served found that even when they wanted to escape their unaffordable, overcrowded, or unsafe rentals, traditional homeownership was not possible due to lack of access to affordable home loans, or inability to afford large down payments.
Since it was founded in 1984, Habitat has helped more than 1,000 families in Milwaukee obtain a safer place to sleep at night, along with the strength, stability, and independent to build better lives.
The construction of Moore's home comes in connection with another Milwaukee Habitat program, sponsored by Alderman Russell W. Stamper, II. ReInvest in City Homes (RICH) allows the organization to purchase city-owned foreclosed homes, complete rehabilitation work, and sell them to qualified buyers. Habitat then provides buyers with RICH funded mortgages that will be paid back to the city at low-interest rates.
"This is a big step for our program and gives first time homebuyers an incentive to invest in Milwaukee," said Alderman Stamper.