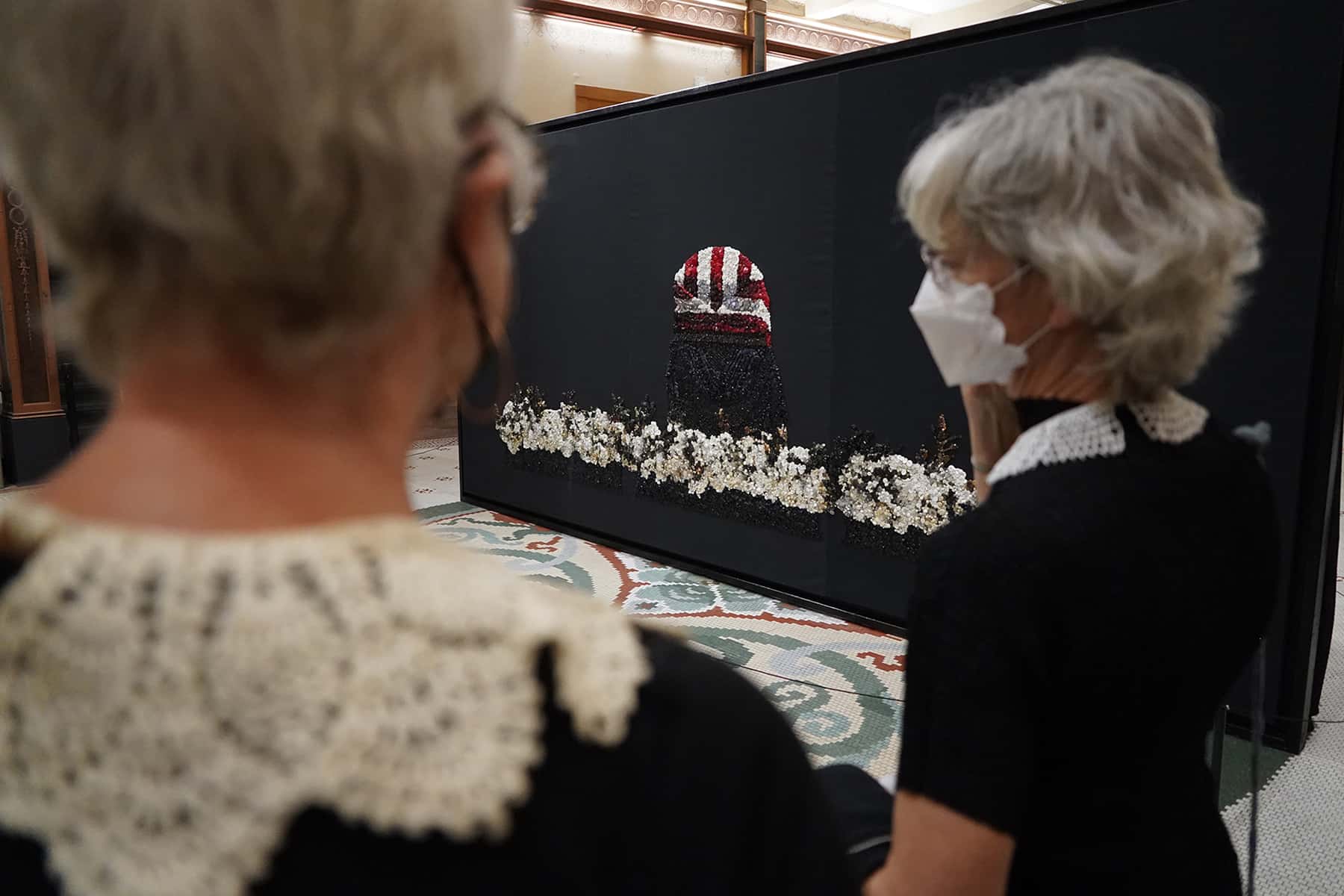 A special candlelight vigil was held at Milwaukee City Hall to honor the life and service of Supreme Court Justice Ruth Bader Ginsburg on September 27.
Members of the public, activists, and civic leaders offered inspirational tributes to Justice Ginsberg's contributions and legacy. Attendance at the event represented a diverse gathering from areas touched by the life's work of Justice Ginsburg, including from the justice system, voting rights, reproductive rights, and the arts.
"The opening invocation, in tribute to RBG, set the tone for the evening," said Rev. Lee Ann Dzelzkalns. "It guided us through her inspiration, to support our humanity in times of challenge, uncertainty, and opportunity. One of Justice Ginsberg's legacies is for each of us to begin a revolution in our hearts… to stand up for what is just and true, fair and noble, empowering and liberating, for all humanity. As an advocate for gender equality and women's rights, she also carried a torch for the heart of humanity, to come together in solidarity, kindness and love."
Speakers included Joan Kessler, Retired Judge of the Wisconsin Court of Appeals; Tanya Atkinson, President and CEO of Planned Parenthood Wisconsin; Dr. Pilar Melero, Professor of Spanish and Latinx literature at UW-Whitewater; Sachin K Chheda, former National Chair of NARAL Pro-Choice America; and the internationally recognized Milwaukee-based artist Niki Johnson.
"Ruth Bader Ginsburg was an inspiration to generations of women. She spent much of her legal career as an advocate for gender equality. We will gather at this vigil to pay tribute to Justice Ginsburg, and to remind ourselves how fragile the foundation of women's rights are in this country," said Megan Holbrook, co-organizer of the vigil and Chair of the Democratic Party of Wisconsin's Women's Caucus.
Ruth Bader Ginsburg was an American lawyer and jurist who served as an associate justice of the Supreme Court of the United States from 1993 until her death on September 18, 2020. At the time of her nomination, Ginsburg was generally viewed as a moderate consensus-builder. She eventually became part of the liberal wing of the Court as the Court shifted to the right. Ginsburg was the first Jewish woman and the second woman to serve on the Court, after Supreme Court Justice Sandra Day O'Connor.
Ginsburg spent much of her legal career before becoming a judge, as an advocate for gender equality and women's rights, winning many arguments before the Supreme Court. Ginsburg received attention in American popular culture for her passionate dissents in numerous cases, widely seen as reflecting liberal views of the law. She was dubbed "The Notorious RBG," a nickname she later embraced.
"A year following the death of Justice Ginsburg we find ourselves facing a real and significant threat to access to comprehensive reproductive health care throughout this country, including Wisconsin. It's up to us to preserve the ideals of dignity, equality and freedom that Justice Ginsburg spent her life's work defending. May her memory be a revolution," said Atkinson.
The vigil took place in the rotunda of City Hall, with a life-size display of Supreme Court Justice Ginsburg's flag draped casket surrounded by white roses as the backdrop. Johnson's artwork "Justice In Repose (RBG)" went on view September 18, on the anniversary of Ruth Bader Ginsburg's death. The exhibition closes on September 29, the one year anniversary of Ruth Bader Ginsburg burial in Arlington National Cemetery.
"My hope is that all who visit will have an opportunity to reflect on the gifts of Justice Ginsburg's intelligence and bravery, be in a shared public space to process personal loss, and leave feeling empowered on our continued march towards full equality and justice," said Johnson.
Johnson began hand stitching the seventeen-foot by eight-foot silhouetted image of Ginsburg lying in repose on the steps of the Supreme Court in October 2020. The eight month project began during the height of the pandemic, and helped Johnson process the loss on her own while observing quarantine and social distancing measures
"City Hall is a perfect place to honor Justice Gisnberg. Her early struggles to become a lawyer, to obtain employment as a brilliant lawyer, and by creating the ACLU's Women's Rights Project, she laid the foundation for many possibilities women enjoy today – not the least of which is substantial participation in the political life of this country, state, and city," said Judge Kessler.