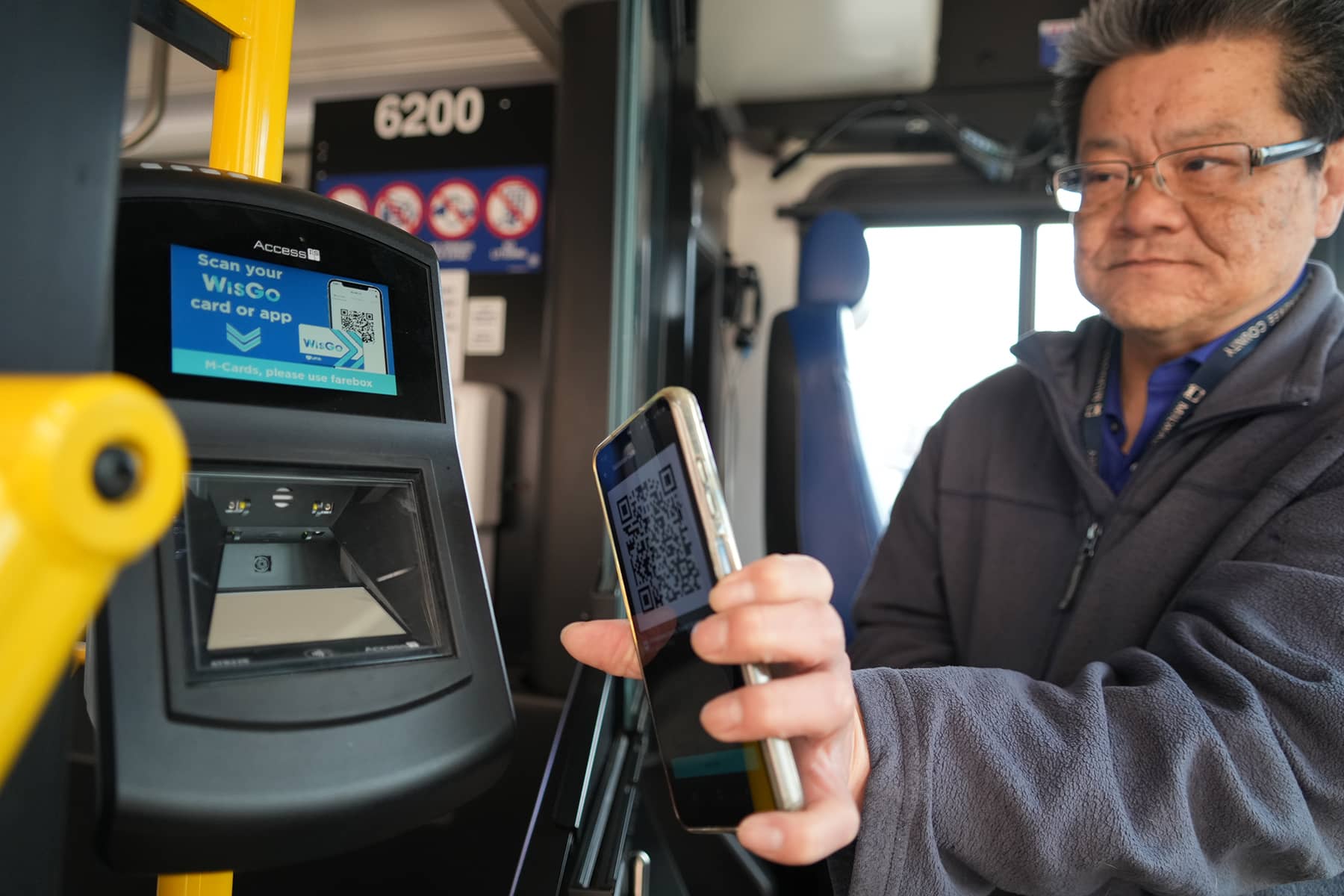 Beginning April 1, Milwaukee County Transit System (MCTS) will offer customers enhanced flexibility and convenience through WisGo, its new fare payment system powered by the Umo Mobility platform. With fare capping enabled, riders now pay as they go, saving money the more they ride, without the need to pay upfront for a daily, weekly or monthly pass.
After more than a year of preparation, Milwaukee County Executive David Crowley, County Supervisor Priscilla Coggs-Jones, MCTS Chief Financial Officer Tim Hosch, and Waukesha Mayor Shawn Reilly, held a press conference at the MCTS Fleet Maintenance Building on March 29 to welcome public transit riders to the new WisGo system.
Riders will have through September 2023 to transition to WisGo. With the new system, communities served by MCTS will benefit from an improved transportation experience that is made to fit the needs of all transit riders regardless of their payment method.
The new fare collection system also serves those without smartphones or who do not have a bank account. Riders can pay for their transit trips whichever way they prefer, including via mobile phones using the Umo Mobility app, a WisGo smart card – reloadable online or at retail outlets, or cash onboard the buses.
"Our partnership with MCTS gives riders a more equitable travel experience, and we are proud to be part of the evolution of mobility in Milwaukee," said Bonnie Crawford, vice president and general manager of Umo. "With fare capping as a new benefit, transit riders will always pay the fairest fare. With the introduction of fare capping, MCTS joins other world-class transit cities like London and New York."
Previously, the average bus rider using the MCTS M-Card would pay a $2 fare for a single ride, or $4 for a full day. But for a full day fare, passengers would need to decide at the time of boarding to select that option. So if travel plans changed later and no further rides were taken, the single trip would turn out to be double the cost.
Under fare capping, the daily fare rate limit is set to $4. A passenger who takes three bus trips in a day would only pay a total of $4, rather than $6. That is because the fare capping system ensures that the passenger is only charged up to the daily cap of $4.
"MCTS has introduced a more equitable fare payment system. Historically, only those who could afford to pre-purchase discount passes to ride the bus got the best value," said Priscilla Coggs-Jones, Milwaukee County Supervisor and Chairwoman of the Committee on Transportation and Transit. "But with WisGo, these inequities are being addressed through fare capping. Now, everyone pays the same rates no matter how many times they ride."
Fare capping is basically a way to ensure that passengers who use the bus system frequently are not penalized with high fares. It also helps to encourage greater use of the public bus system by making it more affordable for regular riders.
Milwaukee County and Waukesha County leaders announced an added perk in the form of regional connectivity between transit systems. Riders can enjoy a smoother transfer between counties with WisGo, by using the same payment method to continue on their journey with the Waukesha Metro.
"I applaud Waukesha Metro's decision to be the first to make transit in the region easier through one, simplified payment system consistent with Milwaukee County's transit system," said Milwaukee County Executive David Crowley. "The decision reinforces that public transit is essential to linking the economy not just to one metro area, but across the whole state. Our two communities share a deep commitment to supporting transit as a key component to a thriving workforce and a strong economy."
An additional benefit for passengers will be that they can use the same app to get real-time information on the location of both MCTS and Waukesha Metro buses. It makes traveling long distances between counties easier to navigate, especially during bad weather conditions.
"Employers continually express the need for employees and simplified ways for their employees to get to work," said City of Waukesha Mayor Shawn Reilly. "Adding Waukesha Metro to the WisGo system is another important way to help employers and employees throughout the region by making it easier for all to get to their jobs using transit."
At the press conference, Milwaukee County Transit System Chief Financial Officer Tim Hosch encouraged riders to give the mobile app a try. Cash can still be used to pay for fares, but riders will not get the benefits of fare capping or transfers.
"The first thing we ask our riders to do is to download the Umo app. Using an app is how many people do their everyday tasks such as pay for local parking or buy movie tickets, and now, buy bus fare," said Hosch. "Cash is always an option, but the Umo app has many more perks, like detour alerts sent directly to your phone, real-time bus tracking, and auto-reload in the online wallet so you don't have to worry about your balance."
The WisGo program rolled out through a phased approach. The Umo mobile app launched in March, followed by the full system going live in April with smart cards. When fully implemented, WisGo will provide seamless regional connectivity for commuters traveling to and from Milwaukee County and eventually throughout the southeastern Wisconsin region as other agencies join the program.
"We've seen ridership increase at other transit agencies that moved to fare capping," said Bonnie Crawford, Vice President and General Manager of Umo, which powers WisGo. "Simplifying public transit has a positive, long-term impact on the overall rider experience. We can't wait for Wisconsinites to try WisGo."