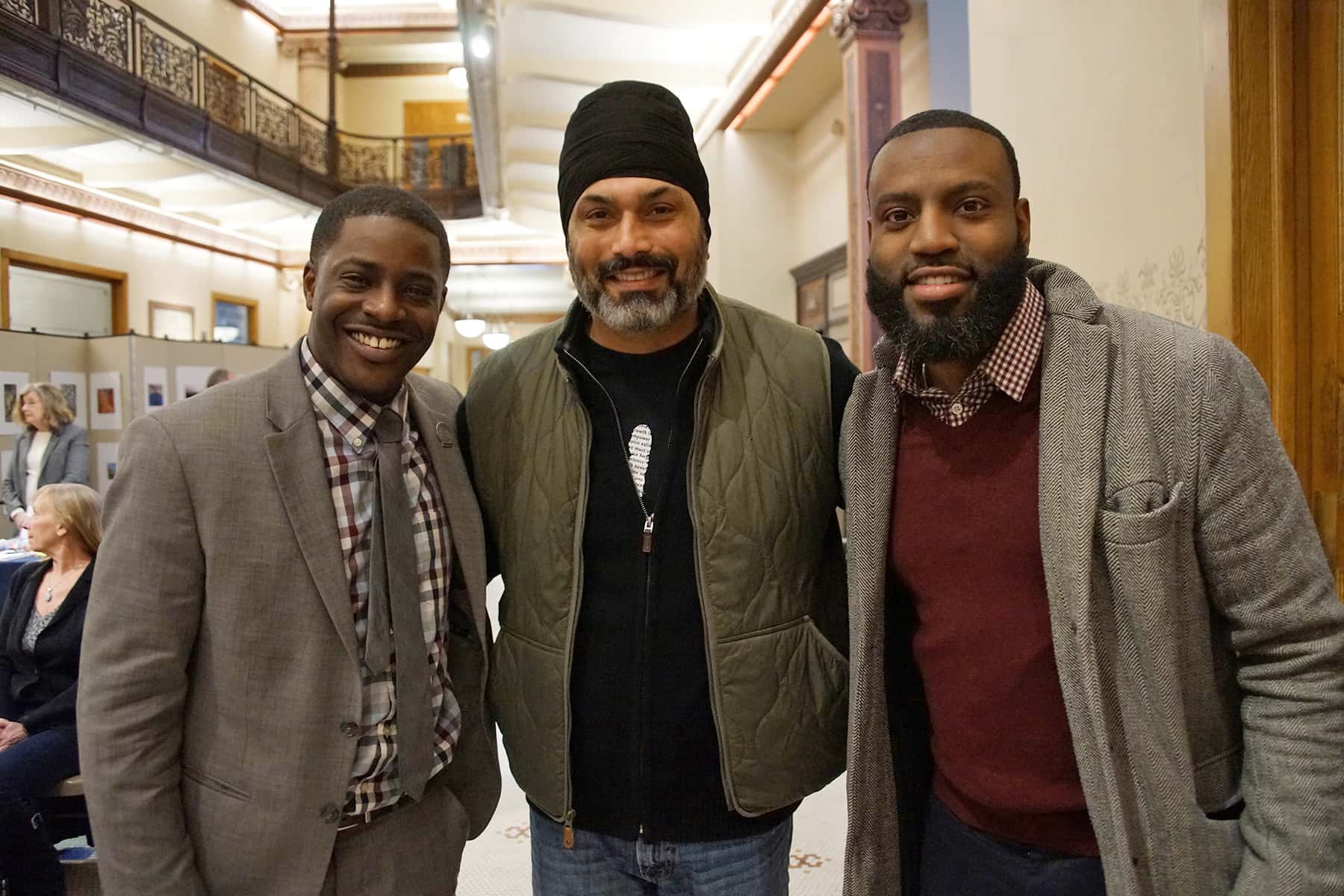 The Wisconsin Anti-ViоIеncе Effort (WAVE) hosted an ILOVE (Impacted Lives Overcoming ViоIеncе Effort) story sharing program at Milwaukee City Hall on March 21, presenting Time Magazine's interactive mural project "Guns in America" along with local stories from leaders and members of the community affected by gun viоIеncе.
A group of Milwaukee civic organizations came together to share heartfelt stories from people affected by gun viоIеncе, and offered education about how the public can get involved in preventing gun viоIеncе in Milwaukee and Wisconsin. Led by Heidi Rose and Olu Sijuwade, WAVE has been the only statewide grassroots organization solely dedicated to preventing gun viоIеncе, injuries, and deaths for the past 20 years.
"When I was asked to speak and share a story, I realized that the problem I had was picking a story to talk about," said State Representative David Crowley from the 17th District, which encompasses much of Milwaukee's Northwest side. "Being a young black man, the first time I lost a friend from gun viоIеncе, I was in ninth grade. It was because of a carjacking. The second time I lost a friend to gun viоIеncе was because his girlfriend wanted to scare him, and ended up shooting him in the head."
Chaplains from the Salvation Army's Emergency Disaster Services presented personal stories about the impact of gun viоIеncе, and were on hand to support community members and neighbors in attendance who continue to carry the emotional trauma from their experiences.
The United States has a population of 325 million people, with more than 265 million guns as a result of a 227-year-old constitutional amendment. Each year there are 35,000 gun related deaths. In October 2018, "Time" magazine and the award-winning artist JR partnered on a special issue exploring the wide-ranging points-of-view surrounding the gun debate.
"I'm thankful that I've had a chance to work in this community with young people. When we go to a class and ask students what issues do they wish that they could change, the number one thing that comes up is gone viоIеncе," said State Representative David Bowen from the 10th District, which encompasses Milwaukee and Shorewood. "It's because so many times our youth witness their friends, people that they know, and their family be affected by this very important issue."
The cover for the gun issue of "Time" showed a mural JR created, by combining his portraits of hundreds of individuals. It gave a face to the full and complex spectrum of views on guns in America, from gun collectors, hunters, law enforcement officials, to shooting victims, doctors, teachers, and parents. The project invited people to share their views, describe their experiences, and discover common ground.
"I am often asked to talk about that political dilemma of why we all can't get on the same page of the gun issue," added Representative Bowen. "We do have to understand that we all have different lenses that we see this issue through. As much as possible, I try to understand the perspective of all kinds of folks, especially those in rural Wisconsin. Their relationship with guns and firearms is sometimes different than how we experience it in urban Milwaukee."
Representative Bowen explained that the political polarization often begins with how different communities react to the issue, because so many people do not want to have the conversation about guns or find common ground on where everyone can move forward together.
Milwaukee Independent columnist Pardeep Kaleka and contributor Riley Reed, both spoke during the event. Their remarks and speeches from several participants were recorded live and presented here. The text of Reed's statements is also included, along with images that share highlight from the gathering.
Riley Reed: A Student's Perspective on the issue of guns
If you went back to a time when I was younger a lot of my teachers would describe me the same way: smart and compassionate, but also spitfire. I never really had a way to harness that energy. My parents raised me with a compassion for others and desire to always give back. I started getting involved in different groups but none of it really felt like the right fit.
Then Parkland happened. After going through so many mass shootings in this country, I remember a lot of students thinking "well this one won't be any different". Just another Sandy Hook, another Virginia Tech, another Columbine. But this time was different. A few my friends and I jumped on starting a walkout as soon as we could. We knew we couldn't sit idly by and wait for nothing to be done, again.
Our school isn't one entirely friendly to change makers. I remember sitting in many meetings with my principal and school board members, deeming if this was "worth the attention". He didn't want us causing trouble for their precious image I suppose. We went to a school very similar to Marjory Stoneman. Nice area, nice families. But our school had its fair share of shooting and bomb threats. Before I got to high school, my brother was talking to my mom one day about staying home from school, cause "there's another threat," saying it so casually. And I just thought, was that what my high school experience is supposed to be like, am I supposed to be afraid of someone attacking children, at my place of learning?
Ever since I was around 11 we had had school shooter drills, more frequent than fire drills, because that's much more likely to happen. We treated visitors like possible enemies, and classroom doors were locked, we practiced lock down drills frequently. There was one day where the voice came on the speaker, telling us "this is a lockdown." the word drill noticeably absent. We sat there, a group of 12 year olds all huddled together. As I'm older now, I realize instead of actually instituting policies that would protect us, we are instead forced to develop measures to protect ourselves against gun viоIеncе.
But, our walkout was a success and it led us on to March for Our Lives, and after that experience, of marching in solidarity with so many across the country, calling for gun reform, and remembering those lost, it wasn't time to sit around and do nothing but take action.
That summer I found Wisconsin Anti-ViоIеncе Effort. A group I was familiar with from their work in the Wisconsin Capitol and Wear Orange Day. Through that internship, I did exactly the work I needed. Something I knew that was making an impact. Our goals were to register voters, raise awareness for gun viоIеncе, and hopefully inspire change, whether that be through policy, or the actions of others. We wanted to impact the midterms, and I think we did.
I finally felt, after not knowing how to harness that energy and desire for change, I was doing something I knew would have an impact. That's the work I want to continue with, and WAVE gave me that. I was able to use my voice in a powerful way, and fight for a cause that I believed in. It's not just mass shootings that are the issue. It's domestic abuse, it's viоIеncе in neighborhoods, gun suicides, and police viоIеncе. All of those need to be subject to change, because we can't live in a world where gun viоIеncе is the norm for generations after us.
All this activism has led me to where I am know, studying ways to change the world through policy and writing. I started a women's march chapter on my campus in Chicago, and we worked on events like the Kavanaugh protests and the midterms, and that certainly isn't stopping us. Gun viоIеncе prevention is still a very important issue, and something that we haven't made nearly enough progress on. I want to thank WAVE, and thank the inspiring mentors and my fellow interns. You gave me skills and lessons to take with me, and for a summer it was my home, and my empowerment. I'm going to go out and keep fighting the good fight.