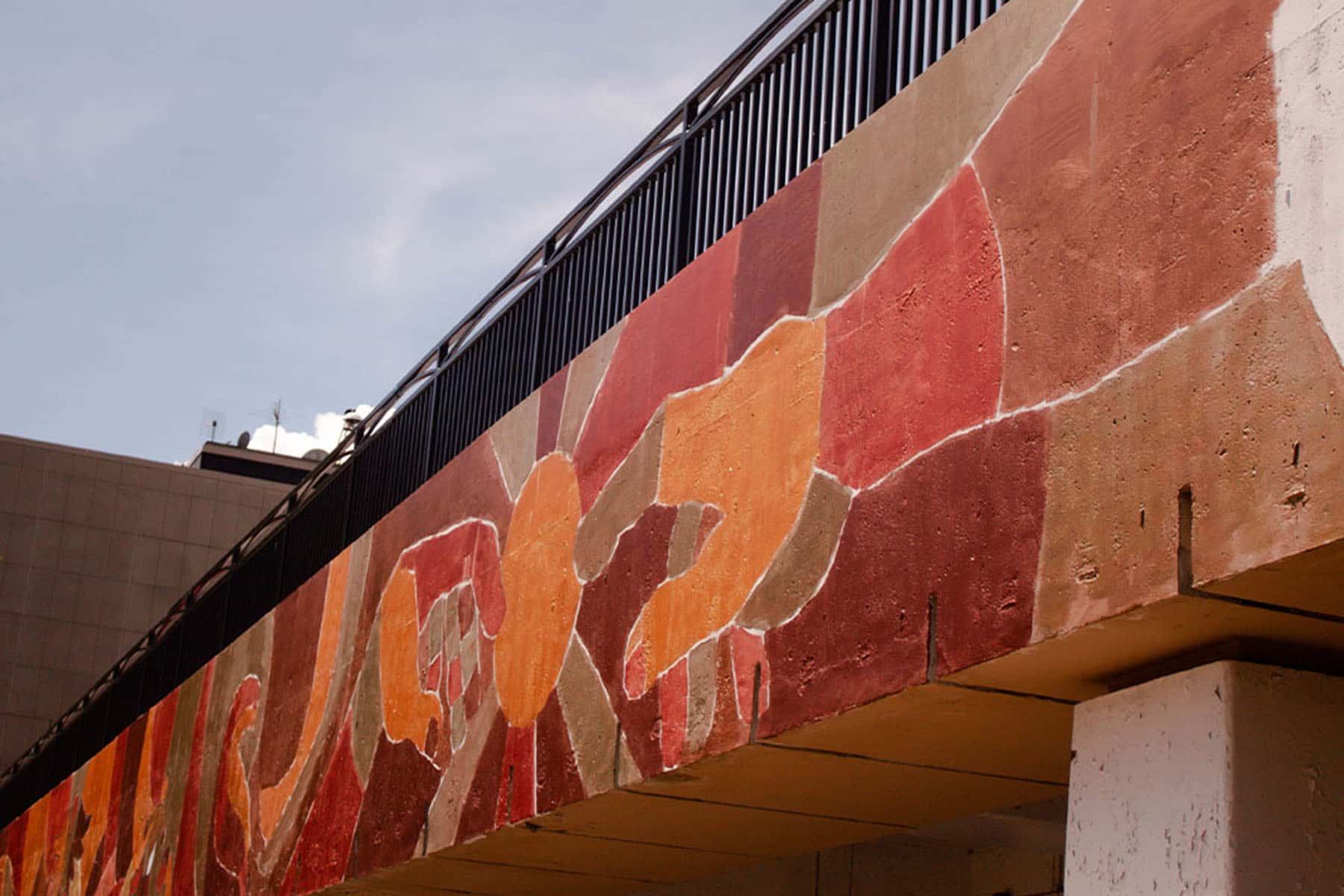 Imagine MKE, 88Nine Radio Milwaukee, and Milwaukee Downtown BID #21 will highlight Milwaukee's vibrant artistic community and honor our city's heroes in a livestreamed event on July 24 at 10:00 am.
The event will share two projects with the public, the release of the "Milwaukee Strong" song and music video which features over 30 Milwaukee musicians, and the completion of "The Hero In You" mural by artist Ken Brown at the MacArthur Square parking garage.
The livestream event, hosted by 88Nine's Dori Zori, will be available on Imagine MKE, 88Nine Radio Milwaukee, and Milwaukee Downtown's Facebook pages, as well as on Radio Milwaukee's YouTube channel.
In addition to the premiere of the "Milwaukee Strong" song and music video, the 30-minute livestream will feature interviews with the creators of the song, the artist behind the mural, and everyday heroes in public works, transportation, medical, education, homeless outreach, youth development, and food access.
In April, musicians in the City of Louisville released a "Lift Up Louisville" song. Louisville Mayor Greg Fischer called it a "love song" to the city, and challenged the mayors of peer cities to create a similar song and video.
Milwaukee Mayor Tom Barrett saw it as an opportunity to invite musicians in Milwaukee to engage in the project, and partner with creative organizations to create a song and video the city could rally around.
"Milwaukee artists have brought creativity, imagination, and passion to both 'Milwaukee Strong' and 'The Hero In You.' The results of their work are remarkable," said Mayor Barrett. "In suggesting a Milwaukee song, I hoped for a piece that would inspire and unify our community; my expectations have been greatly exceeded."
A Mayoral Proclamation will also declare Friday, July 24, 2020 as "Milwaukee Strong Day" in honor of our heroes' response to the COVID-19 pandemic.
The song and music video project are the culmination of over two months of work. "Milwaukee Strong," was written by Shonn Hinton, with lyrics by Shonn Hinton and Ray Nitti. Hinton is a Milwaukee-based writer, singer, and guitarist who has been featured on stages with Mary J. Blige, Lil Wayne, Jay Z, and John Legend.
"We are the proud we are the true
We work together we're heroes through and through
Like the foundation of our homes
We stand together
Milwaukee Strong"
The song's overarching message is one of hope and togetherness in the face of uncertainty. The words encourage the city to remain strong and united as we face the ongoing challenge of the pandemic risking lives and livelihoods.
"We are so honored to be a part of this collaborative project that highlights the vibrancy and strength of Milwaukee's creative community," said Kevin Sucher, Executive Director of 88Nine Radio Milwaukee. "We believe in the power of music to bring people together, and this effort is proof that it works. 'Milwaukee Strong' brought musicians and artists from all corners of the city together that may have otherwise never met – and if we can connect like this during a global pandemic, imagine what our city can look like coming out of this."
Over 30 "Milwaukee All-Star" artists were brought together to contribute to the song, resulting in a rich piece that highlights the diverse talent of Milwaukee's musical community.
Featured artists include: Dena Aronson, Alex Ayers, B~Free, Alyssa Caroline, Roxi Copland, Olen Franklin, Ava Gessner, Trinity Grace, Paul Hauser, Shonn Hinton, Kyndal J., Terry Jeanes Jr., Jonathan Jones, Alex Julien, Timothy Klabunde, Greg Koch, Evan Lane, Alesia Miller, Ousia Moon, Ray Nitti, Danielle Renee, Elle Renee, REYNA, Johanna Rose, SistaStrings, Jesse Weinberg, Warren Wiegratz, Dee Yancey, and Adrien Zitoun.
The "Milwaukee Strong" video, directed by Samer Ghani, also honors everyday heroes and their contributions to our city. The heroes highlighted include: Caitlin Cullen, Tandem; Andray DeCordova, Department of Public Works; Kayla Fleming, Advocate Aurora Health; Mia Harvey, Rocketship Transformation Prep; Beth Lappen, Milwaukee County Housing First; Willie Nash, Milwaukee County Transit System; and Nicole Thompson, COA Youth & Family Centers – Goldin Center.
The music video will also feature the 620-foot long, 5-foot high "The Hero In You" mural by Milwaukee artist Ken Brown, who was commissioned by Milwaukee Downtown BID #21 and the Downtown Placemaking Task Force in April. The mural features 10 downtown essential workers and is intended to honor Milwaukee's COVID-19 pandemic response.
"The Hero in You by Milwaukee artist Ken Brown salutes our city's essential workers and frontline heroes who continue to report for duty during the COVID-19 pandemic. It's because of their selfless acts of heroism, our city will emerge stronger and more united than ever," said Beth Weirick, CEO of Milwaukee Downtown, BID #21.
The mural is located at MacArthur Square, named after being the site of the 1951 homecoming visit by General Douglas MacArthur. More than 40,000 people welcoming the World War II hero who called Milwaukee his "old hometown."
The "Milwaukee Strong" project's hope is that Milwaukee citizens feel empowered not to quit in the face of the dual crises of the pandemic and the systemic racism that our city and our world faces. As musician Ray Nitti calls for in the song,
"Milwaukee Black and Brown, so please change policy
Milwaukee let's work on ending poverty
Milwaukee growing, let's make sure that we grow it properly
Milwaukee home, so let our love show
Milwaukee special, invest in the homegrown…
United the Good Land's approaching all our challenges."
"When Milwaukee follows the lead of our city's artists, we are more united, more inspired, and more ready to heal and build," said David Lee, CEO of Imagine MKE. "Our artists are also some of the hardest hit during the pandemic – through substantial loss of work at events, concerts, service industry gigs, and more. In response, we would like to invite citizens to respond to the 'Milwaukee Strong' project by joining us in taking action to stand up for the future of our arts and culture community."
© Photo
Milwaukee Downtown BID #21