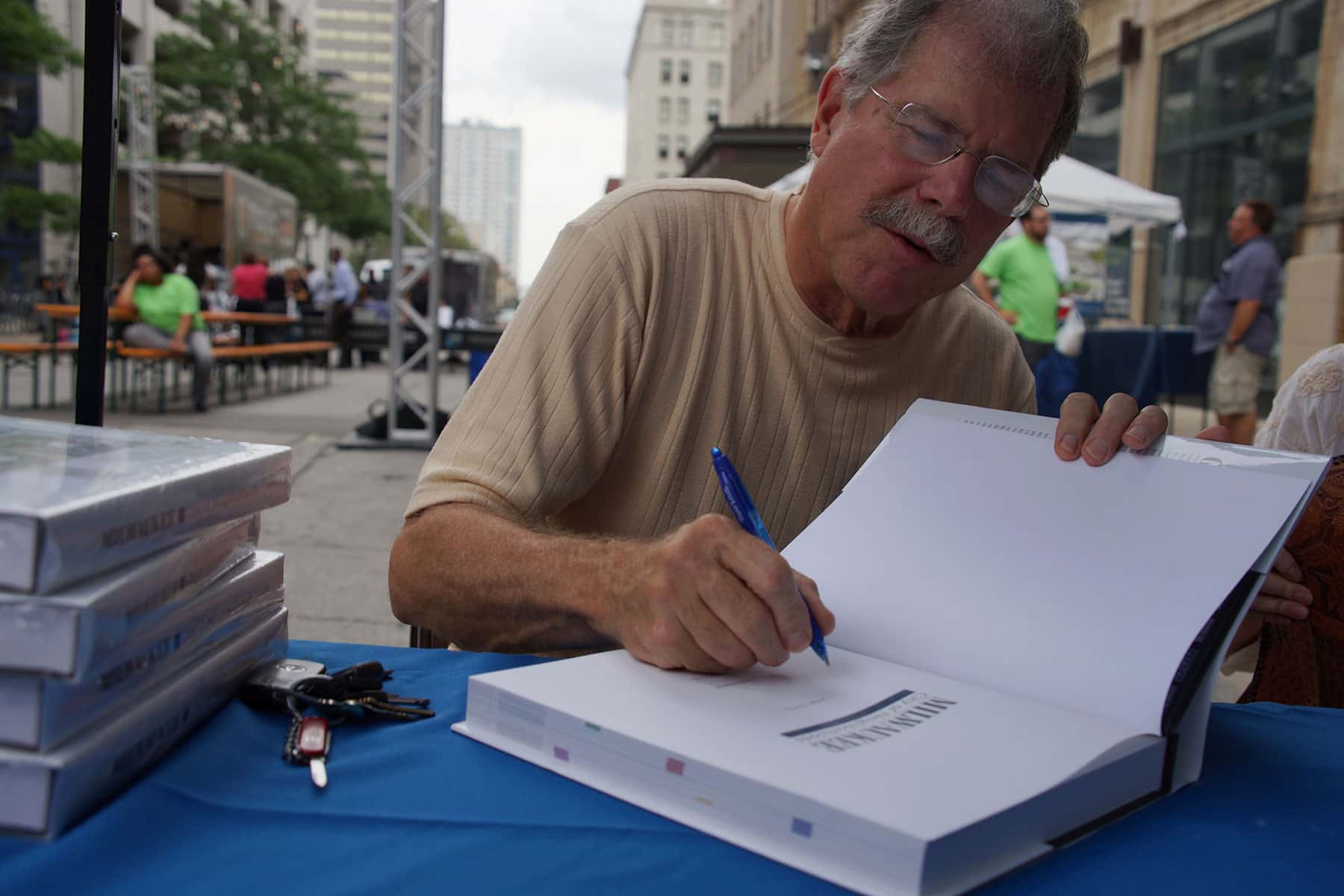 NEWaukee's Night Market has become a vibrant melting pot of all that Milwaukee has to offer, since it began taking over a section of Wisconsin Avenue in 2014 for one night each month during the summer.
The goal of the project was to create a free, vibrant, and safe place in downtown Milwaukee for area residents to experience culture and diversity at night.
For the July 13 gathering, celebrated historian John Gurda attended with artist Jan Kotowicz to autograph his recent book, Milwaukee: City of Neighborhoods, and connect with the public.
Presented in cooperation with Historic Milwaukee, Inc., Newaukee's Night Market reflected the wide variety of experiences for people of all backgrounds and ages, as part of the initiative to build social bridges and revitalize West Wisconsin Avenue.
"Westown is the heart of Milwaukee's downtown and the center of summer on Wednesday evenings," says Angela Damiani, CEO of NEWaukee. "We hope the community is able to relish in the vibrancy and splendor of Westown this season."
The event and venue was a step towards the fulfillment of Gurda's work, which defined the historic heart of the city and chronicled contemporary portraits of 37 neighborhoods that emerged before World War II.
Based on a popular series of 27 posters created by Kotowicz and published by the City of Milwaukee between 1983 to 1990, the book features 11 new neighborhood posters that expanded the original series.
Gurda is a Milwaukee-born author of 21 books and a television personality who has been studying his hometown since 1972. But for all his interviews and public speaking, there has remained one unasked question.
"No one ever asks why I think a book, particularly one as glossy and expensive as "City of Neighborhoods," could do anything to solve the problems of the inner-city neighborhoods that take up so many of its pages," said Gurda. "It's just a book, after all, one that few residents could afford and fewer still might be interested in reading. I would agree, first of all; people struggling to make rent aren't going to plunk down $50 for a book. But I would also point out that we have made 500 free copies available to schools, churches, community groups, and other nonprofits, with emphasis on central-city groups. And I would argue that perhaps the book's greatest and most helpful impact will be on people who live in more comfortable surroundings. By giving places like Lindsay Heights and Metcalfe Park equal billing with the North Points and Bay Views of Milwaukee, we lift them in the public consciousness to a position of parity; their place in the city's story is affirmed. My hope is that that knowledge will lead to understanding and understanding to compassion."
This year, the Night Market also draws attention to another Wednesday evening program. Hosted by the Westown Association, River Rhythms runs every Wednesday at nearby Pere Marquette Park from 6:30 pm to 9:00 pm throughout the summer.
The next Newaukee Night Market takes place on August 17 from 5:00pm to 12:00am. Gurda's latest book can be found in local Milwaukee libraries or purchased online.