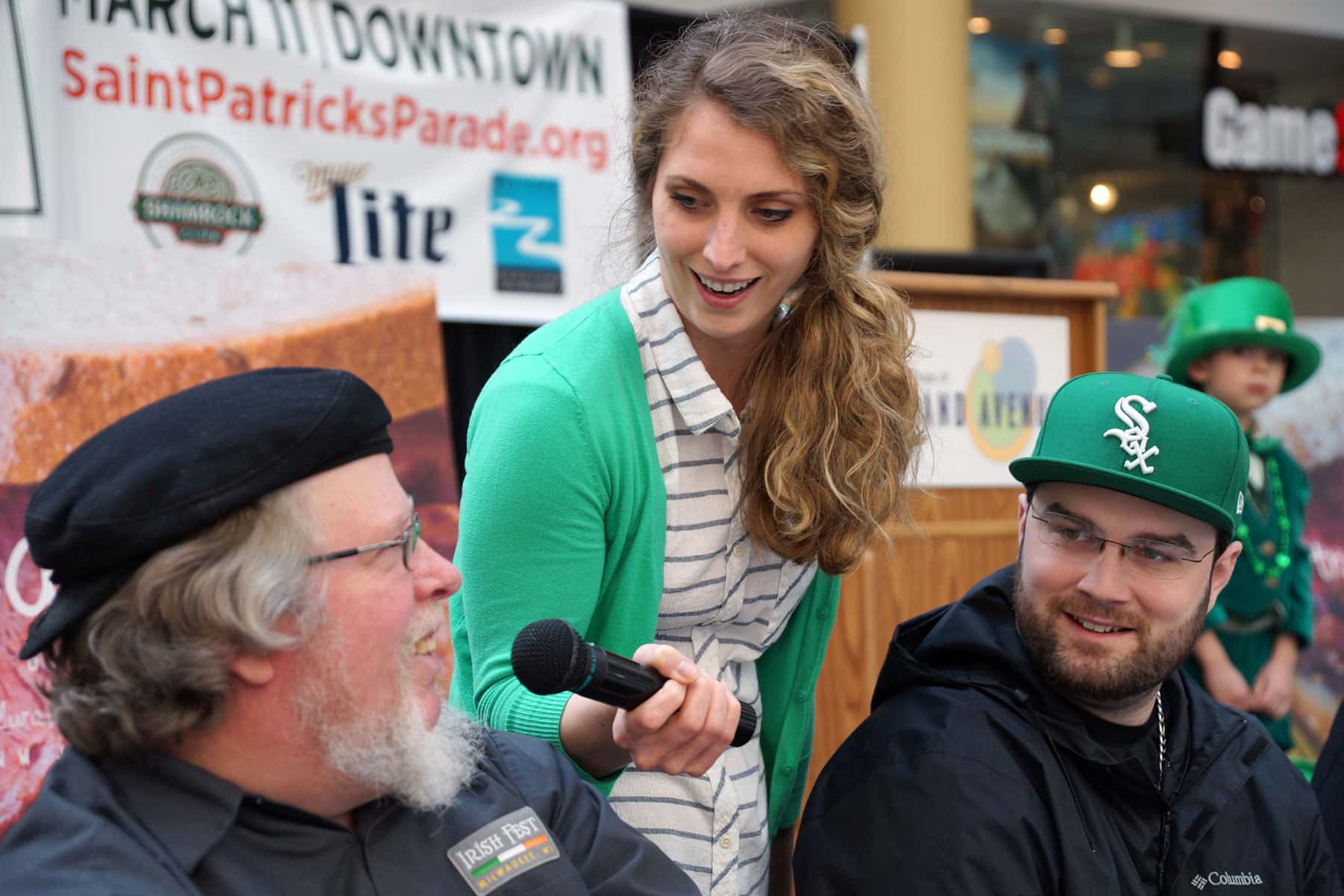 The 5th Annual Corned Beef Eating Contest, hosted by Jake's Deli, kicked off Milwaukee's St. Patrick's Day parade festivities a day early on March 10.
With a bit of rivalry from previous participants, contestants had to consume as many corned beef sandwiches as possible in 10 minutes. Held at the Shops of Grand Avenue, the event followed the 51st Annual St. Patrick's Day Parade Press Conference with Mayor Tom Barrett and executive director of the Westown Association, Stacie Callies.
"This is one of my favorite days of the year. Just a couple weeks ago for Fat Tuesday I went to get Paczki on the Polish side of town. And that's a day when everyone is Polish. So tomorrow, everyone will be Irish," said Mayor Barrett. "This is sort of the United Nations time of year where everyone gets to celebrate a different nationality. And St. Patrick's Day is when everyone in the city is going to love being a part of the Irish culture here. Westown has done such an amazing job hosting the parade for so many years now. What's most fun is that it's a real family event."
Angela Damiani, CEO of NEWaukee, moderated the competition for a second year. Six contestants competed to see who could eat the most corned beef sandwiches from Jake's Deli in the allotted time. Each sandwich weighed a half pound, with ten sandwiches prepared per contestant. The winning total from 2016 was just over six sandwiches. This year, Sean Nichols "got his title back" by eating 9 complete sandwiches.
"Having a time limit in a contest really pushes how I eat, because I have to eat as fast as I can," said Nichols. "Casual eating means I get fuller faster, because I feel it. But I could probably eat 20 sandwiches if I pushed it."
Nichols last won Jake's Deli Corned Beef Eating Contest in 2012, and enters many food eating contests for the free food. Ribs and wings are his favorite. As the contest winner this year, Nichols took home a trophy along with a downtown Milwaukee prize package that included a one night stay at the Hilton, $50 Master Z's gift certificate, and a Jake's Deli gift card.