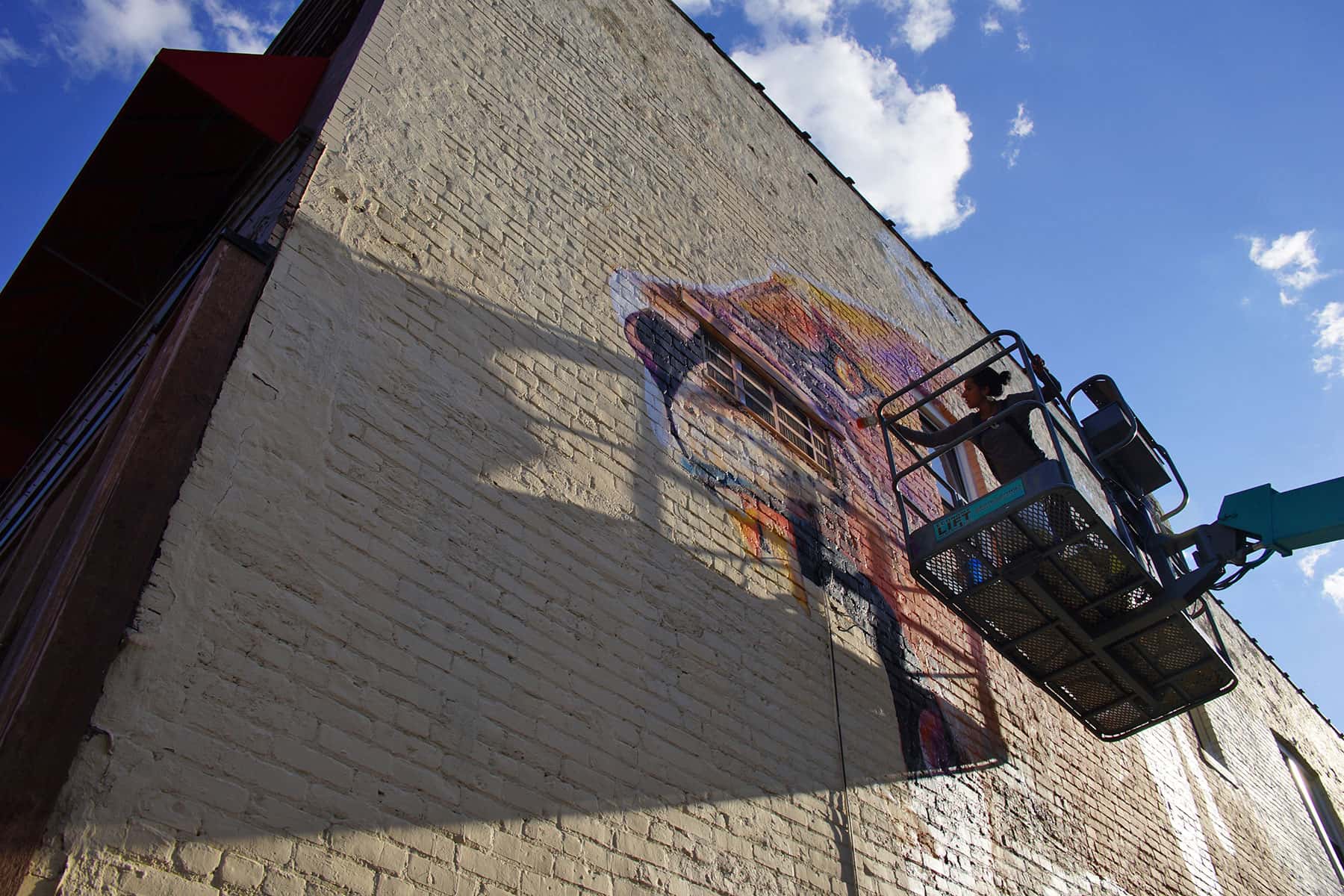 The five Artists hired by the Kinnickinnic Avenue BID have begun the installation of five large-scale murals on commercial buildings located along the Kinnickinnic and Howell Avenue retail corridor.
The BID is a non-profit organization tasked with supporting business and development along its namesake "main street" in Bay View. The all-female roster of artists is a unifying theme for the Street Canvas murals. The mural designs are as unique and varied as the artists themselves, all of whom are accomplished professional artists, living in or near Bay View. The public is invited to see the muralists at work during Bay View Gallery Night on June 2.
The Street Canvas locations and the mural artists are:
Lulu Cafe @ 2265 S. Howell (Jenny Jo Kristan)
D-14 Brewery and Pub @ 2273 S. Howell (Rozalia Hernandez-Singh)
Mr. P's Tires @ 2366 S. Kinnickinnic (Dena Nord)
The Shape Up Shoppe @ 2697 S. Kinnickinnic (Jenny Anderson)
Rusty Sprocket Antiques @ 3383 S. Kinnickinnic (Nova Czarnecki)
The Street Canvas project is part of the KK BID's street enhancement project. Inspired by a growing national appreciation of the value of mural art to a community, the Kinnickinnic Avenue BID Board voted to set aside a portion of their streetscape budget to sponsor a mural project.
"Bay View is known as an artist community and we want to reflect that in the KK Avenue streetscape," says Mary Ellen O'Donnell, chair of the BID's Streetscape Committee and a member of the Board of Directors. The KK BID hired Wallpapered City, a new art agency led by Stacey Williams-Ng, to lead the Street Canvas project. Williams-Ng was the program director of the East Side BID's Black Cat Alley mural project, and is a muralist herself.
The KK BID aims to support the local businesses and community groups within our district; facilitate closer cooperation between all those who have invested their hearts, time and money into the KK Ave corridor, and encourage productive developments and enhancements along KK that embody the unique qualities that make Bay View the neighborhood we love.
Wallpapered City is a consulting agency specializing in sourcing artists for large-scale art projects. Headed by a team of experienced professional artists, the agency connects business owners and community groups to the international community of artists, helping with all aspects along the way such as logistics, promotions, funding and copyright negotiations.