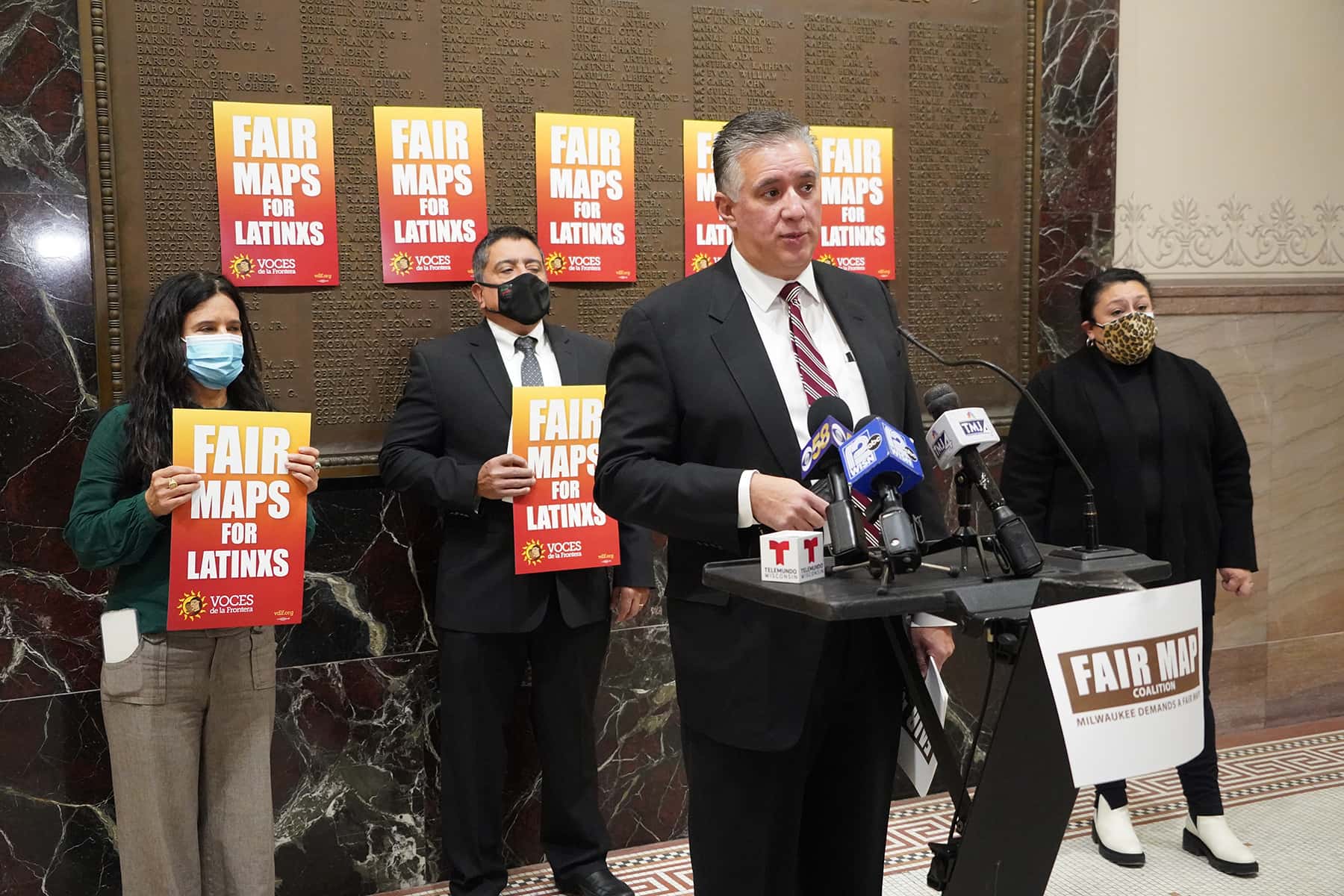 The effort to redraw Milwaukee's Aldermanic maps came to an abrupt halt on January 10, in what was described as a last minute political move to avoid implementing any changes. Latinx community organizers held a press conference on January 14 at City Hall to address the situation, which holds a direct impact on their residential population.
After carefully considering the reapportionment of Aldermanic districts, former Mayor Tom Barrett vetoed the proposal sent to him by the Milwaukee Common Council on December 6. The Milwaukee Common Council then unanimously voted on December 14 to sustain the Mayor's veto, regarding the Aldermanic map that the Council had passed just three weeks before.
Alderwoman JoCasta Zamarripa, who represents the predominately Latinx community on Milwaukee's Southside, had worked with Voces de la Frontera, Forward Latino, the Hispanic Collaborative, and other civic groups to establish map options that would properly represent Latinx voters in the city. Many stakeholders felt that it was possible to create a third Aldermanic district with a Latinx majority that did not disturb the composition of the Latinx population in other districts.
The Common Council's Judiciary and Legislation Committee took up the issue of which district boundary map to consider on January 10, before all Council members would debate and vote on a final map. But a last minute presentation of an opinion by the City Attorney threw a wrench in the proposal process.
"Members of the Judiciary and Legislation Committee, elected representatives of Milwaukee's Latino community, and community advocates were hoodwinked. We were led to believe that we could draw a more diverse map for Milwaukeeans, in particular on the city's south side, but the committee meeting was a farce as assistant city attorneys implored us to go into closed session, only to tell us none of it was possible based on their legal opinion, which was not made public until the day of the hearing," said Alderwoman JoCasta Zamarripa, on January 10. "I am devastated and incensed that a city would do this to its people. I have lost so much faith in the supposed democratic process of government. Today is akin to February 25, 2011 when the Wisconsin State Assembly rolled the vote on the Budget Repair Act and 28 legislators were not able to cast their vote because they shut it down. I was one of those legislators, and my district's voice went unheard because the Republican majority railroaded us."
Darryl Morin, National President of Forward Latino; Christine Neumann-Ortiz, Executive Director of Voces de la Frontera; Nancy Hernandez, President of the Hispanic Collaborative; and Ruben Burgos, President of the Wisconsin Hispanic Scholarship Foundation publicly voiced their opposition to embroiled City Attorney Tearman Spencer's opinion on January 14. Just before the start of their press conference, the group delivered letters challenging the opinion to the offices of the Common Council and the Acting Mayor.
Rather than our efforts being embraced by the City of Milwaukee as a means forward to a more just resolution of these issues, the Office of the City Attorney has applied what we feel to be a deeply flawed opinion regarding the constitutionality of the proposed alternative redistricting maps that have been submitted for consideration. Based on the assessments of expert counsel that we have secured, the City Attorney's office is steering this Council in a direction that is not only ungrounded, it is exposing the city to a position that could trigger action up to and including litigation. And it must be noted that while our proposals thus far have attempted to moderate considerations for all parties concerned, should the City choose to proceed with such a polarizing and lopsided decision we will be left with no recourse but to follow suit with a plan that, while fully within our rights in light the contiguous growth of the Latino Population and the Voting Rights Act, will by necessity be far less conciliatory.
The community advocates expressed their shared concern that city leaders were receiving inaccurate and incomplete legal advice from the City Attorney's office on issues of voting rights and redistricting. Milwaukee's Hispanic community now comprises 20.1% of the city's entire population, and a flawed opinion would impact the interests of those underrepresented citizens.
"I stand before you outraged, that the City Attorney's office literally at the twelfth hour, wrongfully declared all Fair Map proposals unconstitutional at the very end of the Judiciary and Legislation Committee meeting, after the city had already stated that each map was lawful," said Morin. "The City Attorney's opinion concluded that all proposed maps were drawn with race being the 'predominant overriding factor' and as such are unconstitutional. This includes Map B, which was authored by Forward Latino. At no time did the City Attorney's office share this concern with Forward Latino, nor did we ever receive a formal request for data or information on the factors used to design Map B. And yes, while it is correct, race cannot be a 'predominant overriding factor,' it is lawfully allowed to be a factor considered in the redistricting process."
Morin said that multiple factors were considered when designing "Map B," including the lawful use of race as one of those factors. He then offered examples of how the City Attorney's opinion was either in error or conflict with its own previous opinions. That was why the Latinx leaders urged the Milwaukee Common Council to retain disinterested legal counsel that was nationally recognized for their expertise in the field of voting rights and redistricting.
"The explicit purpose of this legal counsel should be to review not just the opinion by the City Attorney, but all advise provided to the Common Council from the City Attorney's office, as well as to provide expert legal guidance moving forward in the process," added Morin. "Failure to retain outside counsel with this expertise would not just be an affront to Dr. Martin Luther King Jr. who we are set to commemorate, it would not just unlawfully diminish the vote of communities that have been traditionally underserved and discriminated against, but it would also be an invitation for these communities to bring about time-consuming and costly litigation."
In 2012, a federal court ruled that the State of Wisconsin could not use newly drawn redistricting maps for Assembly Districts 8 and 9. The ruling affirmed Voces de la Frontera's legal challenge that the map violated the civil rights of Latinx voters under the Voting Rights Act. The judgement came after Voces de la Frontera filed a lawsuit in October 2011, on the basis of Wisconsin's newly-approved legislative redistricting map. It was argued that the map deprived the Latinx community on Milwaukee's Southside of an effective voting majority in the 8th Assembly district.
"It is a disgrace that the Judiciary and Legislation Committee has failed to uphold democratic principles and not move forward with a map that accounts for the dramatic growth of Latinx residents in the City of Milwaukee, and their ability to have greater representation as a community of interest," said Neumann-Ortiz. "Voces de la Frontera prevailed in our legal case 10 years ago, the only case to challenge redistricting in terms of how the Latinx community was being divided here in the City of Milwaukee. So I think our elected leaders need to get legal advice from someone who knows, and has a deeper understanding of voting rights and civil rights."
Nancy Hernandez, President of the Hispanic Collaborative said that the growth of the Latino community existed across three Aldermanic districts, and they deserved a fair voice and representation like any other population in Milwaukee. But achieving equal representation and being able to cast equal and effective votes depended on Aldermanic maps being drawn fairly to reflect local communities.
"That's at the core of why we're here. That's why we're not just taking what the City Attorney's opinion is as fact, that's why we've engaged other expert council on this issue," said Hernandez. "That's why we feel firmly that the city of Milwaukee and the common council needs to look at disinterested, nationally recognized outside experts to advise on this. We urge them to quickly take action."