Heinous acid attack against Milwaukee man being investigated as racially motivated hate crime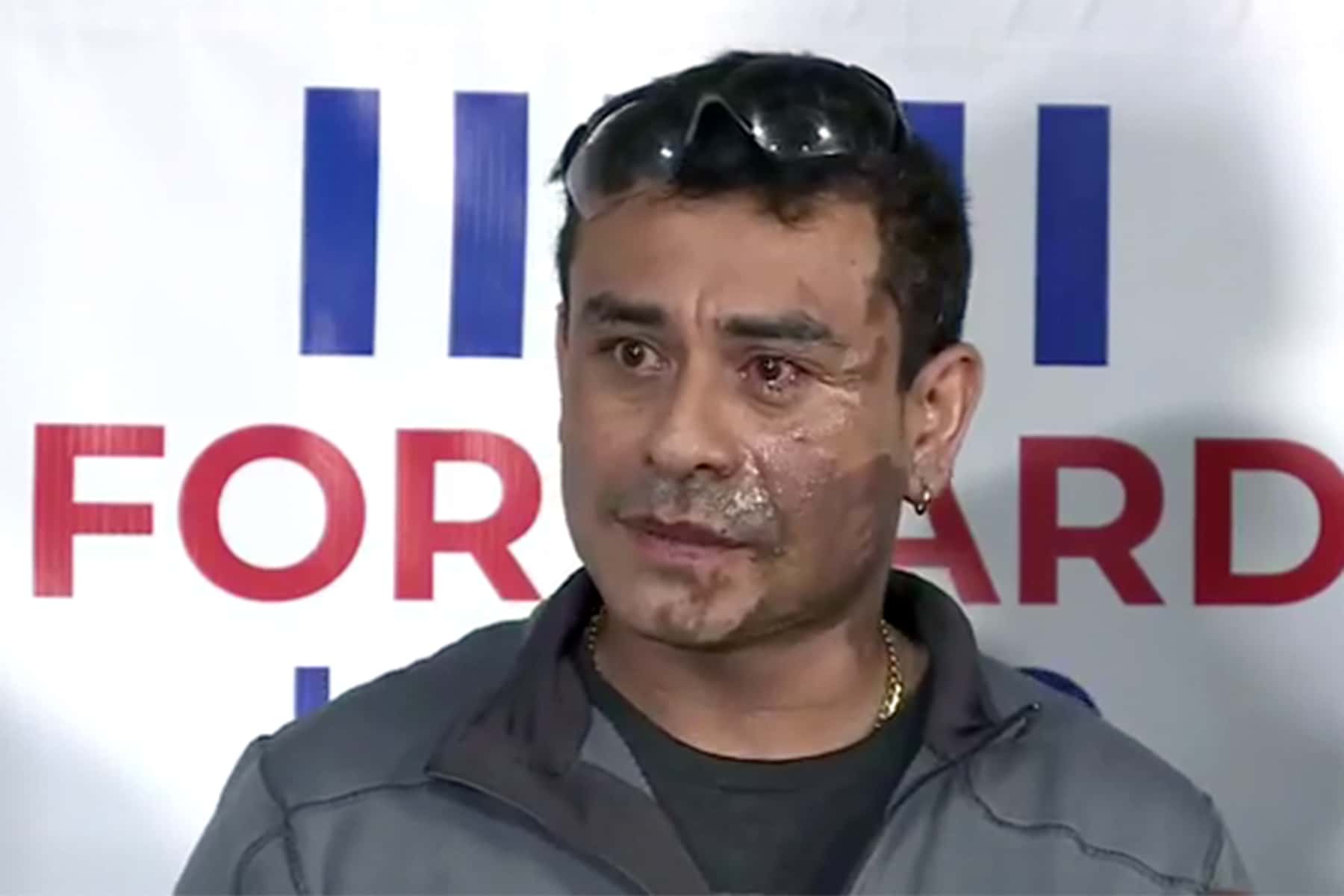 A U.S. citizen of Peruvian ethnicity suffered chemical burns to his face on November 1, after a premeditated and diabolical attack in a parking lot near 13th Street and Cleveland Avenue.
Forward Latino hosted a press conference at the Wisconsin Hispanic Scholarship Foundation's office on November 2, to update the public about the victim's condition after acid was thrown in his face on Milwaukee's South side. Local resident Mahud Villalaz said that a white man accused him of being in the country illegally and not respecting the law. The attacker then yelled "go back to your country, you don't belong here, this is my country," before splashing Villalaz with battery acid.
"I was driving my truck to go eat at a restaurant, and when I parked I saw there was a guy in the corner, like waiting for the bus, who told me I couldn't park there. He said I didn't obey his law and I was invading his country. I look at him like, what was he talking about. But I ignored him and went ahead and moved my truck, parking it one block over," said Villalaz. "I came back to the restaurant to enter, and he was still waiting there with a bottle in his hands. I thought it was his liquor or something. He stopped me to argue, 'Why did you came here in my country? Why did you came here illegally?' He didn't know my status, that I was an American citizen too. He got mad and threw the acid at me. I turned away but it splashed my face. I tried to defend myself but it started burning really bad. I started screaming for help in the restaurant."
The attacker was described as a six foot tall white male with a medium build. He was last seen wearing a blue winter jacket, black pants, and black shoes. He was carrying a black satchel and holding a silver aluminum container with the suspected chemical agent.
"The acid attack on November 1 near 13th and Cleveland was a heinous crime that will have a long-term impact on the life of the victim. This was senseless violence and it needs to stop. We as a community need to come together to work through our differences and learn to respect one another and diffuse conflict. We need those elected officials who are spreading racial hatred to knock off the rhetoric that is designed to divide us. Instead, we need to work to heal the wounds that have been gashed open in the last few years. We as a country are better than this. Milwaukee is better than this. We as a community are encouraged that the police are investigating this attack as a hate crime and have been ensured that all hate crime enhancers are added to the charges. Those that would perpetuate violence against anyone based on their ethnicity, religion, sexual orientation or gender need to understand that they will be held to account and fully punished for their crimes." – Alderman Jose G. Perez
Villalaz spent the night in the hospital and is recovering, but the physical and emotional scars will have a long lasting impact for him and Milwaukee's large Latino community.
"It's our understanding that the Milwaukee Police Department is investigating this as a hate crime," said Darryl Morin, President of Forward Latino. "I don't see how it could be anything else, as this is sadly and tragically a textbook case of hate. I daresay it was premeditated, because no one walks around with a bottle of acid and hangs out in a predominantly Latino neighborhood for no reason."
A little over two years ago, there was a triple homicide in the metro Milwaukee area involving an American citizen from Puerto Rico. He was shot for speaking Spanish, and then the gunman went upstairs in the apartment building and executed a mother and a father. As recently as September 19, the Department of Homeland Security announced that domestic terrorism, particularly with regards to white supremacy violence, posed just as much danger to the United States as Al Qaeda and ISIS.
"The near south side of the city of Milwaukee is home to the largest Latino population in the great state of Wisconsin. And today, of course, I'm angry," said State Representative JoCasta Zamarripa. "I'm angry that an innocent man has been so viciously attacked. I'm angry that a racist was able to live out his beliefs through violence against one of my constituents. And I'm angry that those elected to power have used dog whistles and enabled violent rhetoric that has led to this attack. I, and so many people in my life, have heard the phrase, just like he heard – go back to your country. But I'm here to say this is our country, this is our state, and this is our city. Milwaukee will not stand for this racism and xenophobia that would move someone to commit such a heinous crime. This cannot be tolerated. No one should be afraid of being attacked simply for being who they are."
The attacker is still at large, and the public is asked to phone police with any information that can lead to an arrest. Morin also made a plea to the Milwaukee community for help.
"If you are aware of somebody who you believe is a white supremacist, do not wait," Morin said. "Go ahead and call the FBI hotline specifically for domestic terrorism and hate crimes. Take action, and let's not let something like this happen again simply because someone didn't make a phone call."