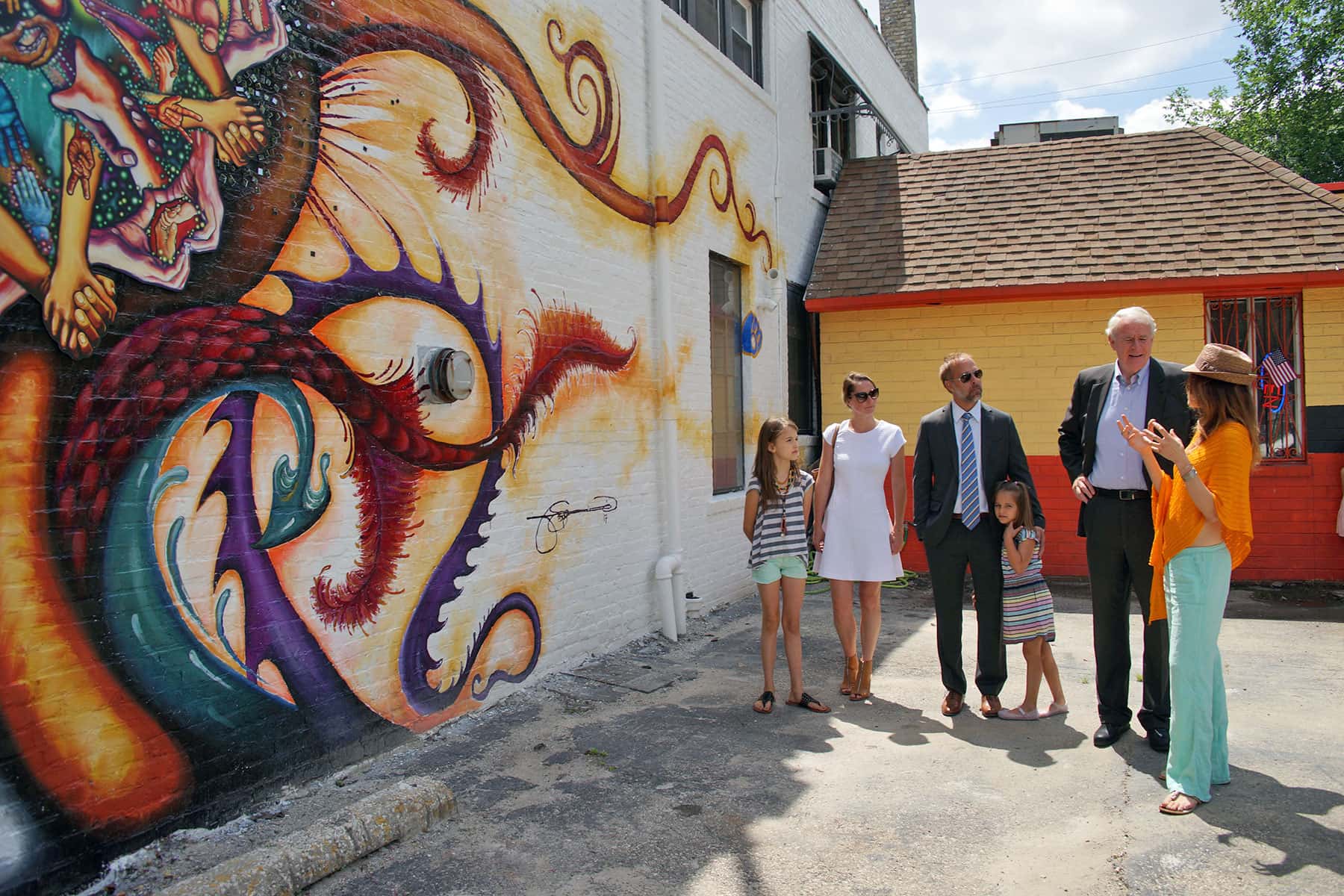 The Handala community mural was presented to the Clarke Square neighborhood on July 25 during a public event, in celebration of efforts to transform the area.
The Pattee Group purchased the 4,400-square-foot building at 2433-2435 W. National Avenue two years ago, when it was a city owned tax foreclosure property. Its mission was to rehab the structure, which included using the exterior to install a community mural.
"Our goal was to bring art to Clarke Square, and I think we've accomplished that with the mural," said Ryan Pattee, President of Pattee Group.
Painted by artist Jennifer Espenscheid, the mural incorporated hundreds of photos that Espenscheid and volunteers took of children's hands at Clarke Square community events. She used the pictures to create individual oil paintings of the little hands, and later digitized the art pieces. They were then combined into the mandala-like pattern of the mural.
"The Handala is a gift from one Milwaukee mother to all children, mothers, and families of our City. We all love and live through our hands. We have hands to give and to receive, to help and play, to touch and create, and to express. Every beautiful hand is completely unique, and all our efforts blend together in a display of our shared shumanity. Clarke Square has so much in common with all of us, and being aware of this collective power is what I hope the Handala inspires."
Not only is the building in the process of being put back into use, but it is being put back in a creative way. The mural art has captured the essence of progress around Clarke Square.
"The city unfortunately has mortgages on and ownership of over a thousand buildings. As the Mayor of this city, I don't want to own a thousand buildings," said Mayor Tom Barrett. "I want to find ways to get buildings back into circulation, and this building is a perfect example of a city owned foreclosed structure that now has been put back into the tax base. This is a wonderful story about investment, about creativity, commitment, and collaboration."
The mural was conceived as way to add value to the building's rehab and be a showpiece for the area. Its planning and design took over a year to accomplish.
"My main goal, besides installing art that the community can appreciate, is helping shift the narrative of the Milwaukee area," added Pattee. "Milwaukee is a dynamic, diverse community, and our team is proud to play small part in supporting the Clarke Square residents and businesses."
A larger grand-opening event for the building is scheduled for Fall 2017. Along with the recent completion of a warehouse renovation on West Lisbon Avenue, the National Avenue project sets the stage for Pattee Group's next major effort, a site in Walker's Point from the 1860s.