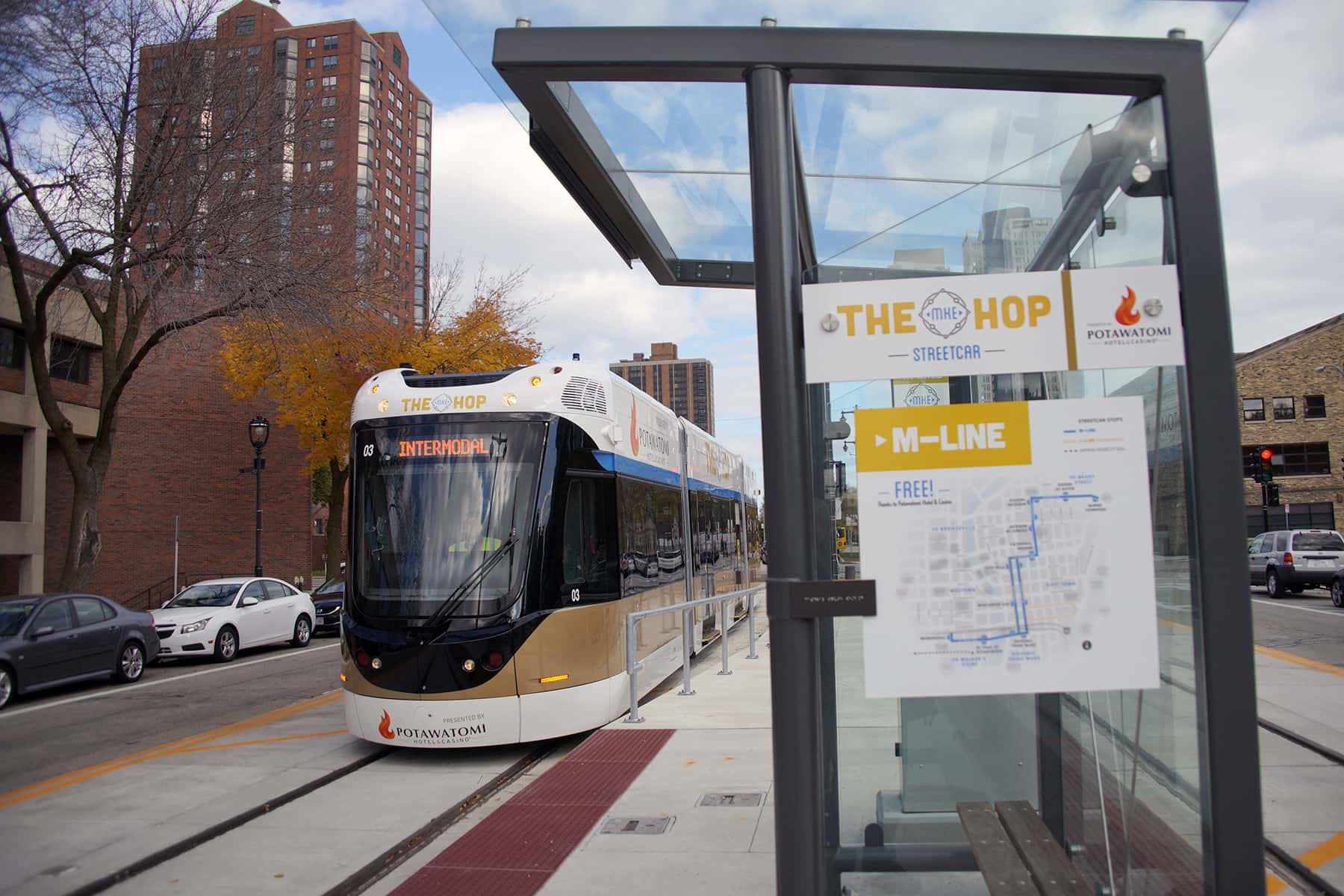 The Hop, presented by Potawatomi Hotel & Casino, has a weekend-long slate of public events planned to celebrate the launch of passenger service in Milwaukee on November 2.
While riding The Hop for the first time will be the centerpiece of the November 2 to 4 "Grand Hop-ening" weekend, there will be activities all along the route to engage the community and introduce riders to the many connectable destinations via the streetcar.
The "Grand Hop-ening" celebration will be centered around Cathedral Square Park in the heart of downtown, and adjacent to The Hop's eastbound and westbound platforms on Kilbourn Avene. The historic event will begin at noon on Friday, November 2, with remarks from officials and the ceremonial launch of passenger service.
To accommodate downtown visitors who have already enjoyed a ride and want to return to their original location without waiting in line for The Hop, the City of Milwaukee has partnered with the Milwaukee County Transit System to offer free bus service along the streetcar route during the Grand Hop-ening.
Bus bridge stops will be located near Burns Commons, Cathedral Square, the Historic Third Ward and the Intermodal Station. Riders should look for buses with "Bus Bridge" signs in the windows.
The Hop's official information tent will be open in the park from 10:00 a.m. to 6:00 p.m. throughout the weekend, featuring information on the system, free commemorative Hop buttons, and T-shirts available for purchase.
With all the events scheduled, large crowds are anticipated at peak times during the day. Riders should be prepared for lines at some of the busier streetcar platforms, and passengers are encouraged to limit their rides to one loop around the route.
Friday, November 2 – (Streetcar service 12:45 p.m. to midnight)
11:00 a.m. Entertainment featuring DJ Kima Hamilton from 88Nine Radio Milwaukee begins in Cathedral Square Park.
12:00 p.m. A performance from the Golda Meir School drumline will kick off the formal Grand Hop-ening program, with remarks from local officials and visiting dignitaries.
12:30 p.m. A short ribbon-cutting ceremony will take place on the Cathedral Square streetcar platform located on Kilbourn Avenue as the first streetcars get set to depart.
12:45 p.m. Passenger service officially begins, with music continuing in Cathedral Square until 2 p.m.
Saturday, November 3 – (Streetcar service 7:00 a.m. to midnight)
All Day Support Hop-In for Business Saturday! Participating businesses along the route will be offering specials for streetcar riders. A complete list of specials will be available at www.thehopmke.com/grand-hopening next week. Businesses interested in participating can submit their promotions at www.thehopmke.com/hop-shop-play-signup.
All Day Participate in the Hop, Shop & Win Contest, presented by Kiewit and Mass. Electric Construction Co., with support from Milwaukee Downtown. Beginning Saturday, Nov. 3 and continuing through "Small Business Saturday" (Nov. 24), shop at any downtown business and upload your receipt at http://www.thehopmke.com/hopshopwin for a chance to win cash prizes.
Noon to 2:00 p.m. The City of Milwaukee's Environmental Collaboration Office will host the Milwaukee in Motion Sustainable Transportation Fair in Burns Commons at the northern end of the route. The event will feature booths from numerous organizations that are keeping Milwaukee moving and contributing to a greener future for the city. 88Nine's Dori Zori will be spinning music during the event and Colectivo will provide free coffee (while supplies last).
Sunday, November 4 – (Streetcar service 7:00 a.m. to 10:00 p.m.)
It is Kids and Family Day along the route. There will be a variety of family-friendly activities at/near many of the streetcar stations. All activities run from 10 a.m. to 2 p.m. unless otherwise noted.
Burns Commons
Meet the men and women of the Milwaukee Fire Department, see their firefighting equipment, learn about the Survive Alive House, meet MFD mascot Sparky, and City of Milwaukee residents can sign up to have a home smoke detector installed.
Find the VISIT Milwaukee "Me in MKE" statue, take a photo and make sure to post it to social media with the hashtag "MeInMKE" to share how you do Milwaukee.
Explore the nearby Milwaukee Jewish Museum, which will be offering free admission to Hop riders from 12-4 p.m. (must show a Hop sticker, available at any streetcar platform all weekend long). The museum is dedicated to preserving and presenting the history of the Jewish people in southeastern Wisconsin and celebrating the continuum of Jewish heritage and culture.
Jackson at Juneau Southbound
Drop by for art-based enrichment activities courtesy of the Artists Working in Education (AWE) Truck Studio.
Jackson at Juneau Northbound
Enjoy free popcorn samples from Metro Market's Cream City Confections – while supplies last.
Cathedral Square
Play giant and regular-sized versions of your favorite board games such as Connect 4, lawn Yardzee, corn hole, Chess, Clue, Jenga and many more at the Downtown GO! Kart, courtesy of Milwaukee Downtown. Visit The Hop Info Tent for free youth tote bags and streetcar stickers.
City Hall Southbound
Take advantage of free admission to MSOE's Grohmann Museum from 1:00 to 4:00 p.m. The museum, which is one block north of the platform on Broadway and State Streets, is the home of the world's most comprehensive art collection dedicated to the evolution of human work.
Historic Third Ward (Public Market)
Hop off at the iconic Milwaukee Public Market to find a free face painter.
St. Paul at Plankinton
Meet members of the Milwaukee Police Department, including the horse patrol, and enjoy free ice cream treats courtesy of Pick 'n Save and Kemps – while supplies last.