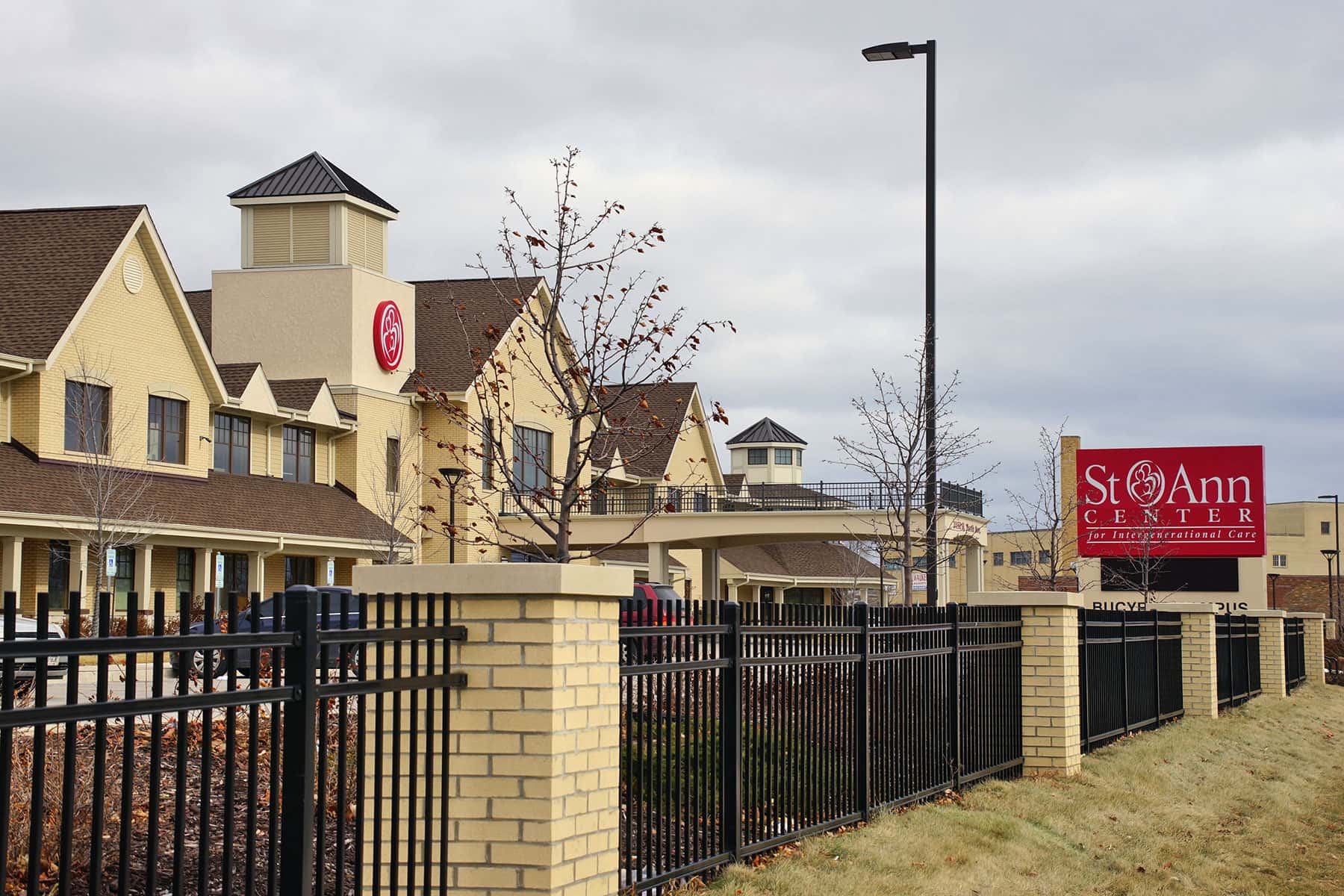 The hum of excavators moving 9,000 tons of dirt will soon be replaced by the sound of music and applause on Milwaukee's near north side.
With excavators towering in the background, St. Ann Center's Bucyrus Campus hosted the Good Earth Celebration on August 11. The event spotlighted the major soil cleanup underway on the center's 7.5-acre campus that will prepare the property at 2450 W. North Avenue for construction of a brand-new community band shell.
"I am very proud that the St. Ann Center is bringing a state of the art band shell to our district," Alderman Stamper said. "The band shell will be a great place for families, shows and other community events and I can't thank Sr. Edna and her hard working team enough for their efforts."
About 9,000 tons of soil affected by petroleum-based pollutants and metals will be excavated and trucked to a landfill. Another 6,000 tons of dirt will be capped by clean soil—making it safe in accordance with federal and state regulations. It will then be graded to form a hill that will serve as audience space for a 350-capacity band shell. The cleanup has been years in the making.
"Years ago, when we were planning to build our north side campus, we had a picnic for people in the neighborhood and asked what they would like to see on this property," said Sr. Edna Lonergan, president of St. Ann Center for Intergenerational Care. "They said they would love a walkway lined with trees and lit up to create a safe place to walk and meditate and be at home with God and nature."
The walkway will lead to the Indaba Community Band Shell, designed by Zimmerman Architectural Studios, expected to be completed in time for the 2018 outdoor concert season.
"There's tremendous talent in this neighborhood," Lonergan said. "Even our young children have great artistic talent. We can't wait to see them entertaining us in this beautiful band shell."
Pastor Ollie Taylor of Hopewell Missionary Baptist Church and Fr. Byron Haaland led a blessing of the construction site. Entertainment was provided by children from St. Ann Center's Summer Camp program, the Omo Orisha drum and dance group, and an intergenerational choir made up of the center's day care children and adult clients.
The community celebration brought together partners in the cleanup project, including the Environmental Protection Agency, Wisconsin Economic Development Commission, Wisconsin Department of Natural Resources, City of Milwaukee, Dakota Intertek Corp and TRC Environmental Corporation. The cost of the cleanup project will be offset by $147,000 in grants from WEDC and $400,000 in U.S. EPA Brownfields Cleanup Grants.
"What St. Ann Center has done is a perfect example of how we take an underutilized or abandoned property and get something very positive out of it," said Dave Misky, assistant executive director of the Redevelopment Authority of the City of Milwaukee. "This development has the three elements of sustainability. There are people working here, people enjoying the space and people cleaning up the soil. The City is proud to be part of this project and to partner with everyone to make this a reality."
Jon Peterson, U.S. EPA project officer, emphasized the importance of federal, state, county and city working together with organizations such as the Sisters of St. Francis of Assisi, who oversee St. Ann Center's corporate ministry.
"We are so happy to be able to give money and advice on how to redevelop property like this and make it into something more beautiful than it ever was before," said Peterson.
St. Ann Center purchased its two-block parcel in 2014 for $1 from the City of Milwaukee. Between 1951 and 1969, many buildings on the property were demolished to prepare for construction of the Park West Freeway. After the freeway project was canceled, the remaining buildings were demolished. The vacant land was a neighborhood concern until purchased by St. Ann Center.