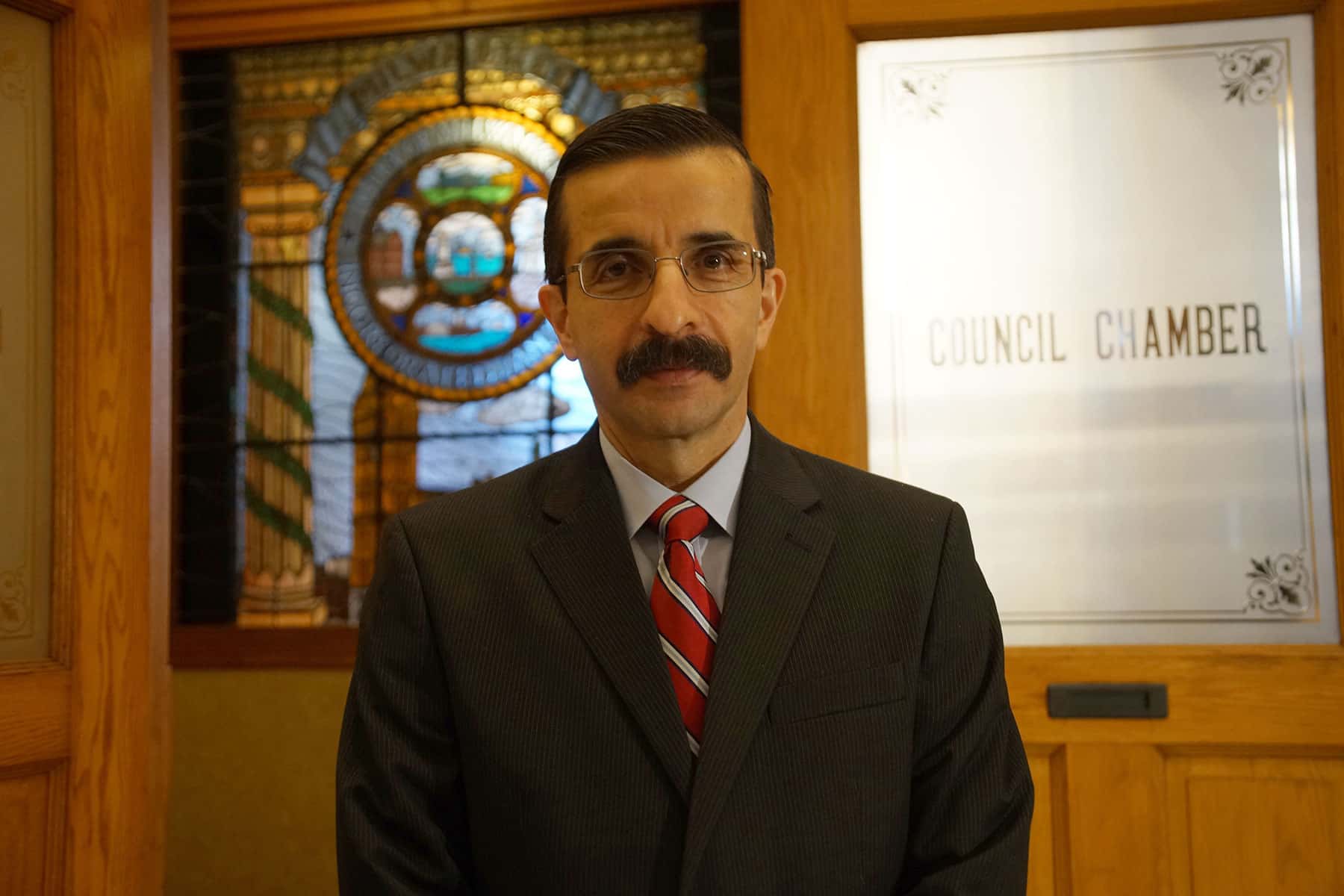 During the regular meeting of the City of Milwaukee's Common Council on July 26, Mexican Consul General Julián Adem Díaz de León was honored with a special welcoming ceremony.
Adem Díaz de León is the first appointed Cónsul at the new Mexican Consulate on North Prospect Avenue, which is also the first such consulate in Wisconsin.
"It is an honor to welcome Cónsul Adem to the City of Milwaukee," said Common Council President Ashanti Hamilton. "His distinguished reputation for outstanding leadership precedes him."
A member of the Mexican Foreign Service since 1988, Cónsul Adem Díaz de León has served directly in documentation functions, protection, and care for Mexican communities abroad.
"I want to thank the Mexican government for having a broad enough vision to realize that even though we have a consulate 90 miles away in Chicago, that there was enough need here in Milwaukee to open this new, state-of-the-art facility," said Alderman José G. Pérez. "This Consulate is not just about providing services for the Mexican nationals here in Milwaukee or the region. It's also about acknowledging the Latinos, our largest and fastest growing population in the region."
It is estimated that 85,000 Mexican nationals live in the Milwaukee County area. The Mexican Government was petitioned by Hawaii, Tennessee, and New Jersey last year to open a consulate, but Wisconsin was selected instead. There are now 50 Mexican consulates in the United States.
"We also serve most of the state of Wisconsin. In spite of the fact that Madison wanted us there, we choice Milwaukee because it is a nicer city," said Cónsul Adem Díaz de León in his address to the Common Council. "So in fact we are covering 53 counties in the state. We left a few counties for Minneapolis–Saint Paul, where we have another Consulate."
Having a consulate in Milwaukee will help relieve the backload of cases from Chicago. Scheduling an appointment in there usually takes six to eight weeks, and the distance makes travel an expensive burden.
The Mexican Consulate would principally serve Alderman Robert Donovan's 8th District and Alderman Pérez's 12th District, due to the concentration of the Hispanic community.
Consulates serve a multitude of functions, including helping foreigners resolve issues dealing with identification cards, passports, marriage certificates, and birth certificates, among other legal documents.
"We are working closely with organizations like Voces de la Frontera and Centro Hispano, and teaming up with the City of Milwaukee on issues of health and education," said Cónsul Adem Díaz de León. "Our mission is to be a resource center, not just a documentation office."
The Mexican Consulate also plans to discuss trade opportunities with the Milwaukee Chamber of Commerce, between Milwaukee-based companies and Mexico. Cónsul Adem Díaz de León expressed his eagerness for economic cooperation to "promote Mexico in Milwaukee."
Prior to his arrival in Milwaukee, Cónsul Adem Díaz de León's most recent post was as Consul of Mexico in Las Vegas, with previous leadership and services to Mexican nationals living abroad in communities from Dallas to Los Angeles.