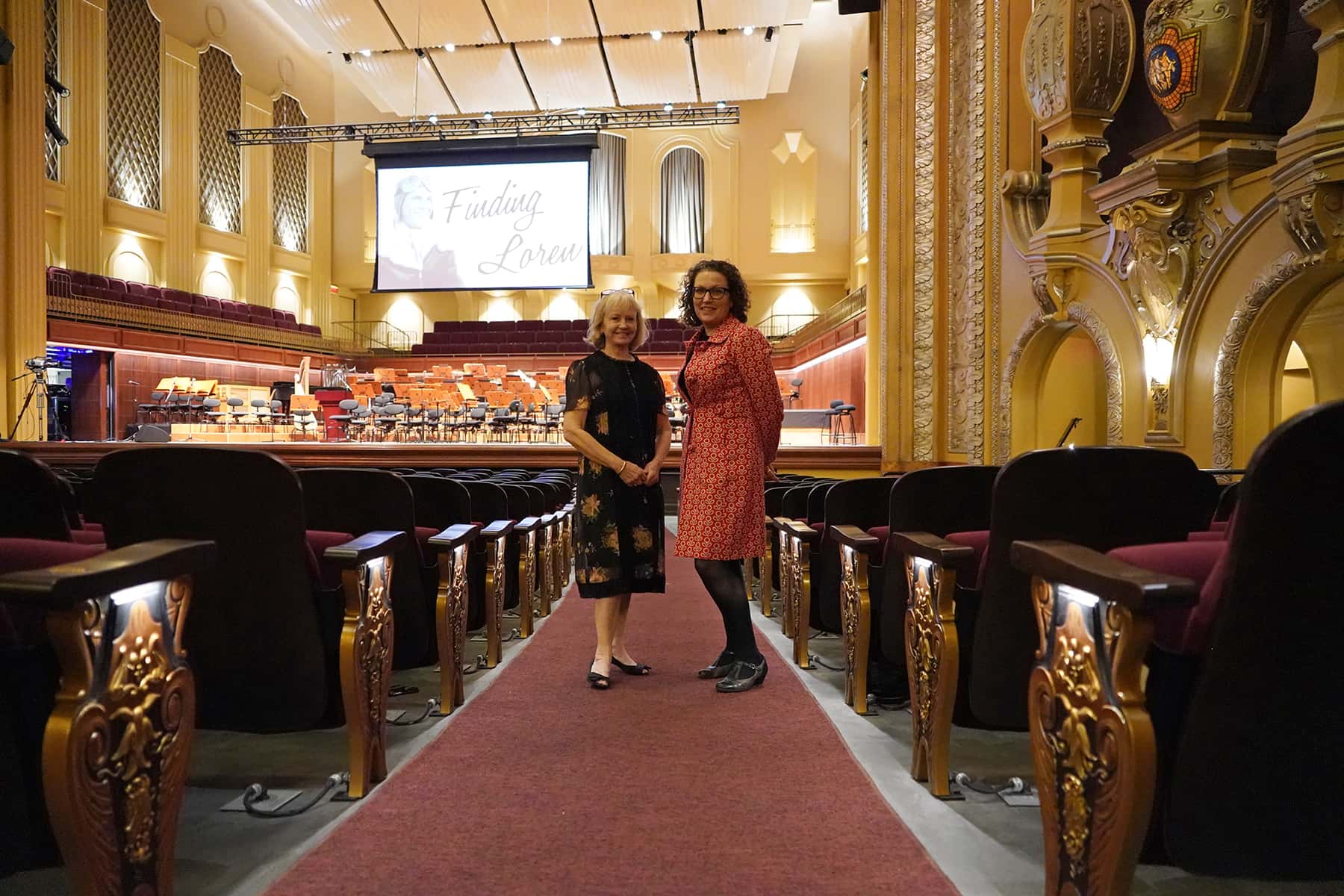 MSO's new Bradley Symphony Center hosted its first ever film screening on September 25, with the world premiere of the new documentary "Finding Loren."
The film tells the story of P-47 fighter pilot Loren Hintz, who was shot down and lost at the end of World War II, and the efforts of his family to find the missing plane and his remains.
New Hampton Pilot is Killed in Italy (Courier Special Service, 1945) New Hampton, Ia. – Lt. Loren Hintz has been informed that her husband, a P-47 pilot, was killed in action on Apr. 21 in Italy. On May 8 she received a telegram from the war department that he was missing in action. He was on his 64th mission. Previously he had been awarded the Air Medal, Bronze Stare, Distinguished Unit badge. He was born at Lakeview, Ia., Oct. 19. 1917, son of Mr. and Mrs. George Hintz. He was graduated from Charles City high school and attended Mason City Junior college and spent one year at Iowa State college at Ames. He enlisted in August, 1941, and served one year in the Pacific. He married Gertrude Russell Apr. 3, 1943. Besides his widow he is survived by a daughter, Gretchen Marie, and a son, Loren Martin, who was born early this month; his parents, now in Glendale, Cal., three brothers, Harold, Osage; Robert, with the air force in India, and George, with the air force in Europe.
Hans Wronka, Loren's grandson, led the recovery project to find the missing plane. Wronka began the effort to find his grandfather's remains and airplane in 2000 with an internet query that resulted in information 12 years later from Piero Fabbri, a pilot and Italian World War II enthusiast who offered help.
Loren's plane crashed on April 21, 1945. It was finally located and excavated in 2016 from an Italian farm field, more than 70 years later. The discovery came after an intensive search and with the help of numerous Italian and stateside researchers, aviators, and historians. The searchers found not only his plane, but his remains and dog tags. The recovery was captured on film and marked a high point of the documentary.
The film was produced and directed by Milwaukee resident Pam Percy. Her late husband was Martin Hintz, Loren's son, who established the foundations for the documentary by raising money and gaining support from politicians, military personnel, and historians, and by hiring a cinematographer to film two trips to Bologna, Italy.
Martin never met his father, who was shot down six weeks before he was born. After Martin's death in September 2020, Percy began producing and directing the documentary, extensively researching Loren's life through his diaries, letters, an autobiography, and information from Gretchen Wronka, Loren's daughter.
"I read all 350 letters and his diary, and I used that to compile a timeline," said Percy. "Then I took excerpts to create a script."
Once the script was written, it was fine-tuned by the film's editor Claudia Looze, who created the 80-minute documentary. Percy and Looze completed "Finding Loren" in nine months, so that it could be shown to the public on the one-year anniversary of Martin's death.
The film uses Loren's own words, vintage photographs and archival footage to follow the sweeping trajectory of his life as an Iowa farm boy, a writer and poet in the 1930s, and his courtship and marriage to Gertie Russell. It tells of his four years of military training and the challenges in becoming a fighter pilot.
His five months of active duty in Italy are captured by war footage. The movie also shows his courageous war widow forging a new life as a single working mother and raising their two children – Gretchen and Martin.
The film ends on a powerful emotional note with Loren finally being laid to rest in November 2019 with full military honors at the Florence American Cemetery and Memorial site in Italy. Forty of Loren's relatives and stateside friends were accompanied by several hundred civilian dignitaries, local residents, and members of the American and Italian military.
Actor Dion Graham narrates the film, and Tony Wood is the voice of Loren. Music includes original work by Milwaukee singer-songwriter John Sieger.
Close to 200 people attended the special screening at the Bradley Symphony Center, which was free and open to the public. Mayor Tom Barrett also attended the premiere to present Percy with a proclamation to honor both the documentary and Loren.
© Photo
Lee Matz and Loren Hintz family