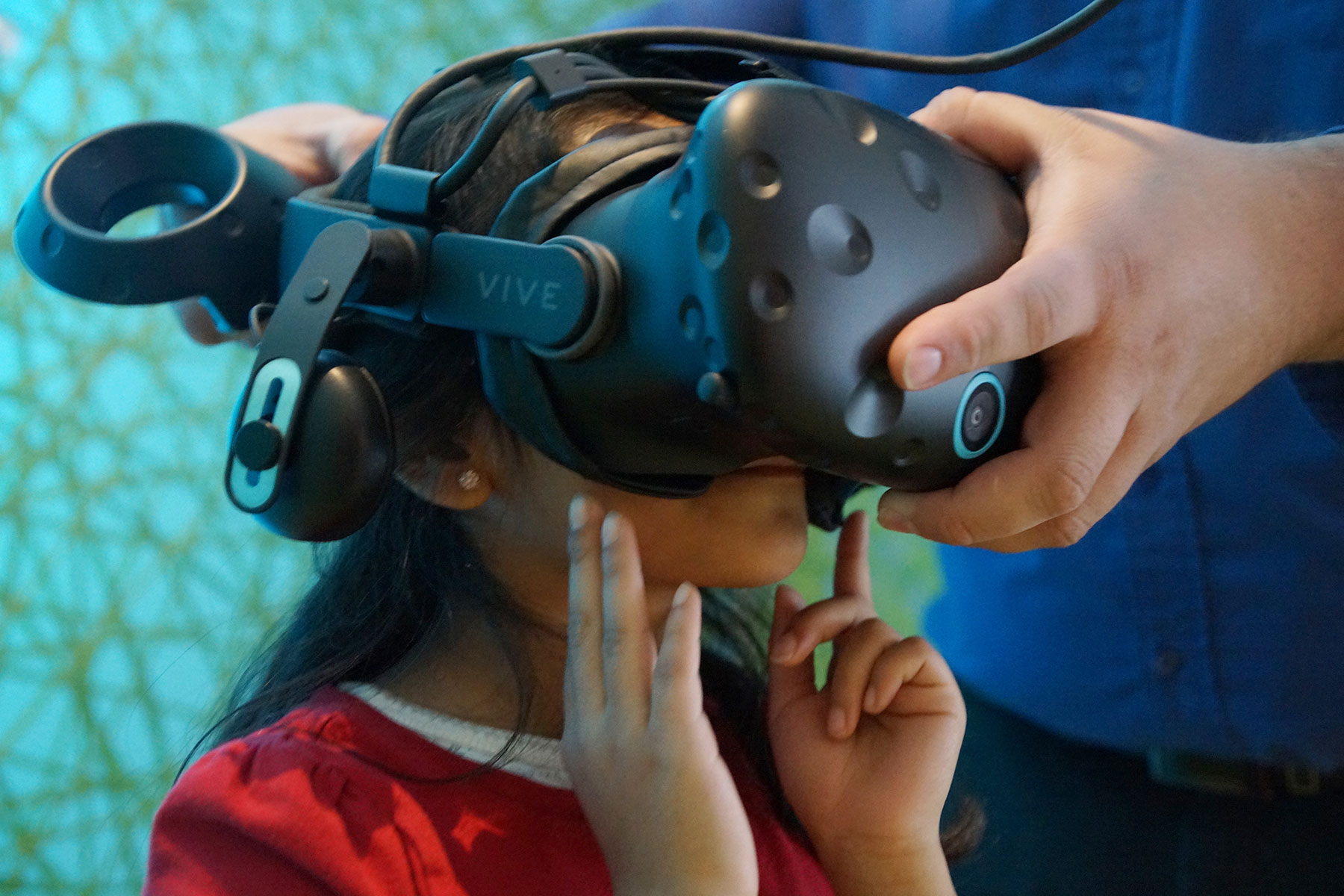 Replacing the original 360° VR experience of Discovery World's HIVE (Hybrid Interactive Virtual Education) display, the Virtual Explorer exhibit incorporates new technology that transports visitors into several hyper-real environments.
Opened in partnership with MilliporeSigma in the fall of 2017, the Virtual Explorer uses a custom launcher built with help from the Zizzo Group, a Milwaukee-based marketing firm. The platform ensures that multiple VR options can be offered daily, instead of a one-time static program.
Discovery World is the first science center to put five VR stations within such a close proximity to each other, allowing a higher number of visitors to move through the upgraded virtual reality experience.
"Virtual Reality is the future, and Discovery World is proud to be able to bring an accessible and unforgettable experience to our community," said Paul Fladten, senior public relations manager. "While our Virtual Explorer exhibit mainly introduces guests to the entertainment aspect of virtual reality, the technology is just scratching the surface of what is possible."
Right now, Discovery World is offering four different experiences to visitors, an underwater adventure that takes travelers to the bottom of the ocean, the experience of flying and falling in a simulator, the seasonal Merry Snowball game, and the in-house created I.M.M.U.N.A.U.T.S. adventure that virtually shrinks participants and inserts them inside a human body to fight off germs.
"With Virtual Reality, people can visit places they would never have the chance to go," added Fladten. "We've always had a state-of-the-art VR program within Discovery World, thanks to our HIVE partnership with the Milwaukee Area Technical College (MATC). But technology has changed from when we opened in 2006. The experience has shifted so much that it actually feels like you are in that simulated reality, and its a bit too real at times."
Fladten said he remembered getting sick the first time he played a VR game years ago. It was not immersive or encompassing, and had no dynamic movements other than simple camera turns. Using the HTC Vive systems, students at Discovery World can journey inside a sub-atomic molecule, the human heart, an active volcano, celestial objects across the cosmos, fantastical visions of the future, or extraordinary historical events from ancient civilizations. All are included in the price of admission and membership.
Created in-house by Discovery World's Ryan Kresse, I.M.M.U.N.A.U.T.S. is one of the more popular VR attractions. The game's main character Horance James Carter is a combination of Elon Musk, Mark Cuban, and JAY-Z. Like the Isaac Asimov novel "Fantastic Voyage," visitors learn about genetics as they race through carter's body to save him. I.M.M.U.N.A.U.T.S. is the third program Discovery World has produced with an educational focus on genetics.
Along with these photos, featuring students engaged with the Virtual Explorer technology, are demolition images of the previous HIVE exhibit from early 2017 as it was being dismantled.