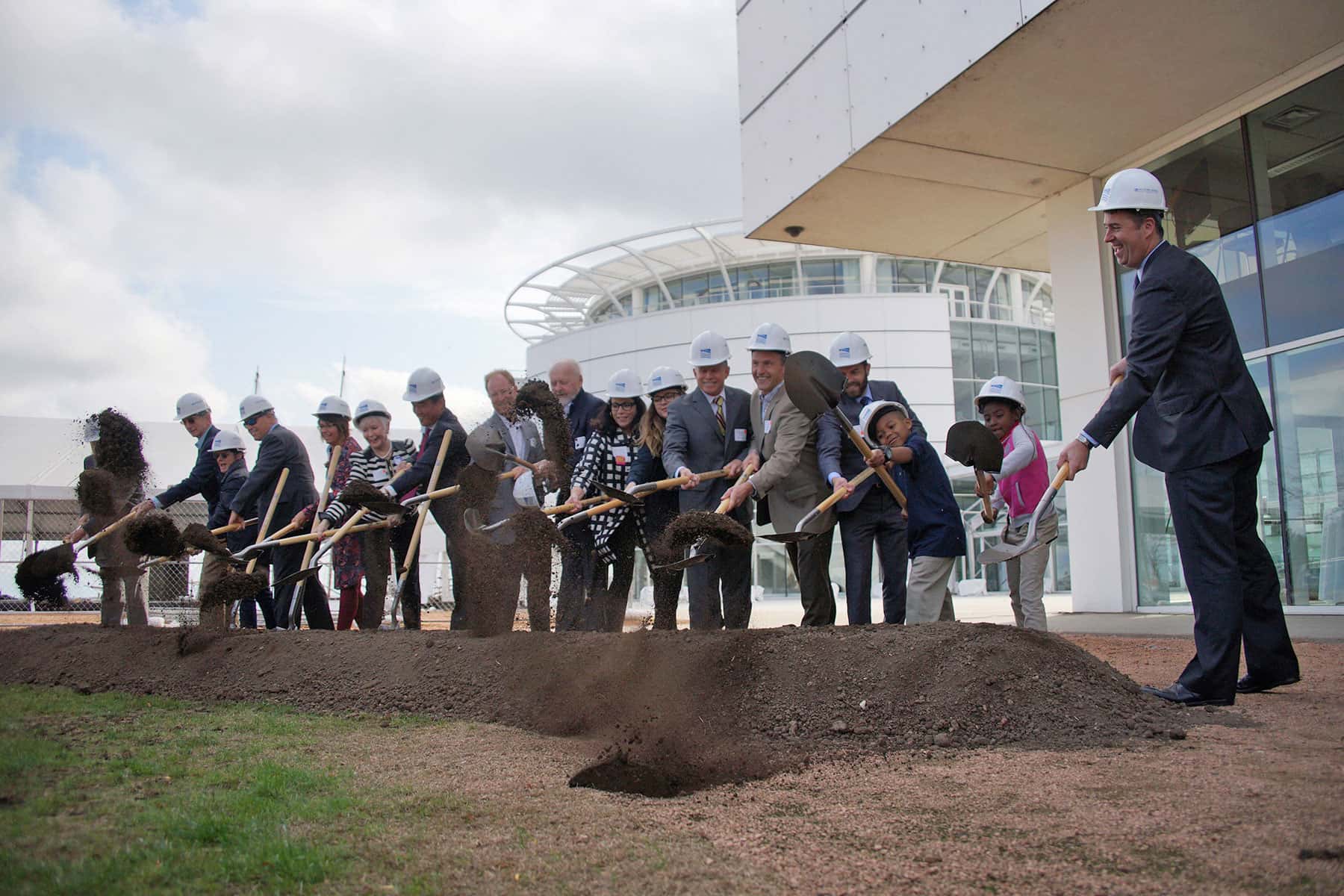 "We've been in business now for over a decade and the needs of the community have changed, the future needs of the community are going to be different and this allows us to adapt and grow along with the community and eventually to have the kind of impact we want to have on the future workforce." – Joel Brennan, Discovery World CEO & President
Discovery World broke ground on October 10 for the first phase of its $18 million expansion project, featuring a 10,000 square foot space that will be located along Lake Michigan on the science museum's north lawn.
The project will add nearly 20,000 square feet of accessible public space to Wisconsin's largest Science and Technology Center and provide the organization with versatility to help achieve a bigger impact on the community while also forging an important path toward long-term financial sustainability.
"After more than a decade on the lakefront it is time for Discovery World to grow and change. There are big exhibits that don't come to Milwaukee because there is no space to house them," said Brennan. "So this expansion will give us an opportunity to do that."
The versatile pavilion will serve a variety of purposes, such as providing lunchroom space for visiting school groups, expanding available educational space for field trips and summer camps, offering opportunities to host special events and weddings, and showcasing large traveling technology or freshwater exhibits. The lead gift for the expansion has been provided through a generous gift by the Reiman Family Foundation and the first phase of the project will be completed and open by the middle of 2018.
The second phase of the expansion will significantly reshape major exhibit space and reimagine the ways in which visitors engage with the facility. When fully functioning, the improvements will double the amount of exhibit and program space currently available in the Discovery World Technology Wing.
"Working with our community partners, we have formulated a vision for an exciting and transformational project that will help shape our organization's future for the next 20 years and allow us to have a more significant impact on kids in our community," said Brennan. "Through these changes, we will be able to provide access to a significantly larger number of visitors and students each year, we will gain additional earned revenue to build and maintain the facility and our programs, and we will be able to deepen our focus on providing STEM (Science, Technology, Engineering and Mathematics) Education for the schools and kids who most need interactive education in our community."
The project will result in the transformation of one of the facility's two theaters into a new Grand Entrance and Exhibit Gallery as well as open a Mezzanine Level previously inaccessible to the public. Two new permanent exhibit experiences will be added, including a new 5,000 sq. ft. exhibit focusing on public health, medical research and careers in health care. Pending additional financial commitments, the work is expected to be completed by the end of 2018.
"While these exciting investments will make the building more attractive and effective for even the most casual visitor, this investment is about our mission to improve educational outcomes in our community," added Brennan. "Because of the versatility and sustainability that this project will provide, our team will be able to deliver even more high-focus programs that immerse students in STEM programs for hours at a time and direct their energy toward real world applications and job skills."
PROJECT HIGHLIGHTS
The Discovery World investments address three organizational and community needs:
Broader Access: with a doubling of the exhibit and program space in the Discovery World Technology Wing, the organization will be able to serve a larger audience and bring critically important topic areas like health, medicine and energy to families and kids in our region;
Long-term Sustainability: Discovery World estimates that the changes will enable the organization to generate more than $1 million per year in additional earned revenue, providing a stronger and brighter future for the organization and enhancing its ability to serve the entire community, even those who cannot afford the price of admission or programs
Impact: In addition to serving a larger audience, Discovery World will have additional resources with which to offer intensive, repeat programming to kids and schools who simply do not receive enough science and math in their classrooms, and the community will reap the benefits as these kids perform better in school and gain important workforce development skills.
EXPANDING EDUCATIONAL SPACE AND COMMUNITY ACCESS
The first phase of the project will include the construction of a permanent addition on the north side of Discovery World. Details include:
10,000 square foot permanent pavilion that will replace the seasonal tent that has been utilized for several years
A significant increase in space for student lunches, school group orientation, and educational program delivery during the school year and the summer
Ability to host large (7,500 to 10,000 sq. ft.) traveling exhibits
Opportunities to host additional programs, conferences, weddings, and special events
Construction will begin in Fall 2017 and the project will be completed by the Summer of 2018
REIMAGINED VISITOR EXPERIENCE
The second phase of the project will re-envision the public experience at Discovery World by providing a new grand entrance to the Technology Wing, transforming a former theater space into an exhibit gallery and creating a new Mezzanine Gallery that is open to the floor below. Details include:
Addition of 11,000 square feet of exhibit space within the Discovery World Technology Wing
Construction of a new Admission Desk and a Grand Entrance to the Technology Wing
Two new permanent Exhibits, including a new 5,000 square foot Health and Medical Exhibit
Construction will begin in Fall 2017 and the project will be completed by the end of 2018
PROJECT FUNDING
The investments in Discovery World will be funded through private contributions from individuals and foundations. The lead gift for the project funding has been provided by the Reiman Family Foundation; that gift and other commitments will enable the work to get underway in 2017. The full project budget is approximately $18 million, and the fundraising campaign is currently underway to ensure that the work can be completed by the end of 2018.