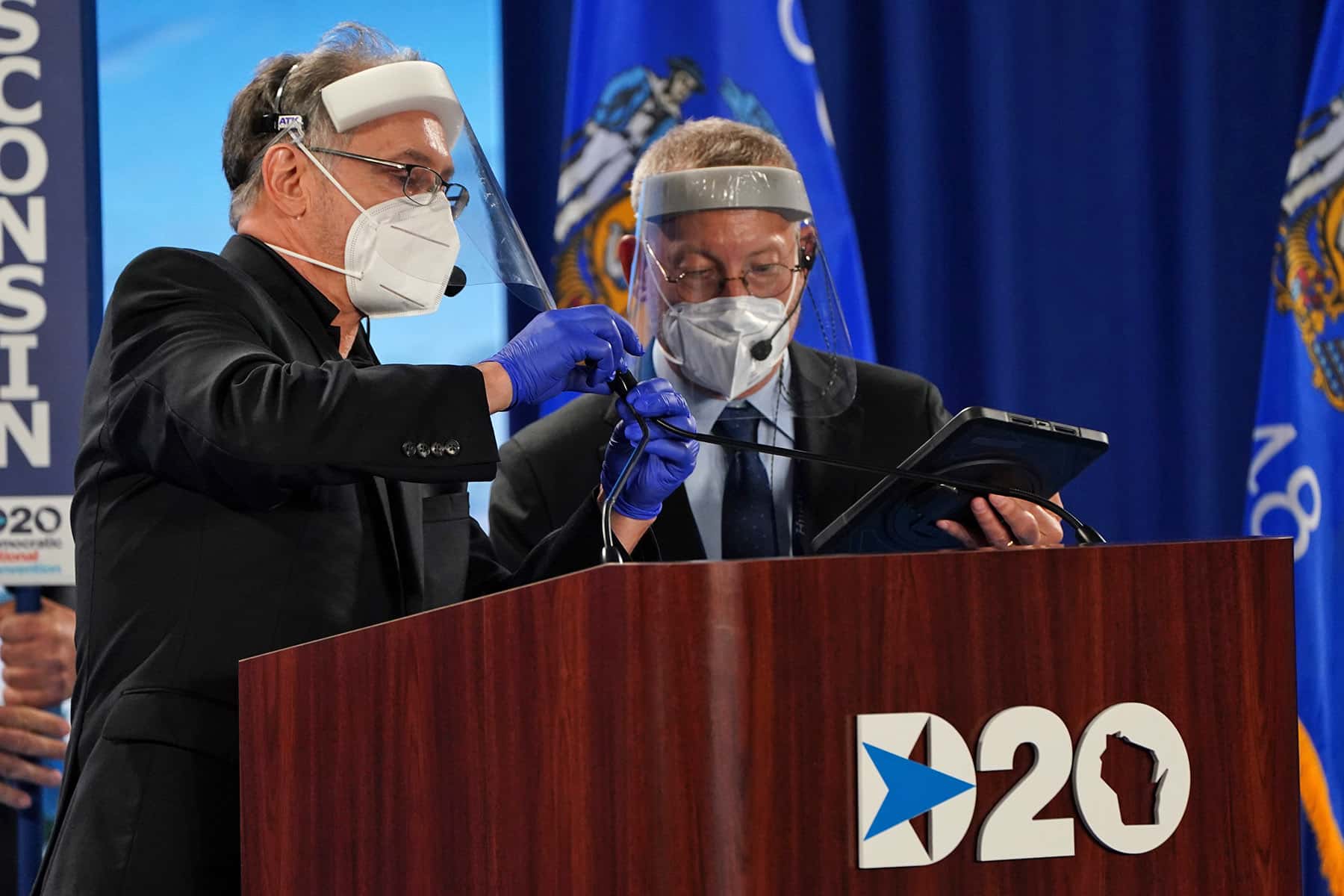 The Democratic National Convention Committee and Milwaukee 2020 Host Committee, alongside Representative Gwen Moore and Mayor Tom Barrett, announced on August 31 that a series of donations would be made to community organizations throughout Milwaukee's neighborhoods.
The donations include hundreds of items of office equipment, which will support the operations of a wide array of local nonprofit groups, as well as unused PPE, which will bolster the protective gear available to Milwaukee Health Services, Inc. as the organization continues to fight the COVID-19 pandemic.
"From the beginning of the pandemic, the convention team has been steadfast in our commitment to protecting the health, safety, and wellbeing of our community, and it's our goal to see that commitment through beyond the four nights of the event," said Raquel Filmanowicz, CEO of the Milwaukee 2020 Host Committee. "During these trying times, it's an honor to give back to such deserving organizations, and to support their work as they support our incredible city."
To determine the needs of local nonprofit organizations, convention organizers sent a catalogue of office equipment for donation to Milwaukee-based nonprofits, who selected their desired items and quantities. The brand-new or barely-used office items, including cubicles, conference tables, desks, office chairs, bookshelves, refrigerators, and more, are being donated to over 25 local nonprofits ranging in size and focus area.
"These last several months have been challenging for Milwaukeeans all across our city, but in the face of adversity, our community's nonprofit sector is meeting people where they are and lifting them up so they can continue to succeed," said Representative Gwen Moore. "From Walker's Point to Harambee, and from children-serving organizations to those supporting seniors, I'm proud the convention team is lending a hand to our diverse organizations during this time of critical need."
Recipient organizations include Boys & Girls Clubs of Greater Milwaukee, Eras Senior Network, Milwaukee Muslim Women's Coalition, Milwaukee Urban League, Northcott Neighborhood House, Walker's Point Center for the Arts, and many more.
"It's wonderful to see old convention items find a new home with community organizations who make a positive difference in the lives of the residents of our city," said Mayor Tom Barrett. "I'm especially thankful for the donation of personal protective equipment to Milwaukee Health Services, Inc. The donation ensures we are properly equipped to continue battling this pandemic and protecting the health of all Milwaukeeans."
Additionally, unused PPE from the convention, including plexiglass barriers, gowns, gloves, face shields, hand sanitizer, and more, is being donated to Milwaukee Health Services, Inc. to support the organization's essential work in responding to the COVID-19 pandemic.
"I would like to thank the Democratic National Convention Committee and Milwaukee 2020 Host Committee, who have been so generous and donated vital PPE to support our efforts in tackling the virus and helping to keep our staff and most vulnerable residents as safe as possible," said Pamela Clark, Corporate Communications Specialist at Milwaukee Health Services, Inc. "As we learn more about how COVID-19 behaves, we understand how masks, gloves, sanitizer, and disinfectant can protect us all."
This latest series of donations comes after convention organizers announced earlier this month that they will be donating over 75 laptops, dozens of tech accessories, and thousands of dollars worth of office supplies to Milwaukee Public Schools to support their students and teachers for the recently commenced school year.