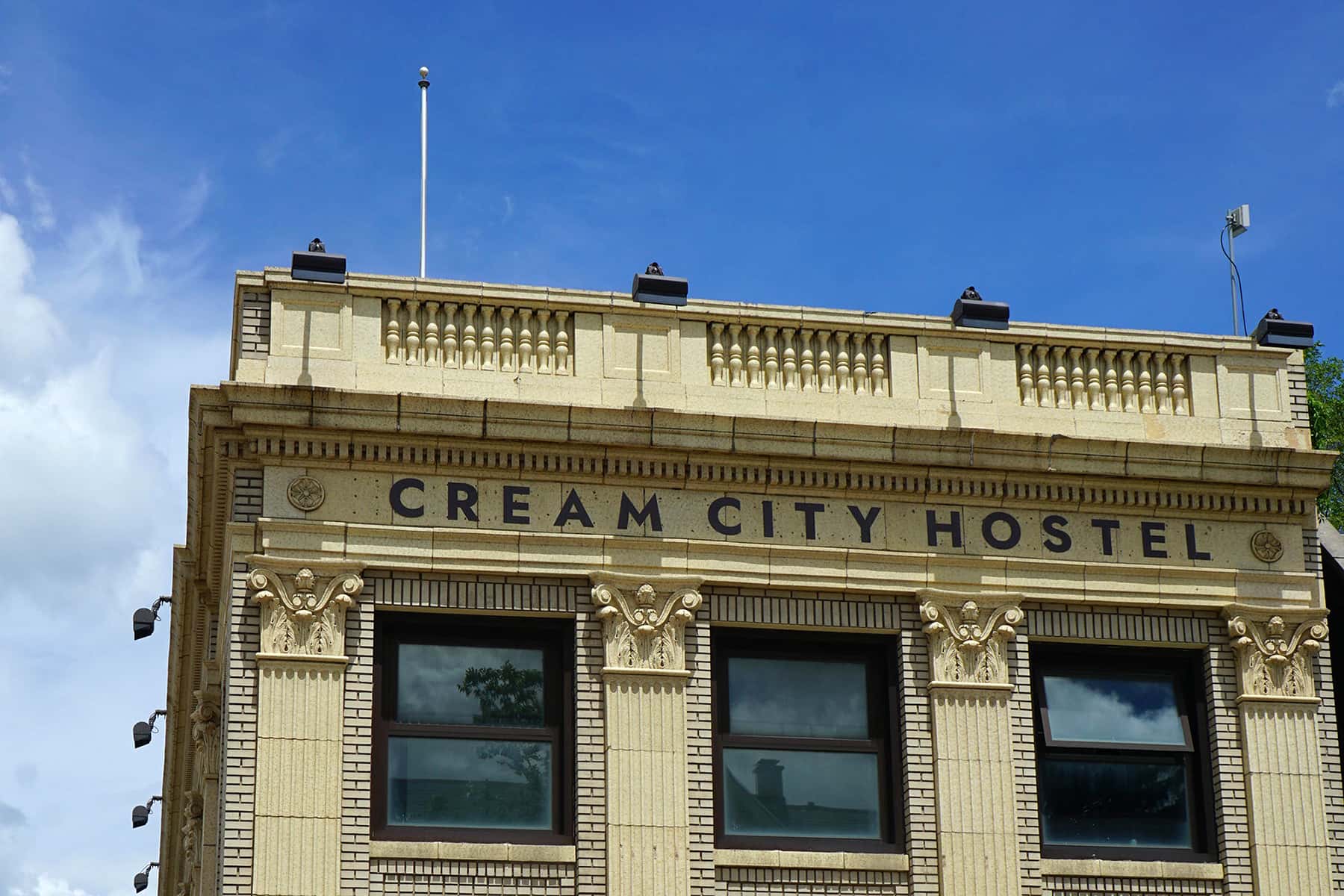 A local ownership group of more than 40 investors from Milwaukee announced on December 9 that it would be transforming its Cream City Hostel building at 500 E. Center Street in the Riverwest neighborhood into the area's first cooperative housing for Milwaukee residents.
RiverBee plans to use a $450,000 program-related investment loan (PRI) from Bader Philanthropies to enable the development. The cooperative tenant housing model is particularly well-suited for the COVID-19 pandemic realities by creating a safe "pod" of known residents, and offering an intentional living community that helps support people dealing with losses and uncertainty such as jobs, instability and landlord challenges.
The PRI is part of almost $9.5 million in grants recently awarded by Bader Philanthropies to support 134 organizations serving approximately 280,000 individuals across Wisconsin, the United States, and internationally, in program areas such as Alzheimer's & Healthy Aging, the Arts, Community Matters, Employment, Neighborhood Engagement, Social Equality, Urban & Jewish Education and Youth Development.
The RiverBee redevelopment project is located between two vibrant and culturally rich Milwaukee neighborhoods, Riverwest and Harambee. The neoclassical brick building was constructed in 1927 to house the Holton Street State Bank, but after the bank's 1960 closing it became a site for groups like the Boys & Girls Clubs, Centro Del Nino, and a Head Start-affiliated charter school. The building was deserted in 2006.
RiverBee convened more than 40 local investors to purchase the building and completed the build-out that transformed it into the Cream City Hostel in June 2019 – Milwaukee's first hostel. Since then it has hosted thousands of travelers from more than 38 different countries within a year. The project also sparked additional investment in the commercial corridor, including streetscape upgrades by the City of Milwaukee. Cream City Hostel won a 2020 Commercial Real Estate Award for "Best Neighborhood Impact."
Unfortunately, Cream City Hostel was not yet through its first year of operations when the COVID-19 crisis hit and it was forced to close its doors. The hostel business is expected to be one of the hardest to recover from the pandemic's economic impact, which was why RiverBee decided to pivot the operation into a cooperative housing model for area residents.
"The beauty of this pivot is that the project will stay true to our original vision of this work, which was to collectively empower the community, ourselves and each other to make our lives and neighborhoods better," said Juli Kaufmann, social entrepreneur, managing member of RiverBee LLC, and president of Fix Development. "We are proud to continue to create a safe and diverse place to bring the community together."
Kaufmann led the $1 million redevelopment Cream City Hostel project, partnering with Riverwest residents Wendy Mesich and Carolyn Weber. Additionally, more than 40 community members, most of them from the Riverwest and Harambee neighborhoods, became direct investors in the building, using a crowdfunding ownership model. Kaufmann's business model is to use real estate as a tool for social change and is the only real estate model of its kind in Milwaukee. Her work focuses on creating small businesses and local jobs using community-based funding options.
"We're glad to partner with Bader Philanthropies because they're a community partner that's mission-aligned," added Kaufmann. "We wanted to pivot thoughtfully, in the same vein as the hostel was designed for the neighborhood – to be the highest and best use for the community. This model will fill a need for low-income residents."
Since cooperative housing is not yet common in Milwaukee, RiverBee is seeking to grow its expertise through partnerships with experienced groups that can help recruit interested occupants and guide the formation of the cooperative. They have initially partnered with Milwaukee Area Cohousing and are now actively seeking individuals interested in exploring becoming lead members of the cooperative housing model.
"I'm also supportive of the plans to pivot into a cooperative housing model," said Jerad Tonn, RiverBee LLC investor. "Affordable housing is one of the biggest issues we face as a society, and Milwaukee isn't immune. Cooperative housing is another way for people to have a more affordable style of living and easier access to home ownership, while being part of a smaller community within the great communities of Riverwest, Harambee and Milwaukee. I think that's really appealing for some people, and I think Riverwest is the perfect place for it."
There are plans to make some modifications to the current rooms and redevelop the garden. The transformation is planned to begin in January 2021, with hopes to introduce it to the neighborhood in spring or summer of 2021. RiverBee is anticipating local residents will be looking for affordable housing next year with the eviction moratorium ending December 31, 2020. RiverBee hopes to provide housing for at least 12 residents, and that this model could be replicated in other communities.
"These developments are successful, in part, because they engage community investors who are committed to the success of the tenants, support tenants who are responsive to the neighborhood's desires, and reflect the community throughout its owners, tenants, employees and customer base," said Kaufmann.
The PRI from Bader Philanthropies will allow RiverBee to redevelop the building into a mixed-use property that will provide affordable, low-income housing for area residents. This low-interest loan will replace two bank mortgages and allow RiverBee to restructure the debt payments to account for the current economic situation resulting from the COVID-19 pandemic.
"Bader Philanthropies supports RiverBee and this trailblazing concept which addresses a critical community issue – access to affordable housing," said Daniel J. Bader, president/CEO for Bader Philanthropies. "We recognize that this is a time when we can make a real difference in the lives of people who need many things, including our community members who are looking for an affordable alternative to renting."
Bader Philanthropies has been awarding PRIs since 1995 and is one of only a few philanthropic entities in the state providing them. Over the last 20 years, Bader Philanthropies has awarded more than 50 loans, loan guarantees, equity investments and other credit enhancements to Wisconsin and Israel organizations totaling $19.4 million.
PRIs are impact investments made by foundations to support charitable activities that involve the potential return of capital within an established time frame. Unlike grants, PRIs produce financial returns for foundations in the form of principal plus interest, gains realized on investments which can then be recycled for other charitable purposes. For the recipient, the primary benefit of this loan is access to capital at lower interest rates than may otherwise be available.