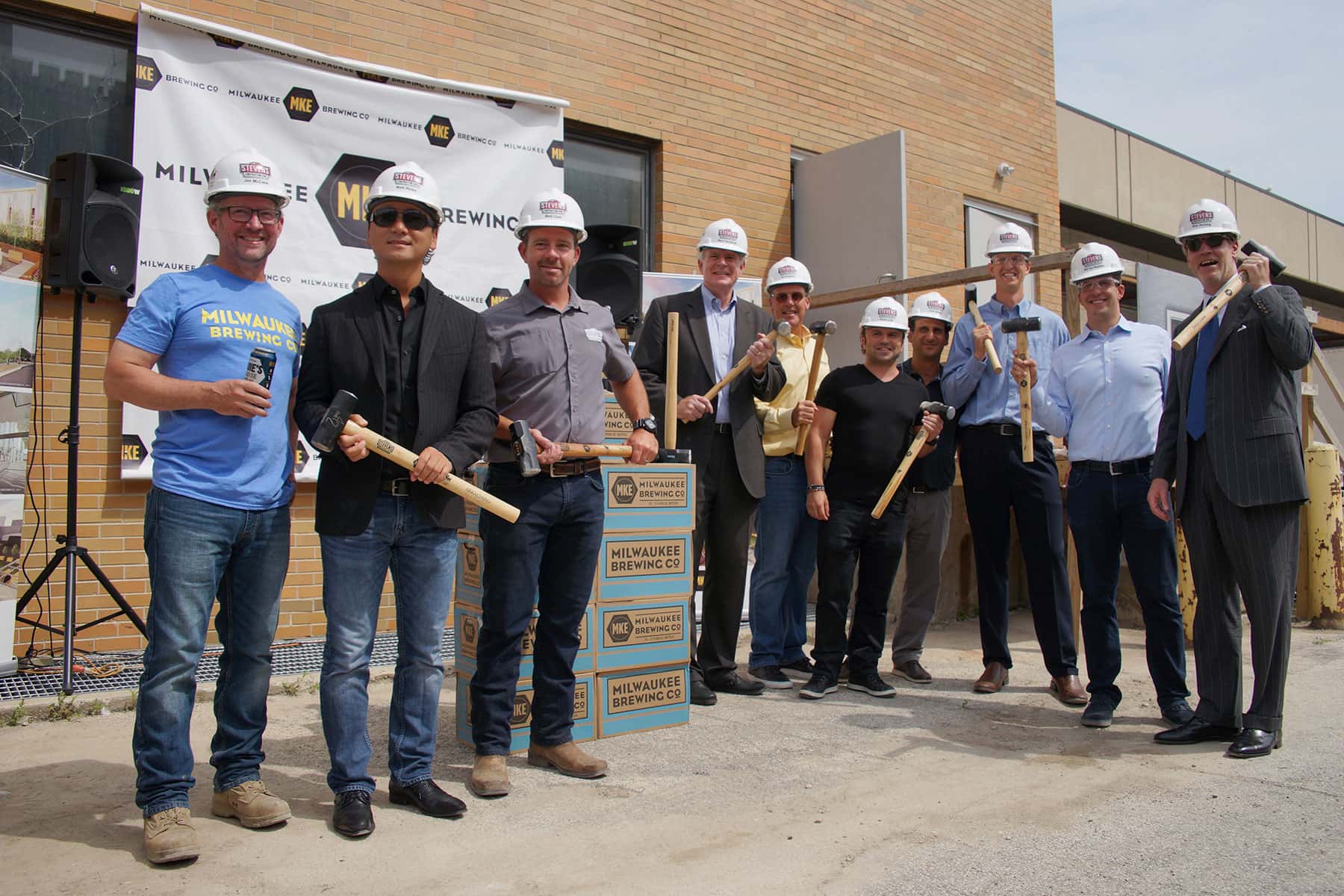 Milwaukee Brewing Company held a groundbreaking ceremony on July 25 to mark the beginning of construction for its third brewery location at the former Pabst Distribution Center in downtown Milwaukee.
The expansion signals the next chapter in Milwaukee Brewing's dynamic growth in the craft brewing industry. Once complete, the 50,000-square foot brewery will include a tasting room, retail store, a rooftop patio-bar and dramatic event space overlooking the new Arena District.
"This was the last building that Pabst built, and it was a tough building to figure out how to utilize. We are sort of calling it a reverse mullet, because we are building a party in the front and a business in the back," said Jim McCabe, Founder & Co-owner of Milwaukee Brewing Company. "his is the best of both worlds. We are just two blocks from the entertainment district, right next to this amazing development. And we're still able to run trucks right to the highway."
The additional space will utilize advanced energy recovery and green outdoor systems to minimize environmental impacts, including utilizing Milwaukee's underground steam system to maintain the brewery's DNR Green Tier certification. The much needed space and new Wisconsin sourced machinery will allow Milwaukee Brewing Company to brew and package up to 50,000 barrels a year. The project aims to be in operations the first half of 2018.
"It's going to be a landmark, and a real treasure for the city of Milwaukee," said Jim Hughes, Co-owner of Milwaukee Brewing Company. "We were one of the first businesses in the Third Ward back in 1997, and one of the first restaurants on the river. In 2007 when we opened the packaging plant in Walker's Point, there wasn't much there either. And now we're part of another great development in downtown. We are so happy to be in this historic Pabst district, and plan to add some really significant flavor to this neighborhood."
Milwaukee Brewing Company started as the Milwaukee Ale House in 1997, a brewpub with a custom 15bbl brewery, which is gearing up to host a 20-Day 20th Anniversary celebration later this year. A decade later, founder Jim McCabe expanded and opened the 2nd Street Brewery, a 50 bbl packaging facility in 2007, where the company is currently working out of. Milwaukee Brewing will keep the 2nd Street location for use as a pilot brewery, and to expand its award-winning barrel-aged beer program and sour beer production.
"The Milwaukee Brewing Company is a great hometown success story. From one to two, and now three locations, they really capture the essence of entrepreneurship that is so important to this community," said Mayor of Milwaukee Tom Barrett.
Mayor Barrett talked about the history of the site to offer context for the development's significance. In the mid-1990s, when Barrett was a member of Congress, Pabst closed its doors overnight. The end of a founding Milwaukee company left a lot of bitterness, anger, and heartbreak in the community. And for the next nine years, the area remained abandoned. The Mayor joked that even crime was not an issue because there was no reason for bad guys to come to the area. In 2006 Joseph J. Zilber bought the more than 20-acre former Pabst Brewing Company campus and set in motion the decade long process of redeveloping the space, to bring value back to the city.
"So we stand here with the final piece of the puzzle," continued Mayor Barrett. "Now every bit of property in this brewery complex is either finished or under construction. We have reached our destination in terms of completing a transformation of this neighborhood."
The new location will add an economic boot the previously vacant spot known as building 42, creating 22 new full time jobs and 25 part-time position, not including the restaurant. The fascility will also allow the company to double its brewing capacity, expanding to 30,000 barrels when completed with more room to grow.
The brewery is also utilizing advance energy recovery systems to maintain its status as Wisconsin's only DNR certified Green Tier brewery. In addition, its Wisconsin-first policy means that all major equipment components in the new brewery are sourced in Wisconsin.