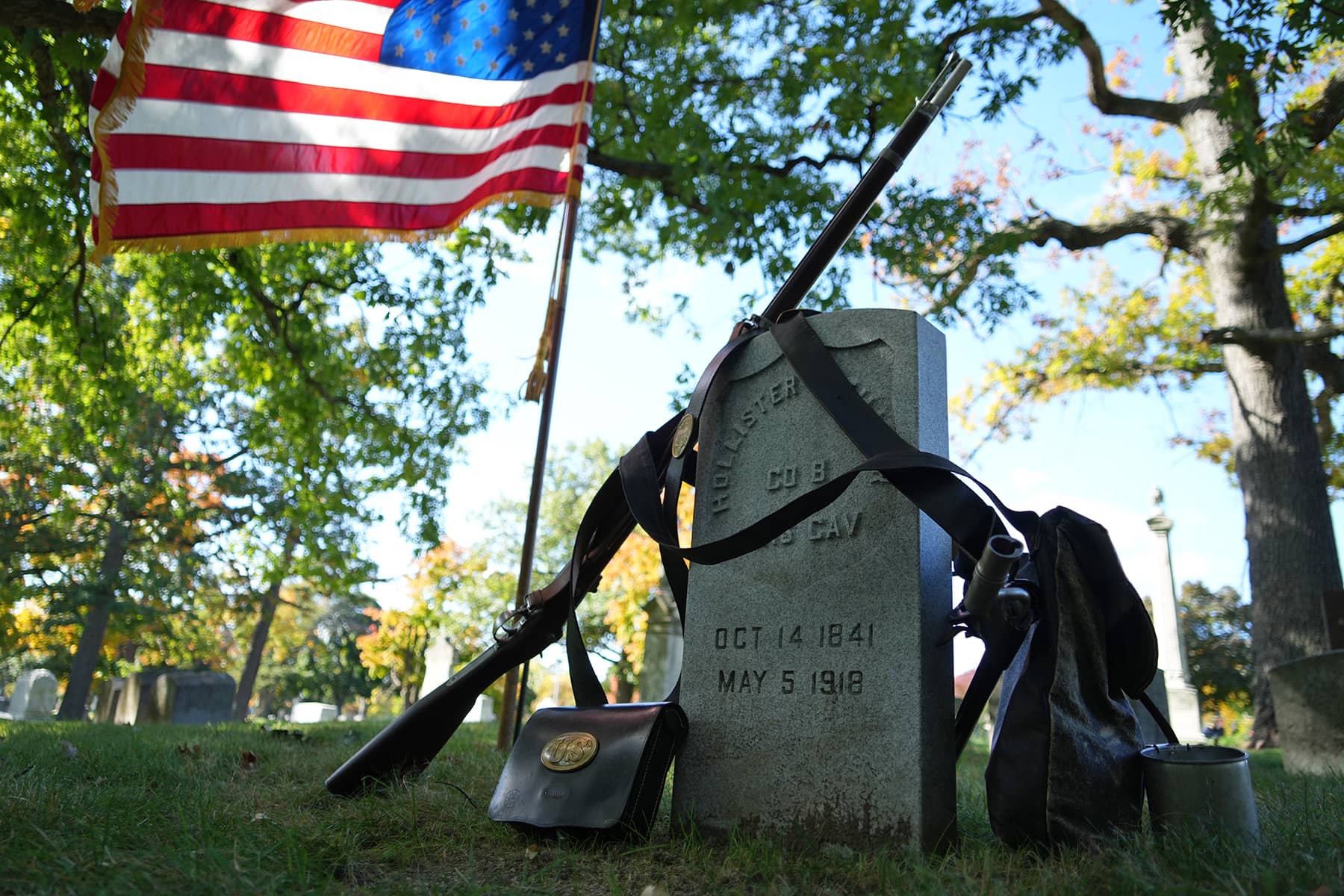 The public was invited to a special ceremony on October 8, presented by the Sons of Union Veterans of the Civil War (SUVCW), that honored two local solders who fought in the legendary 1863 Battle of Chickamauga and were buried at Milwaukee's historic Forest Home Cemetery and Arboretum.
The event was based on the tradition followed by the Grand Army of the Republic, the Civil War veterans organization. The prayers offered by participants had been repeated many times on the same hallowed ground in the late 1800s and early 1900s, as old soldiers buried their comrades.
The Milwaukee Camp, C.K. Badger Camp #1 was formed in 1901 and was recently named best in the nation. Members came together at Forest Home to dedicate new headstones for two soldiers who fought at Chickamauga, when Georgia was a slave state.
Chickamauga was fought 159 years ago in northwestern Georgia on September 19 and 20, 1863. About 58,000 Union troops engaged with 66,000 Confederates. The opposing lines were six miles long. Six Wisconsin regiments and three Wisconsin light artillery batteries were deployed there. Chickamauga left 16,170 killed, wounded, captured, or missing on the Union side, and 18,454 on the Confederate side.
Private Hollister B. Thayer of the 1st Wisconsin Cavalry, had fought in many battles before and after Chickamauga. Thayer's 1st Wisconsin served in the Cavalry Corps, under Colonel Edward McCook, and the 24th Wisconsin was in XX Corps, under Major General Phillip Sheridan. Thayer died on May 4, 1918, without a headstone to mark his grave.
Private Edward Taylor of the 24th Wisconsin Infantry, who received a disability discharge soon after Chickamauga, died two years later in Milwaukee on March 31, 1865. A headstone was installed at his gravesite, but it had deteriorated over the decades until it all but vanished.
The October 8 event had a very personal connection, as an ancestor of Chaplain Dean Collins served in the same 24th Wisconsin, who was also wounded and captured at Chickmauga. Chaplain Collins offered an emotional reading about what the 24th faced that day, using a book written by William J.K. Beaudot. The account was from Private Bill Sherman, who described the scene Company A had experienced for his parents.
"Oh, it was a glorious sight to see that line of men charge up the hill, and scatter the first line of rebels to the four winds. As we came up the hill, line after line of enemy could be seen advancing, yet the 24th faltered not. There we stood, firm as a rock, and delivered, at short range, volley after volley into the ranks of the advancing foe. But still they came. The second line was scattered, and yet another made its appearance on our front, while others were moving on our flanks. A bursting shell tore our flag, already riddled with bullets, from the staff. But it was instantly picked up again. One rebel had the audacity to grasp at it, but his stooping position only made it easier for him to fall, because a bullet from the musket of the color guard sent him to eternity."
For more than a decade, Civil War researchers in Milwaukee have been coordinating efforts to provide tombstones for long forgotten Civil War veterans at Forest Home.
"To date, the total number of headstones provided through our Adopt-A-Veteran project at Forest Home stands at 257," said Marge Berres of the Woman's Relief Corps, who has worked for years with Tom Ludka on researching graves at cemeteries across Wisconsin.