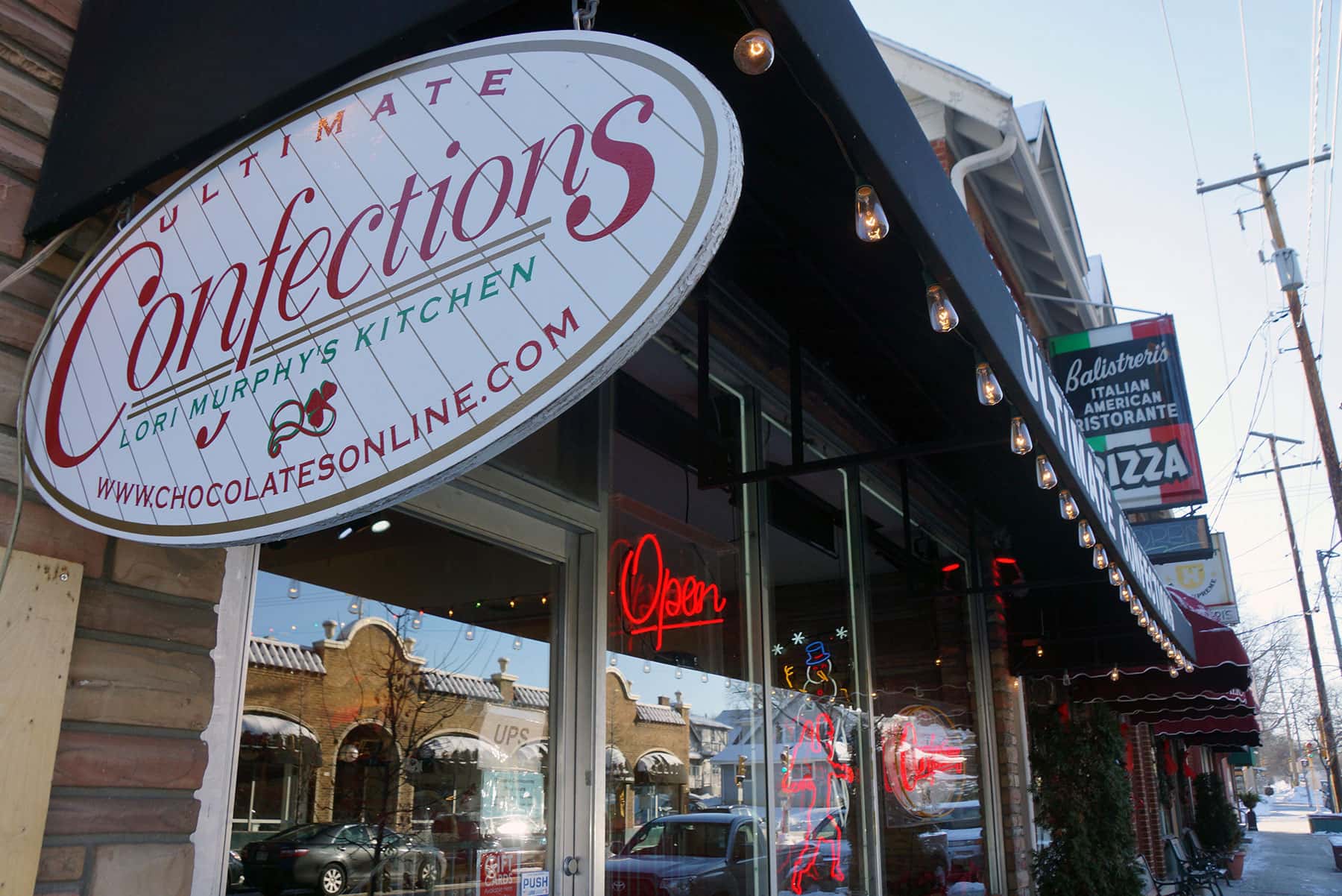 A generation of children grew-up with a fascination for candy making, and singing like Oompa-Loompas from the movie Willy Wonka & the Chocolate Factory.
Time has not diminished this love of scrumdiddlyumptious confectionaries even as adults. But it may come as a surprise to some in the metro Milwaukee area that Chocolatiers are creating edible magic in Wauwatosa.
Ultimate Confections was started by Pat and Lori Murphy in an industrial-equipped kitchen in the basement of a local church. "We had a family recipe for peanut brittle, and friends would ask for it more and more," explained co-owner Pat Murphy, who watched the hobby grow steadily in sales simply by word-of-mouth.
With self-taught skills developed over years, Pat does not consider himself an artist or culinary craftsman. But his passion for creativity is evident in his sweet productions. "It's fun watching when people come into the shop, because the chocolate brings a smile to their face," said Murphy.
Ultimate Brittle began in 1992, but expanded into Ultimate Confections by 1995. "We realized were were not going to go very far with just this one product," explained Murphy about the original candy. "We slowly started to learn how to add chocolate to different variations of the peanut brittle. And the more we were experimenting with chocolate, the more we had the idea to try dipping other things in the chocolate, like pretzels and nuts."
The confections became so popular financially that Murphy was able to move to into a storefront in Wauwatosa, where the shop has been ever since. Known for its custom designed and hand-dipped chocolates, holidays are particularly special with customers who return for seasonal treats, like the cream filled Easter eggs which are produced in nearly a dozen flavors.
"We are also known for our chocolate-dipped strawberries," said Murphy, who has challenged people to name another shop where these can be purchased. "You don't think about it, where do I get it? So we decided years ago to sell chocolate covered strawberries every day, year round."
Outside their retail store, these treats can be found at events like Summerfest and many other festivals, from the EAA (Experimental Aircraft Association) show in Oshkosh to the ChocolateFest in Burlington.
"Most people don't realize that chocolate is a natural preservative. Once a pretzel is enshrouded it won't go stale," Murphy said, explaining that chocolate can last for many months. "When customers ask how long will the chocolate last, I ask them when do they plan to open it. Because usually it only lasts ten minutes after that."
What started as a family sweet became a thriving local business that has spanned two decades in the community. Ultimate Confections should be a stop on any chocolate pilgrimage. A visit to the shop is like a trip back to our first discovery of the Roald Dahl classic.