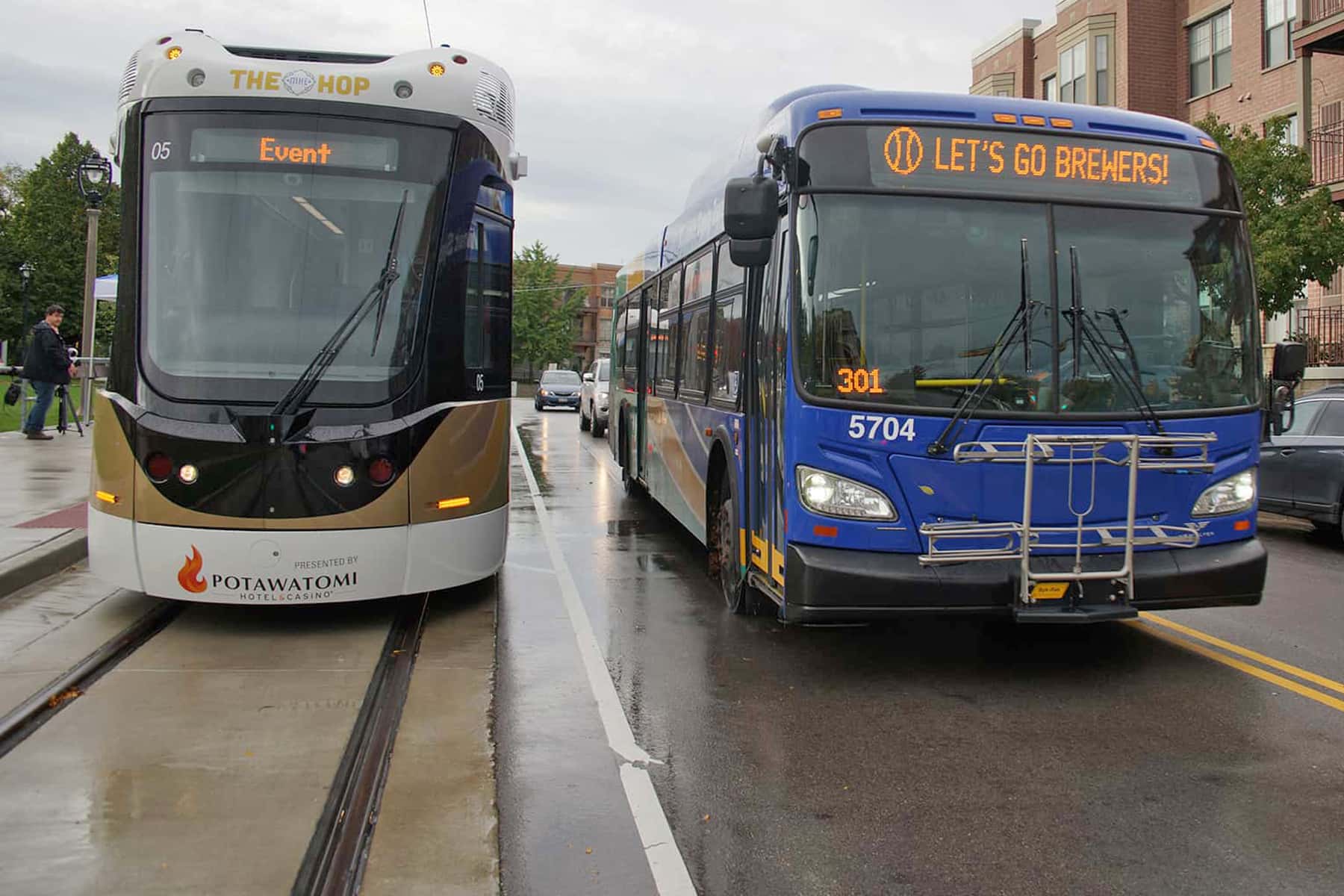 Leaving the car behind, with the addition of the streetcar and special event bus routes, visitors and residents of Milwaukee have more choices to visit top entertainment events without the need to drive.
Milwaukee fans waiting for a repeat of last year's exciting World Series push can count on the Milwaukee County Transit System (MCTS) for a safe, fast, and affordable bus rides to and from Miller Park. The Brewers Line returns to serve every home game this season, starting with Opening Day on March 28 and – with any luck – continue operation late into the fall for the Playoffs.
The route has 20 stops along Water Street, Cathedral Square, and Wisconsin Avenue, which also intersect with The Hop – Milwaukee's streetcar network. Each bus stop sign has a baseball icon to indicate that the Brewers Line stops there. Buses drop passengers off at the MCTS transit area of Miller Park, just steps from the Home Plate Gate. Fans can also use the Ride MCTS app to buy a ticket and track their bus in real-time.
"People are able to skip the traffic gridlock, premium parking rates, and surge pricing with this service route," said Dan Boehm, MCTS Managing Director. "The Brewers Line is a guaranteed home run for folks wanting to relax and enjoy their day cheering on the Crew."
Then the 38th annual Bastille Days storms into Milwaukee's Cathedral Square Park from July 11 to 14. This year's theme "MKE Mon Amour," translated to 'Milwaukee my love,' was inspired by the French culture of love and the growing pride for Milwaukee and all it has to offer.
"The city of Milwaukee has undergone a lot of exciting changes and this year's Bastille Days theme really encompasses our love for the city, with a French twist," said Emily McElwee, East Town Association executive director. "Guests will see it in our new look, local partnerships, and wide array of fun festival activities that are being scheduled for 2019."
In the spirt of this year's theme, Bastille Days is collaborating with local metalworkers to create an interactive "love locks" metal sculpture. Inspired by the well-known love locks on the Pont des Arts, a famous bridge in Paris, the public is invited to celebrate those they cherish by placing a prepaid padlock on the sculpture.
Also for the first time, The Hop, will provide free rides directly into the festival at the Cathedral Square stop. The footprint of the festival was adjusted last year during the streetcar's testing phase to accommodate the rail service.
MCTS will also continue to show off its hometown team pride by honoring MVP Christian Yelich. Until the end of the 2019 baseball season, Route 22 will be known as the Yelich Line. Route 22 was picked because 22 is the star outfielder's uniform number.