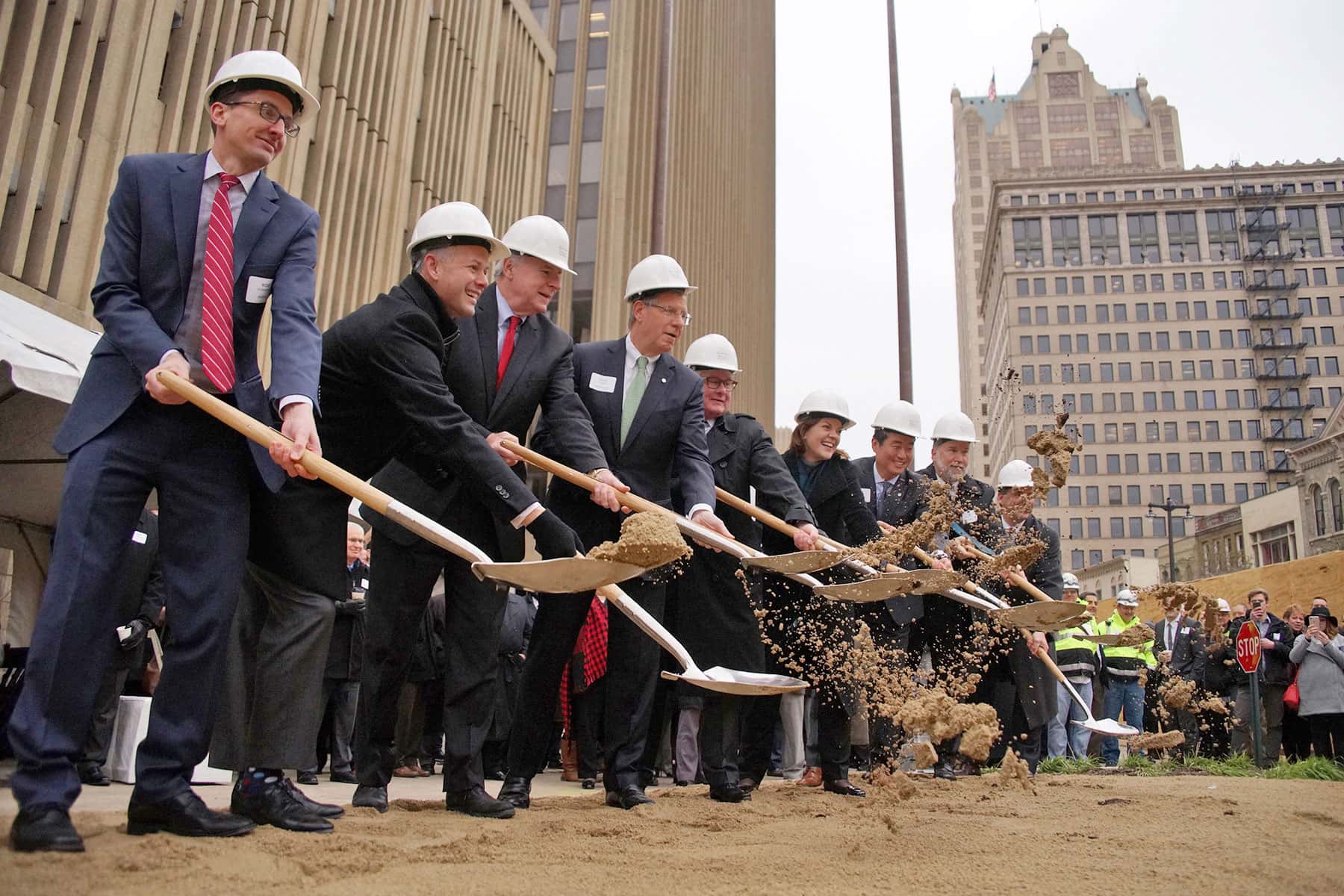 Construction of downtown Milwaukee's newest high-rise office building, the 25-story BMO Tower, formally kicked off on November 16 with a groundbreaking ceremony in front of the BMO Harris Bank parking structure at 770 N. Water Street.
The building will be home to BMO Harris Bank's Wisconsin headquarters as well as the offices of the law firm Michael Best & Friedrich LLP. Initial relocation of utilities started in August at the building site. The site is currently occupied by a surface parking lot and seven-level parking structure located south of Wells Street between North Water Street and North Broadway.
Demolition of the parking structure was scheduled to begin immediately. The new 379,400-square-foot building and 647-stall parking ramp is projected for completion in December 2019.
BMO Harris Bank will lease 124,000 square feet and occupy the building's first and 11th through 16th floors. Michael Best & Friedrich LLP will lease 60,000 square feet in the top three floors. The building's remaining space is available for lease.
The project will consist of a flagship BMO retail bank at Water and Wells Streets, and will be integrated into the project's 30-foot high main lobby. There will be additional retail space of 11,000 square feet located along Water Street and at the corner of Wells Street and Broadway. Irgens is in discussion with a high-end restaurant group for two restaurants, with lease activity in the office tower as well.
After BMO Harris moves into its new offices, Irgens will redevelop the 20-story building at 770 N. Water St. into a mixed-use development. That work will not begin until 2020. Currently, use options being considered are hospitality, creative office, and housing.