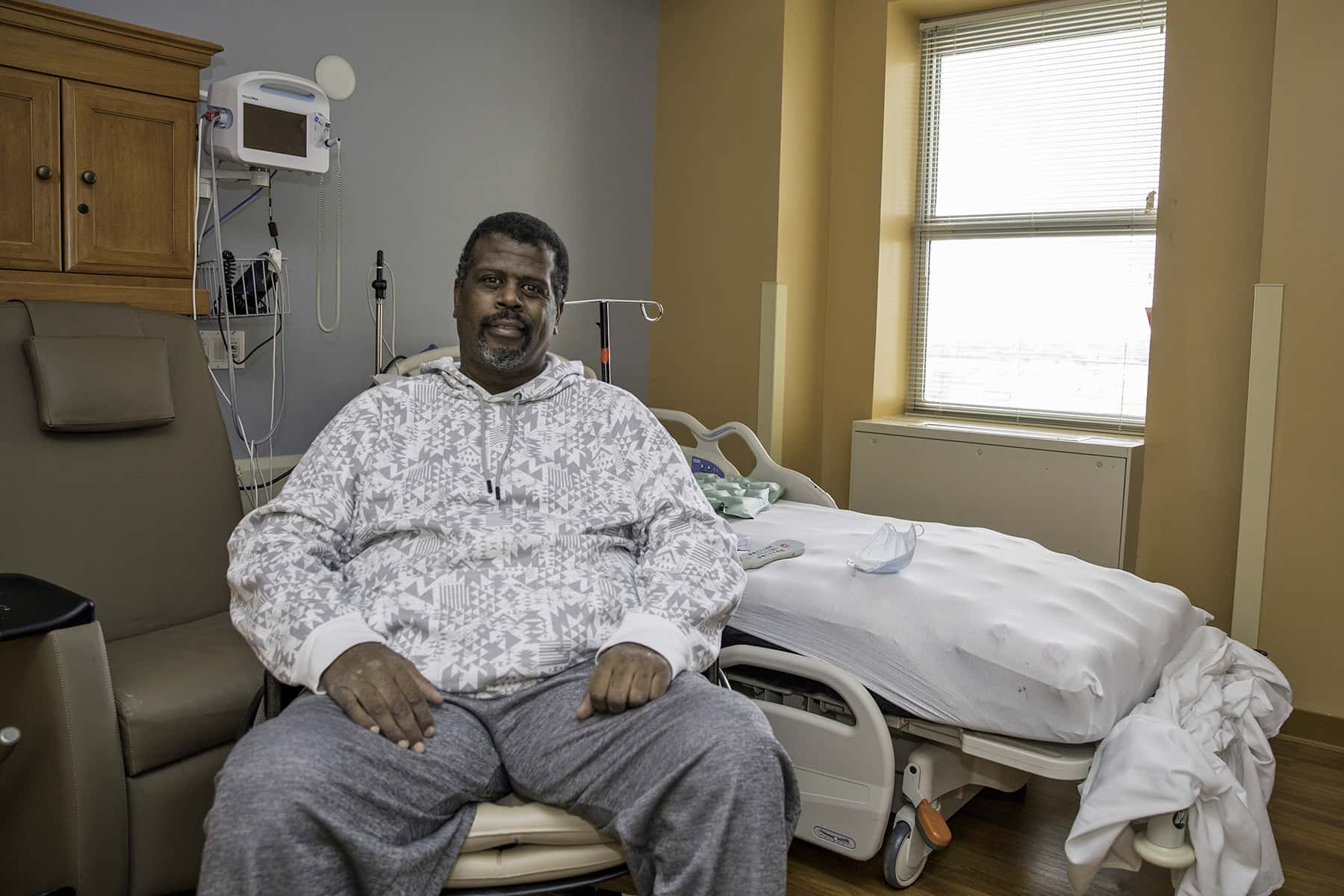 The last thing Arvin McCray remembered was waving goodbye to his sister. Doctors did not think he would live through the night. Or the night after that.
For 18 days, the Army Veteran was sedated and on a ventilator as his body tried fighting the coronavirus despite multiple organ failure. Then on Tuesday morning, May 5, McCray left the hospital for the first time in 50 days.
Hundreds of Milwaukee VA employees lined the hallway and south entrance and a roar went through the crowd as the elevator doors opened.
"He was critically ill," said Dr. Sarah Nickoloff, who helped treat him. "Like very, very, very ill. Pretty much every organ system that could fail, did."
McCray, age 50, said, he would not be alive without his doctors, nurses and – perhaps most important – his sister, who brought him to the Emergency Department.
"I wasn't feeling well and figured I'd go stay with my mom," he said. "I asked my sister to pick me up and take me over there."
He thought he could get a good meal and sleep it off. His sister, Kathy McCray, knew it was bad and took him to get medical treatment.
"I'd rather it not be anything, but they took him into a room, and I saw a guy go in with a big (oxygen) tank. Several people had come and gone. I said to myself, 'That's for Arvin,' but it didn't sink in," she said. "It was a struggle for all of us, not able to see him, but everybody was praying. That's alright, because God saw us through and we're just happy he's coming home."
McCray served in the Army from 1990 to 1994 but did not even know he was eligible for VA health care until he lost his job in December after 23 years. A friend encouraged him to apply for benefits.
"I was spending the last few months enjoying myself and catching up with family since I didn't have time in the past. I visited my dad in Mississippi, and I spoil my mom. I call her every day," said McCray
He also spent his time restoring two classic cars – a 1970 black Chevy Chevelle, and a 1969 baby blue Buick Electra convertible. He went to the Chicago Auto Show with several other friends a few days before getting sick and thinks that's where he may have gotten the virus.
"A couple days later I went to a restaurant with some friends," he said. "I got a drink and it didn't taste right to me. My friend tasted it and said it was fine. I got another drink and it didn't taste right, either. I didn't think nothing of it, but I didn't feel good."
His sister brought him to the Emergency Department March 17. Doctors noted he was lethargic and confused, had issues with his kidneys and was in acute respiratory failure from the coronavirus.
"Every day for the first three to four days we expected he would not make it through the night, and were surprised, but grateful, every morning when he made it through," Nickoloff said.
He was taken off the ventilator April 3. His nurses and doctors applauded, smiled and gave him the "thumbs up" sign, and he had no idea why.
"We were so happy," Nickoloff said. "People cried with relief and happiness when he sat up in bed and asked for Raisin Bran. He beat the odds. I attribute that to his fighting spirit, but also the outstanding care from his physicians and nurses involved in his care."
McCray said he has been busy talking on the phone with family and getting visits from employees throughout the hospital.
"People I don't even know were pulling for me," he said. "Nurses have come up to visit that I don't even know."
McCray still has some residual health issues from the virus, and will come back for regular check-ups. But for now, he is getting his strength back each day.
"I'm walking around the hallways now and able to do it without a walker," he said. "It's been tough. I wouldn't wish this on anybody. But now they're saying I might have the antibodies to help other people. I hope so. This gives me a whole new outlook on life."
McCray and his sister were both in tears as they left the medical center, with many employees dabbing at their eyes, too. Well-wishers yelled out good wishes.
"I know I wouldn't be here today if it weren't for my sister and the care I got here. Everyone, from the valet service to all the nurses and doctors and everyone else," he said. "I'm so grateful."
The
Milwaukee Independent
began reporting on what was then referred to as the mysterious "Wuhan Virus" in January 2020. Other local media did not picked-up on the story until many weeks later. Our early features focused on the economic impact, social issues, and health concerns long before other Milwaukee news organizations even mentioned the coronavirus. Over the following year, we have published hundreds of articles about the pandemic and how it has affected the lives of Milwaukee residents. This extensive body of work can be found on our
COVID-19 Special Report
page, a chronological index of links by month. Our editorial voice remains dedicated to informing the public about this health crisis for as long as it persists.
For medical resources, please visit the
CDC's COVID-19 page
or the
Wisconsin Department of Health Services
. All editorial content published by
Milwaukee Independent
can be found at
mkeind.com/COVID19
. With a mission of transformative journalism, our staff is free from commercial bias and are not influenced by corporate interests, political affiliations, or a public preferences that rewards clicks with revenue. As an influential publication that provides Milwaukee with quality journalism, our award-winning photojournalism and features have helped to achieve a range of positive social impact that enriches our community. Please join our effort by entrusting us with your contribution. Your Support Matters -
Donate Now