A Milwaukee street located next to Dr. Lester Carter's historic pharmacy renamed in his honor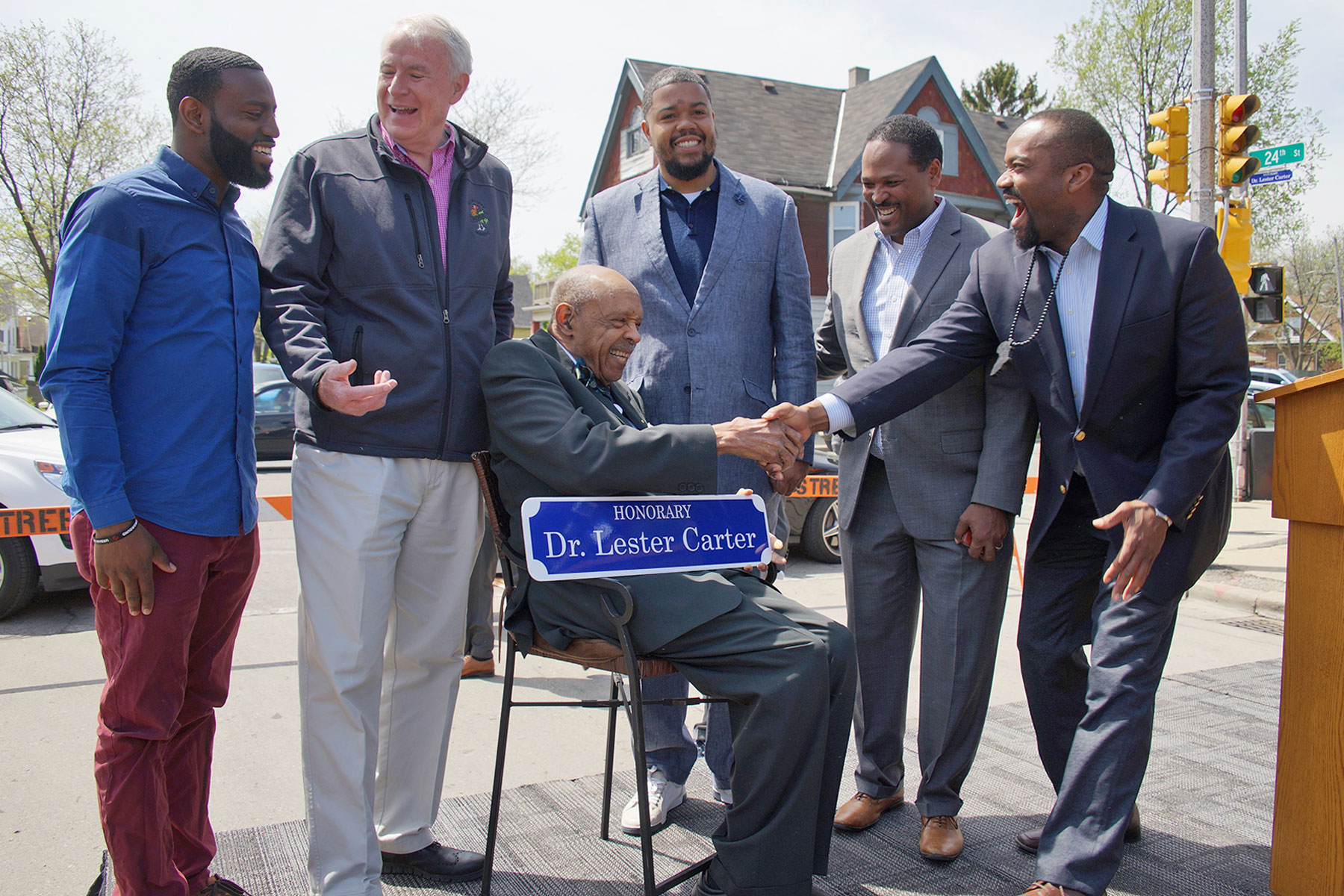 After six decades as a practicing Pharmacist, Dr. Lester L. Carter, Jr. was recognized for his service to multiple generations of the community with an honorary street name outside the pharmacy that he built into a pillar of the Amani neighborhood.
The street naming ceremony was held at the corner of 24th and Burleigh streets, in front of the Hayat Carter Herbal Pharmacy. The event was attended by dozens of area residents, who have depended on Dr. Carter's remedies over the years, and elected officials from the city, county, and state.
"Dr. Carter is a trailblazing Black business owner who has dedicated his life in service to others, while improving the health of the community," said Khalif J. Rainey, 7th District Alderman. "This honorary street sign naming gives us an opportunity to pay homage to a man that has had such a positive impact on our community."
As an African-American pharmacist from Omaha, Nebraska in the 1960s, Dr. Carter took the unprecedented step of opening his own store in a predominantly German neighborhood in Milwaukee.
"My friend wanted me to fit in, so he tutored me in the German language," said Dr. Carter. "So he told me that 'when the German ladies arrive in the morning, look at them directly in the eye, stand tall and say, 'Wie gehts meine Frau?' which means 'How are you ma'am?' in English. For men, I addressed them as 'mein Herr.' Then one morning after I greeted the customers, they all said, 'that guy can't be all bad if he speaks German.' So after that they showed me a great deal of respect and trust, a great outpouring of love."
Dr. Carter served in the United States Navy soon after the Korean War began, and attended Creighton University as a 1958 graduate of the Pharmacy program. The study of botany, about plants and their active ingredients, and pharmacognosy, how those active ingredients work in the body, were part of his curriculum.
The expertise of understanding the relationship between plants and people was something he had to master. In the modern age of pharmacology and the study of drugs, more people have become concerned with the side effects of medications. Dr. Carter's background made him a credible source with valuable experience.
Recognizing this need, he developed his own all-natural medicinals to resolve the health problems of his customers. Listening to their concerns and understanding the limitations of manufactured drugs, Dr. Carter invested himself in caring for the community he served.
After his illness four years ago at the age of 83, coinciding with the loss of his wife, Dr. Carter merged his pharmacy into the locally owned Hayat chain. The move allowed for the continuation the herbal work that he pioneered, and uninterrupted support for the area community. But the celebrated pharmacist never retired, and returned to the store in late 2015 to continue working three days a week.
"Hayat has allowed me to express myself without putting limitations on anything, saying I can't do this or can't do that. It's a wonderful privilege," Dr. Carter said.
Watching his neighborhood change demographically over the years, Dr. Carter remains a much needed example for Milwaukee about how to break down barriers. He has treated everyone with dignity and respect, which was reflected in the sentiments of all those who attended the dedication ceremony.
"I never dreamed of all this, not in my lifetime. It's overwhelming, absolutely overwhelming to see all of these wonderful people," Dr. Carter added. "Many of them that I've taken care of, two and three generations of them."