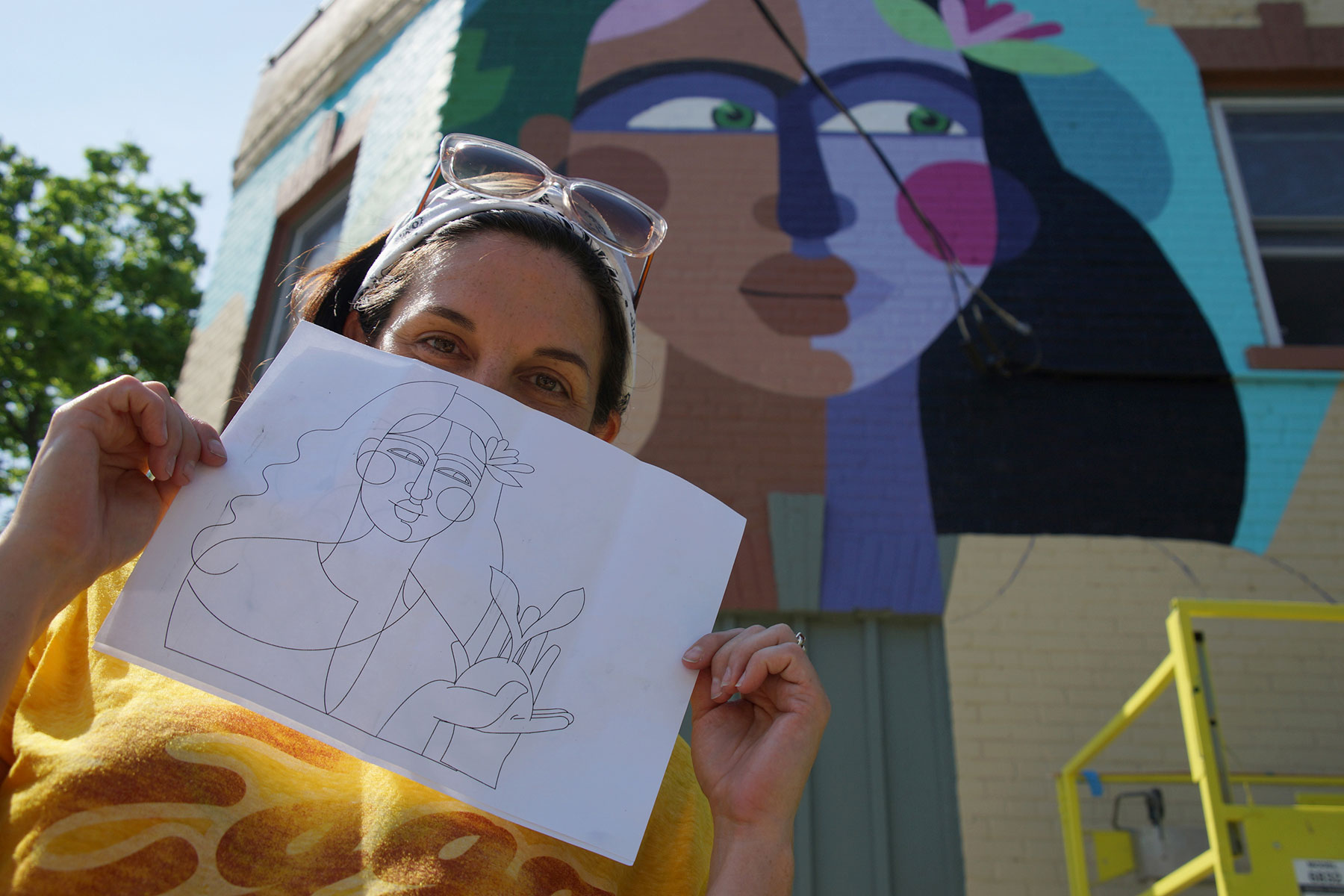 As a former illustrator of children's books and studio painter, Stacey Williams-Ng fell in love with mural painting. She has gone on to become one of the driving forces behind Milwaukee's renaissance of street art, most notably the Black Cat Alley project and at various community sites around the city.
Her latest project has been working on a special mural on the new Urban Farmhouse of the Victory Garden Initiative (VGI) at 249 East Concordia Avenue in the Harambee neighborhood. The artistic work covers the two street-facing sides of the building, located across from the organization's farmland.
The idea for the VGI mural all started on Facebook. Gretchen Mead, VGI's Executive Director, saw some photos of beautiful paintings that covered buildings. She posted to her Milwaukee friends asking who could put that kind of work on the VGI Urban Farmhouse. Everyone responded with Stacey, and Williams-Ng messaged herself almost immediately and said how much she wanted to work on the project.
"Things evolved from there, and over time I started thinking more about the impact that the mural would have," said Mead."I wanted there to be this voice and conversation involving women in urban agriculture in Milwaukee."
Williams-Ng said that the Farmhouse has been her favorite mural project. She came up with two concepts to present, but Mead wanted to wait. Usually clients want to dive right in, and Mead was tempted to look at the sketches but wanted to pursue another idea first. She organized a focus group as the first event held in the new Farmhouse, so Williams-Ng could meet with 30 incredible women and listen to what they had to say, about how they valued agriculture in the community.
"It was really enlightening, and they went as far as to write ideas on scraps of paper about ideas they had for seasons, fertility and food, womanhood, and hard work," said Williams-Ng. All that feedback ended up sending me in a totally new direction."
The mural is an abstract composition of vegetables and growth, and a color study. The colors are all some basis of the community's connection to agriculture. The brown trim was inspired by the clay soil in Wisconsin, and others the colors of water, grass, and vegetables – including the purple of beats.
"Among all of those elements is the central figure of Mother Nature," added Williams-Ng. "At the very core of everything I was hearing from Gretchen about, the Victory Garden Initiative, and the amazing women who we spoke with, all the work and everything came back to Mother Nature as the main vision and focus."
The detailed process Williams-Ng uses to produce her murals is well known within the art community. Her layouts are organized along a grid for precision. But that changed after her original concepts shifted to feature Mother Nature. Instead, every day she arrived on site to embrace a new experience. Everything evolved organically, no pun intended. She would look at the space and just see a great place to put a jalapeño pepper.
"It has been amazing to watch Stacey apply all the feedback she got for her design into this mural," added Mead."I think she has captured what is so transformational about our work."