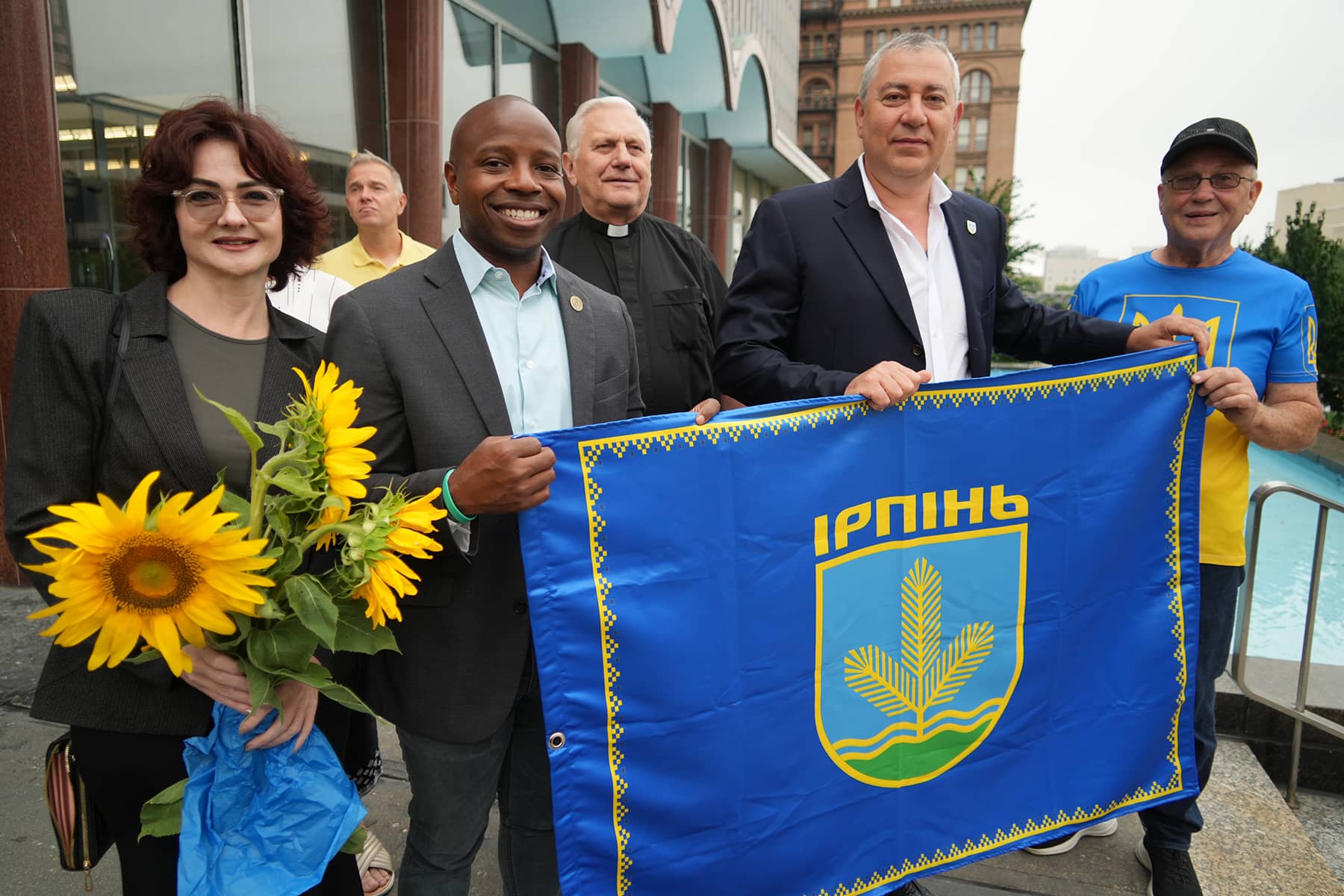 Mayor Cavalier Johnson sent a celebratory message to Milwaukee's Sister City of Irpin, Ukraine, wishing its Mayor and community a Happy Independence Day on August 24, the 32nd anniversary of the nation's freedom from the Soviet Union.
Since the beginning of the Russian Federation's brutal and unprovoked full-scale invasion of Ukraine on February 24, 2022, Mayor Johnson has supported the Ukrainian community in Milwaukee. He has also formed a deep friendship with Irpin's Mayor, Oleksandr Markushyn.
The two Mayors held a virtual Sister City exchange in June, when a delegation from Milwaukee visited Irpin on a humanitarian mission.
> READ: Mayors of Milwaukee and Irpin expand Sister City cooperation after visit by nonprofit delegation
Mayor Johnson sent his Independence Day video greeting to the residents of Irpin, which was broadcast by the local television network.
"Hello, everyone. I'm Milwaukee Mayor Cavalier Johnson and I wanted to join you virtually to celebrate Ukraine's Independence Day. Milwaukee is a proud sister city and partner to Irpin, Ukraine. Today, August 24, is the day to honor past and present heroes who dedicated their lives to defend Ukraine's independence from Russian aggression. When I think of our sister city of Irpin, Ukraine, I think of strength, and I think of determination. Happy Independence Day. Slava Ukraini. Happy Independence Day, Irpin."
August 24 symbolizes Ukraine's fight for freedom and independence from Russian aggression. The holiday is important for every Ukrainian, and especially every resident of Irpin. Just north of Kyiv, the small but cosmopolitan city endured a horrific and destructive occupation for several weeks by Russian troops.
"Ukrainian Independence Day is a time for us to reflect on what that 'independence' means to us. We honor all of those who have lost their lives, to fight for the nation's freedom. We honor all of those who have been maimed in this war," said Joseph Spolowicz, Parish Administrator at St. Michael's Ukrainian Catholic Church in Milwaukee. "And we honor all of those who have fought for freedom in the past and in the present. Let us not forget how precious democracy is."
Celebrating the Independence Day of Ukraine confirms its sovereignty, and desire for self-determination, national unity, and peace. It also offers a time of national reflection and mourning.
"Last night we had the Republican Presidential debate in Milwaukee. One of the things that stood out to me was the deliberate misunderstanding of some of the candidates, about the importance of supporting the fight that Ukraine is waging back against Russian aggression," said Mayor Johnson. "And so I want to go on record to let folks know that in the City of Milwaukee, we understand the importance of defending our sister city, working with our sister city, and supporting our sister city country's independence – the independence of Ukraine. So we proudly look forward to raising the Ukrainian flag on this Independence Day."
Along with his greeting to Irpin, Mayor Johnson also authorized the national flag of Ukraine to be raised at the Frank P. Zeidler Municipal Building by City Hall. Mayor Markushyn said the symbolic gesture represented Milwaukee's unity, solidarity, and unwavering commitment to the principles of democracy that Ukraine is defending.
"On behalf of the residents of our municipality, I would like to express my sincere gratitude to you and all the residents of the city of Milwaukee for your support of Ukraine and the assistance provided to our city," said Mayor Markushyn in a letter to Mayor Johnson. "Your unwavering support and solidarity with Ukraine has not gone unnoticed. It warms our hearts to know that we have sister cities like yours to stand with us in these difficult times. Your compassion and generosity inspire us with hope and strength, and we are deeply grateful for your kindness."
Mayor Markushyn's status as a national hero in Ukraine cannot be understated. He was the only Mayor to form and command a Territorial Guard for his city. Under Mayor Markushyn's leadership, and followed by members of his administration, the resistance in Irpin against the invaders helped prevent the capture of the capital city, Kyiv.
The short flag-raising ceremony included brief comments from Anya Verkhovskaya, director of the Milwaukee-based humanitarian nonprofit, Friends of Be an Angel, who is also a member of Milwaukee's Sister City Committee.
Her organization has been delivering lifesaving humanitarian supplies to Ukraine, and is in the process of bringing a citywide Wi-Fi network to Irpin, through a donation by Advanced Wireless.
> READ: Advanced Wireless to donate 840 access points to rebuild Irpin's citywide Wi-Fi network
Verkhovskaya met with Mayor Markushyn in June in Irpin to strengthen Milwaukee's Sister City relationship, which was heavily reported on by news media across the Kyiv region.
"It's very special to celebrate the Independence Day of Ukraine, in general. But specifically this year – as well as the past year during this fight for peace, liberty, justice, and independence – it is more important than ever to raise awareness and talk about the fight of the Ukrainian people," said Verkhovskaya before the Ukrainian flag was raised over Milwaukee. "Ukrainian's suffering increases every day, and we need to keep reminding the public and the population of Milwaukee, which is the sister city of Irpin – so that we can't forget. We can't be ignorant, we have to do whatever we can to continue helping. We can't give up, just like the people of Ukraine are not giving up. We have to continue doing whatever we can, in this fight for independence."
On March 15, 2018, then-mayor of Milwaukee Tom Barrett signed the agreement with Irpin's then-Mayor Volodymyr Karplyu, formalizing the Sister City relationship that had been approved by the Common Council.
Meanwhile in Ukraine, August 24 marked its second Independence Day since Russia's full-scale invasion. Officials in Kyiv vowed to keep up their fight to drive out the Kremlin's forces. The national holiday coincided with the war's 18-month milestone, casting a somber mood on the commemorations.
"We remember everyone who gave their lives for freedom and independence, for the free future of Ukraine," Ukraine President Volodymyr Zelenskyy said in a social media post. He said that an independent Ukraine is "what we are fighting for."
Ukraine officially declared itself an independent country on August 24, 1991, when the parliament of Ukraine proclaimed that Ukraine would no longer follow the laws of the USSR, de facto declaring Ukraine's independence from the Soviet Union.
Celebrations in Kyiv were muted, for fear of an attack on public festivities. Russia has committed a well-documented list of heinous war crimes, including the specific targeting of civilian populations.
But one display allowed for the public to commemorate the day on modest terms. The rusting carcasses of burnt Russian military vehicles were positioned along Kyiv's central avenue.
Referred to as "Putin's Parade" by local officials, it is a symbolic gesture designed directly to mock Russia's dictator. Destroyed Russian tanks were aligned in a formation, to represent what Putin had expected – his tanks would roll into Kyiv. Instead, the hollowed-out remains of his once-feared military stood as relics of his delusion. Russian troops were driven back at Irpin, and forced into a humiliating retreat instead.
The holiday also came against a backdrop of continued fighting, with reports of a special military operation that landed in Crimea. Ukrainian commandos staged a bold raid in the occupied territory as a symbolic move of defiance. The Black Sea peninsula was illegally annexed by Russia in 2014. Kyiv has remained committed to reclaiming Crimea, and all of its territories occupied by invasion forces.
© Photo
Lee Matz, Efrem Lukatsky (AP), Bram Janssen (AP), and Review News and Photo Walking (via Shutterstock)