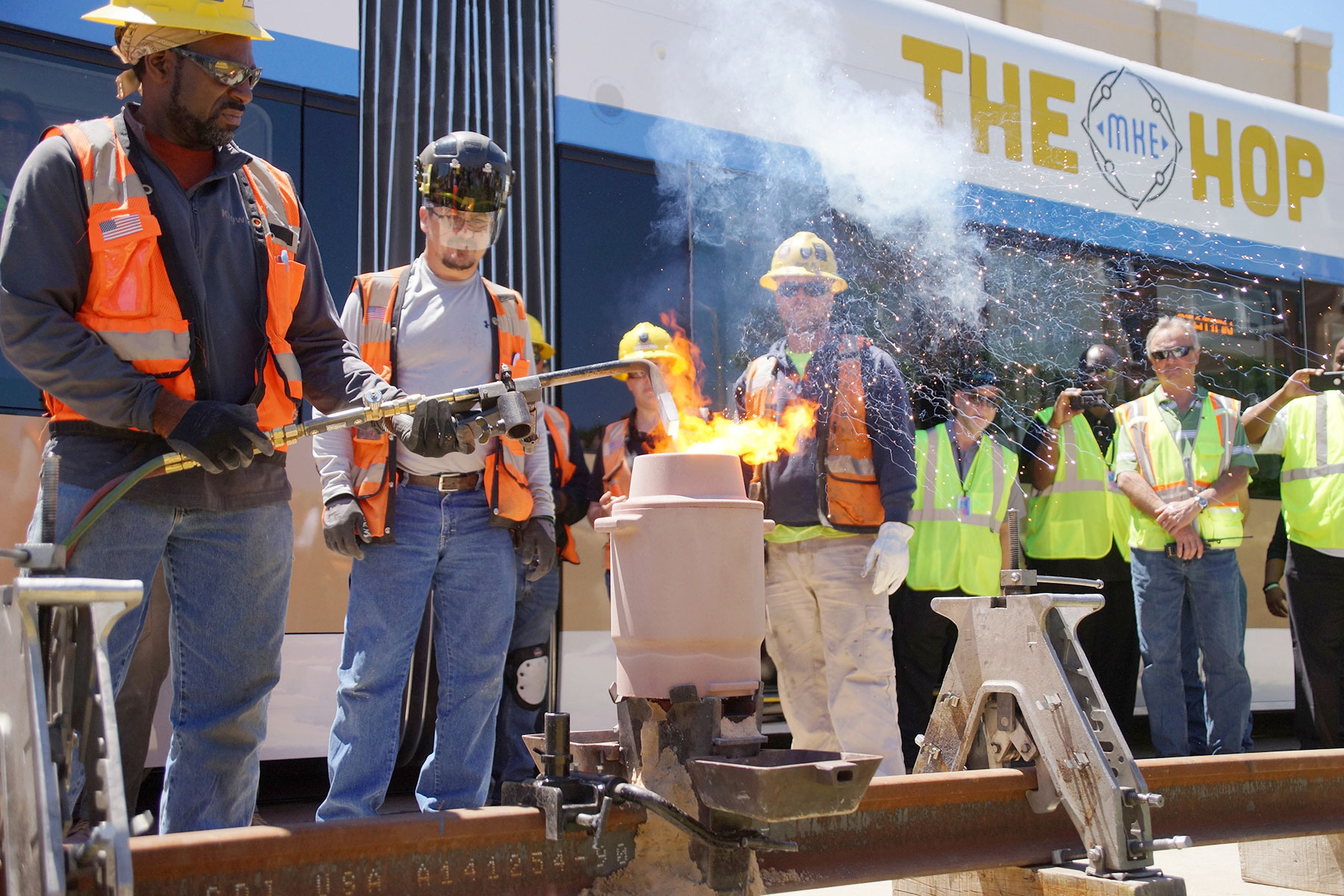 Hundreds of Milwaukee residents, business owners, Kiewit construction workers, streetcar operators, and children from nearby Ebenezer Child Care Center, joined city leaders and staff on July 2 for a "last weld" ceremony to mark the completion of construction for The Hop's Main Line.
All of the guests attending the historic event at 2nd Street and St. Paul Avenue had the opportunity to sign their names to a commemorative piece of rail, which will be put on display along the route later this summer. Streetcar route construction began on St. Paul Avenue in April 2017, and the completion ceremony was held at about the same spot just over a year later.
"The substantial completion of construction is a cause for celebration and a major milestone on the path towards bringing streetcar service to our city," said Milwaukee Mayor Tom Barrett. "We're so appreciative of the patience and support we've seen from downtown businesses and residents alike during the lengthy construction process."
Named The Hop, Milwaukee's public streetcar system will connect Amtrak's Intermodal Station, east through the Historic Third Ward, north past City Hall and Cathedral Square, and ending at Burns Commons along the Lakefront.
Instead of cutting a ribbon for the completion ceremony, two pieces of rail track were bonded by thermit welding, a method that uses molten metal to permanently join the sections. The process employs an exothermic reaction of a thermite composition to heat the metal, and requires no external source of heat. It was first introduced by Johann "Hans" Wilhelm Goldschmidt in 1895 when he patented the process in Germany.
"Anytime a public works project is completed on time and on budget is worthy of celebration," said Ghassan Korban, Commissioner of Public Works. "But to be in charge of the streetcar, a complex and unique project, and deliver it on time and on budget is certainly a very special day for me."
Alderman Robert Bauman thanked the public for their patience, and all of the workers and individuals who made the Streetcar a reality. Over 90% of The Hop's route is located within his 4th District.
"It's been a difficult process, but we hope the reward – this brand new transportation infrastructure in downtown Milwaukee – will be worth it," said Alderman Bauman.
Two of five vehicles for The Hop have already arrived in Milwaukee from Brookville, Pennsylvania-based Brookville Equipment Corp., with the remaining three vehicles set to be delivered in the coming months. The Hop vehicles are now undergoing on-street testing along the route, which will continue throughout summer. An additional Lakefront route is expected to have its track installed in early 2019.
The public is expected to first be able to ride The Hop in November. Rides will be free for the first year, thanks to Potawatomi Hotel & Casino's generous 12-year, $10 million sponsorship deal.